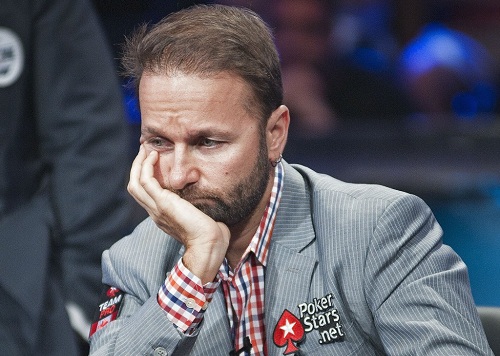 Poker
---
Daniel Negreanu Posts Consecutive Losing Years
There's no one in world poker history who has cashed more money in live poker tournaments than Canada's Daniel Negreanu. He has earned a whopping $35,319,815 (~INR 224 crores) in his live poker career, with a best live cash of $8,288,001. If you don't already know, check out these rankings to know what a big personality he is in the poker industry:
However, the pro has explained to poker fans and viewers of his blog, how one can be in loss despite cashing in millions over the course of a year. He took to his Full Contact Poker blog to explain how he lost, even though he cashed $2.87 million from live poker tournaments in 2017. Here are his numbers for the year gone by:
Buy-ins: $2,874,164
Pay-outs: $2,792,104
Profit: -($86,140)
He played 71 events throughout 2017 with an average buy-in of around $40,000 and failed to cover the amount he had invested in the year. This performance succeeded a bad year in 2016, where he lost $1.24 million (cashing in $300,000 out of the total of over $1.5 million spent on buy-ins).
Before releasing the blog on his 2017 results, Negreanu took to Twitter to ask fans whether he would've spent more or less in buy-ins, than the amount he had cashed for over the year. 65% of the 22,458 votes predicted that he spent less in buy-ins and this proved his point that people shouldn't be fooled by cashes of $2.79 million, as the stakes and buy-ins are equally high these days.
Having said that, the 43-year old pro is still massively in the plus given his record over the last 5 years, thanks to a $1,963,500 profit in 2013, a $7,100,164 profit in 2014 and a $952,920 profit in 2015. His decline over the past couple of years would probably raise questions as to whether Negreanu is past his prime as a top poker player. However, he has his eyes set on 2018 and has already set his goals for the year on his blog.
He first gave viewers an insight to how well he fared in 2017, completing 5 out of the 8 goals he set for himself. Here are his goals for 2018:
1) Top $40 million in Live Earnings
2) Win a WSOP Bracelet
3) Get to 115 WSOP cashes and/or close gap on PH
4) Profit $2 million
5) Finish Year Top 30 in GPI
6) Final Table SHRB or One Drop
7) Win Poker Masters or US Poker Open
8) Hang on the the #1 spot on the All-Time Money List
9) Win a Super High Roller
10) 120 hours of Poker Study
To ensure you don't miss such news from the world of poker, follow GutshotMagazine.com!
---
---
Comments