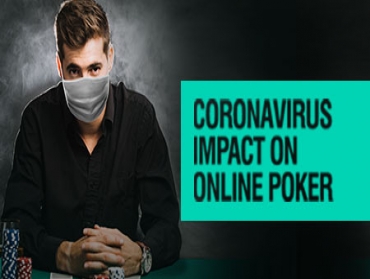 Poker
---
Coronavirus: The Road to Online Poker's Global Legalisation?!
"Corona se mat Darona"
So says the billboard on a major Mumbai highway, one of several you'd see passing through this city or for that matter, any metro or mini-metro across the country. Translation – Don't be afraid of Corona. Cute rhyming wordplay aside, COVID-19 or Coronavirus as it's more well known as, is creating increasing levels of panic across the globe ever since its initial outbreak in December 2019. And the poker world too is now facing the repercussions of this pandemic that is making its way across the globe.
According to the World Health Organisation (WHO), COVID-19 is characterized by mild symptoms including a runny nose, sore throat, cough, and fever. Illness can be more severe for some people and can lead to pneumonia or breathing difficulties. More rarely, the disease can be fatal. Older people, and people with other medical conditions (such as asthma, diabetes, or heart disease), may be more vulnerable to becoming severely ill.
Ground zero for the virus was in the Wuhan province of China, an area which unsurprisingly, has also seen the highest number of affected people as well as deaths. However, things are now looking up for this particular region as the affected numbers are getting better with more patients recovering and getting out of quarantine. Other countries which have been badly affected include Iran, Italy, South Korea, Japan and Germany. Travel bans have been instituted in many countries with the USA being the latest to issue a travel ban into Europe. India's Health Ministry too has issued a directive suspending all visas till 15 April as a measure of containing the spread of this virus. The government has also "strongly advised" Indians to avoid all non-essential travel abroad.
Live Poker getting a bad beat
Curbing mass gatherings is the first target of all governments as a preemptive measure to control COVID-19 which means many upcoming large scale sporting events will have a bullseye on them. The shadow looms large on the 2020 Tokyo Olympic Games although Japanese authorities have thus far commented that things will proceed as scheduled. Events like NBA basketball games and Formula 1 races are also facing the brunt of the virus.
For poker players, this time of the year is particularly crucial as it is the run-up to the biggest tournament on the planet i.e. the World Series of Poker (WSOP) which is scheduled from 26 May – 15 July. In the past three years especially, the Indian contingent heading to Las Vegas for this event, has been growing steadily in numbers and it's safe to say that there will be a massive dip in the participating numbers this year not just from India but from around the world. One of the all time greats of the modern game, Daniel Negreanu recently spoke on a podcast, about the effect of the Coronavirus on live poker events saying that this is the time that online poker could really spread its wings in America. Given the reduced travel during the American summer, more players will turn to online poker to get their fill of the game. Negreanu believes that online poker should be given a blanket green light to operate without restrictions across the USA, where online poker is allowed only in a few states, "For most poker sites, summer is not the most lucrative time of the year as people actually go out and do things. But this summer is probably a little bit different. People are going to be home." PokerStars which hosts some of the biggest live events across the world has pulled the plug on its events in Europe given the current situation. Other big brands like WPT, Winamax, Irish Open and 888 have also postponed/cancelled their respective events most of which were set to take place in Spain, France, Ireland.
In light of this, Negreanu says it might be a good time to lift the restrictions imposed in the US by the Unlawful Internet Gambling Enforcement Act (UIGEA) of 2006 thus allowing all American citizens to enjoy real money poker games online, "The government should, even just for this period, let online poker be legal. This would let people have something to do." The host of the podcast Terence Chan also called this a 'time of renaissance' for online poker as the impact of the virus on WSOP 2020 will lead to online poker sites offering more-than-usual lucrative tournaments and game offerings. Poker players are not the only ones who are pushing for better advocacy in this matter with even Hollywood putting in their two cents. You may or may not know Brian Koppelman but you certainly know his work. Koppelman is the co-writer for Rounders, one of the all-time, if not the definitive poker film, which has gained cult status over the years. He too chimed in with a tweet urging the US Senate to do right by poker enthusiasts.
Closer to home, the effect of the Coronavirus is taking a toll on some live events here as well. PokerBaazi's flagship series the Premier Poker League (PPL) was scheduled to host the final tables of its PPL Highroller and Moneymaker events in Goa. However in light of the current situation, they have decided to conduct the finale of these online, "This is to inform everyone that the final tables of PPL Highroller & The MoneyMaker, scheduled to be held offline at PokerBaazi Live Goa, will now be held online on PokerBaazi.com. The date and start time remains the same. This decision is taken after considering requests placed by some of the players having travel constraints considering the Covid-19 situation. We will be cancelling the travel and stay bookings done for the players. The same will be communicated through official channels as well," said Varun Ganjoo, Head of Marketing in a statement released on Facebook a few days ago.    
Bottomline – sit tight at home and get your poker fix online. This may also be a good time to push for an overall legalisation of the sport in our country as well. With reduced numbers at live venues, players will need to find their action online within the safety and comfort of their homes. There are still some players who will press on and attend live events and some like Alex Roche who put up this hilarious image of his poker playing get-up on his Instagram.
Clearly the present situation is going to take time to resolve itself. There are talks about vaccines being worked on for the Coronavirus however there is no confirmation on the same. Either way, experts have determined that it may take anywhere from 3-6 months for anything substantial to come through although the aftermath of all this could last till the end of the year and perhaps beyond. That being said, prevention is better than (currently no) cure. So do try and follow the advisories like washing hands thoroughly, using alcohol-based sanitisers and avoiding touching your face, nose and mouth as far as possible. It will also help to not get into a panic as there is an overload of information via various platforms and social media.
There is a light at the end of the tunnel although it will take some time to get there. In the meantime, poker players and others alike, must follow necessary precautions and stay safe. On a side note, doing the 'Namaste' has suddenly become very cool!
For more updates on the poker industry and other gaming news, keep reading GutshotMagazine.com and stay tuned!
Check out our online poker rooms section, where you can read reviews on the biggest and best poker rooms in the country, while also taking advantage of their bonuses and promotions. Check out these top poker rooms HERE.
---
---
Comments