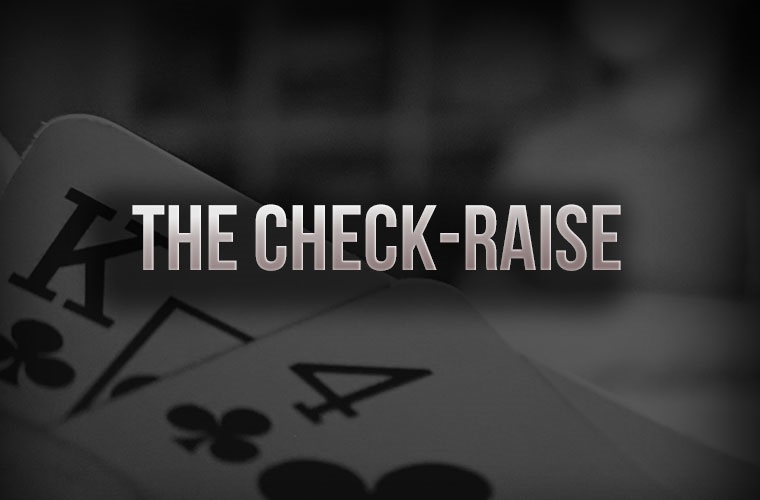 Poker
---
Check-raise benefits and its applications
The Check-raise is a very old, generic yet strong strategy used in Poker for ages. In this blog, we talk about the Check raise, its importance, its purpose, timing and places to play the trick and win leverage over the opponent. It will help you understand the basics of the check raise technique and its application. Today we're talking about the check-raise, a move that's one of the most basic yet powerful tactics you can add to your poker arsenal.
The check raise technique in Poker refers to checking when the action is on you and raising after a player behind you has the next bet. The check raise is a move which traps your opponent in a way that there is no escape from the move ensuring your upper hand in the game.
By checking and raising your opponent's bet, you can use his position against him to get more money into the pot while making him throw away the best hand when you're bluffing in the hindsight. The check-raise is an essential Texas Hold'em move that can be performed in any poker game played anywhere in the world.
The Check raise can be effectively useful in cash games, tournaments and sit and gos as well. Also, it is important for you to make the check and raise move only when you are out of position after checking the order.
Since Check-raise move is essentially a beginner's move, you must take extra care before playing the trick. Even though being an essential add on to the Poker playing guide toolkit in every Poker player's kitty, if done without proper evaluation of the situation, the check-raise move will only get you in trouble. Always remember to have the knowledge of the purpose of the check-raise move, if Poker is a game of strategies, check-raise is a living example of its appropriate application since check-raise is an extremely minutely played move unless you're completely aware of your accomplishments, do not play the move or you will end up burning your bank roll.
Check-raising is played in two ways Either when you're holding your best hand and you check-raise for value to get more money in the pot, or you're check-raising as a bluff to make your opponent fold when you have the knowledge that your opponent has the best hand.
Check-raising must be used with caution if you play Negreanu's small-ball style. If you liked this, keep coming back to GutshotMagazine.com for more 'Poker Gyaan' articles.

Check out our online poker rooms section, where you can read reviews on the biggest and best poker rooms in the country, while also taking advantage of their bonuses and promotions. Check out these top poker rooms HERE.
---
---
Comments