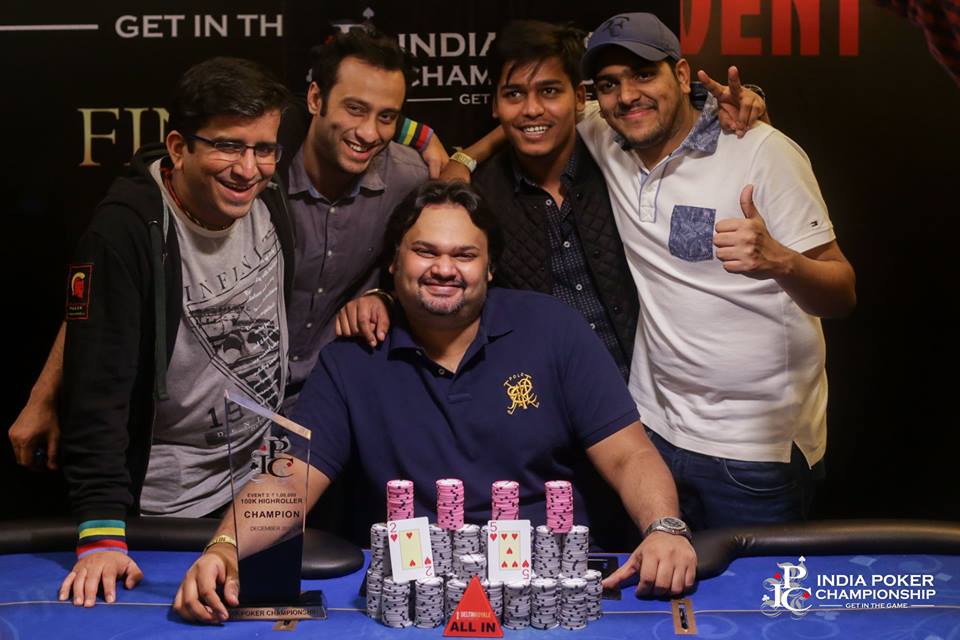 Poker
---
Champions Speak: Nikunj Jhunjhunwala on his past IPC exploits
He's probably not on your Final Table when you grind online each night but he's always a top contender when you bump into him at live tournaments in Goa. We're talking about Nikunj Jhunjhunwala, one of the better live poker players in the country and someone who has done well in past editions of the India Poker Championship (IPC) as well.
IPC recently announced a comeback series which will take place between 11-15 September in Goa's Big Daddy Casino and in the build-up to this event, Gutshot decided to talk to a few past winners to get insights on their victories as well as on how they plan to approach the upcoming event in September.
Jhunjhunwala is someone we couldn't forget as he didn't just win a title, but completed a double in December 2015, when he played and won consecutive events. He shipped not just the IPC 100k Highroller but also the IPC 50k Main Event, being crowned the 2015-16 India Poker Champion too!
He began with the 100k Highroller (pictured above) and bested a field of 106 entries including Rishi Mishra in heads-up, winning INR 15,41,000 for first place. After that, he won the prestigious Main Event as well (pictured below), beating 219 entries and claimed the top prize of INR 20,00,000, taking home quite a huge amount after that series. He beat Iran's Nariman Yaghmai in heads-up in that tournament, while England's Sam Razavi came third.
4 years down the line, Jhunjhunwala has lost no steam having won the second edition of the WPT India Main Event in November 2018 and bagging a life-changing prize amount of INR 66.35 Lakh after beating Sahil Mahboobani in heads-up. And if that wasn't enough, he went on to add the DPT Highroller title to his trophy cabinet too, winning INR 27.5 Lakh after outlasting Ashish Ahuja in heads-up.
He's now a major threat going into IPC's September tournament series, with a number of major titles under his belt. There's a high possibility we come back with news of Jhunjhunwala making merry on his first trip to the new Big Daddy Casino as well. Gutshot decided to talk to him as part of our 'Champions Speak' series and you can keep reading for the entire conversation…
Hi Nikunj. Completing two major titles in the same series in 2015 was a pretty mean achievement. Talk us through that series, the competition you faced and the emotions after being crowned champion.
"As for me, I was a very nascent tournament player back in 2015, having no experience in live poker tournaments. It was a tough journey for me, making so many mistakes going into the Final Table of those tournaments. But I somehow hung in there because of my cash game experience."
"India has a tough field of ever so improving players as you can even see results globally these days. Back then, we had tough fields with the likes of England's Sam Razavi, upcoming pro Vidwath Shetty and other tourney regulars. It was a tough field then and was a tough, tough grind winning the Highroller and Main Event back to back. What added to my woes was that the ME had started when the Highroller FT was going on, and I had to jump in to the ME short, as the FT of HR got over."
What have you been up to in the last few years?
"In these last 4 years or so, I've concentrated on my personal life more. I've gotten married now. My wife Pooja has been instrumental and has been a pillar of strength for me during my journey. Back then and even now, she is more excited than me most of the times when I'm on a Final Table. Poker wise, I've done fairly well on the circuit, having won the WPT 2018 Main Event (pictured below) and most recently the DPT 2019 HR."
What are your expectations from the upcoming edition of IPC?
"I'm not 100% sure of making it to IPC just as yet, but I may just drop in. If I do end up making it to IPC, I am sure the competition will be tougher with our GTO players and all the WSOP bracelet winners. And this added pressure of defending the title. This is another feat I'd like to accomplish – defending titles. If somehow, I do manage to do the same, it will surely be an epic one lol."
Talking about IPC itself, Jhunjhunwala said, "IPC as a brand was doing the numbers and doing great work in 2015 itself, pulling in the crowd. The competition has gotten tougher now, so it'll be interesting to see how well they do." On a parting note, he also added in a short and sweet line of advice to first timers at the IPC, saying, "Put in the hard work and results will show."
We're less than a month away from the start of the IPC series in Goa and you'll find plenty more similar pieces in the build up to the event like the history of IPC from 2010 to 2019. For all this and more, make sure you stay tuned to GutshotMagazine.com.
---
---
Comments