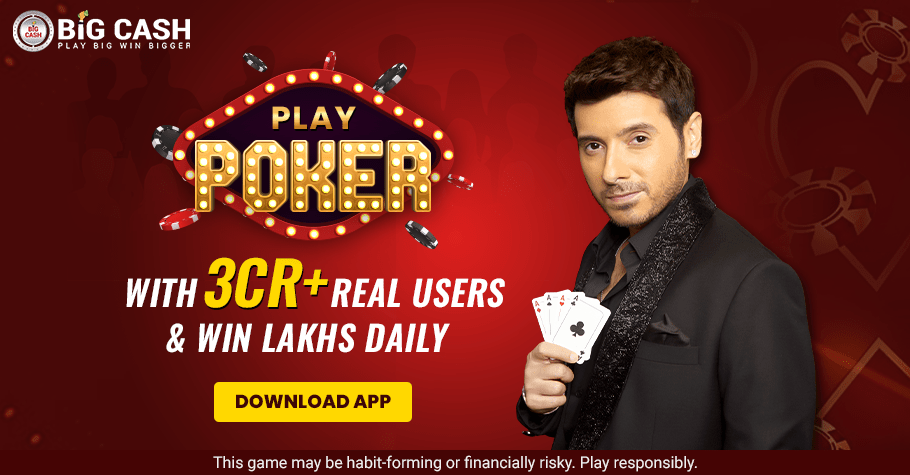 Poker
---
Big Cash Poker Pe Aao, Apni Skills Ka Jalwa Dikhao
The online poker app, Big Cash, is poised to take the poker industry by storm with its exciting features and unparalleled poker gaming experience. Big Cash app has already been the favorite poker platform of 3+Crore real users and offers Texas hold'em, Super hold'em and PLO as poker variant games.
Strong focus on technology and the consistent addition of new features have been a game changer and the reason so many poker players have been playing at Big Cash regularly. Some of the unique features of Big Cash online poker platform include –
You play with 3+Crore real players,
0% TDS on winnings,
100% Secure Deposits & Instant Withdrawals,
Welcome Bonus & Rewards always on,
Cash Games & Tournaments both available,
100% Safe & Legal
Big Cash as a platform has a lot to offer, apart from Poker you can play 20+ games which includes – Rummy, Call Break, Casual Games and Fantasy Cricket. So, you get everything in one app, your perfect free time ka gaming saathi. To download Big Cash App and start playing visit – https://www.bigcash.live/
Get a Welcome Cash Sign Up Bonus Of ₹50 FREE!
There are a lot of offers waiting to give you exciting rewards but none match to Big Cash Poker's instant cash sign up offer.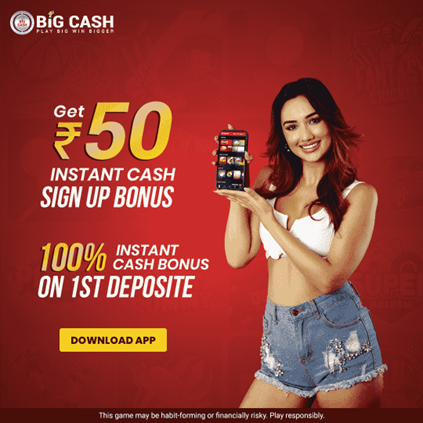 What's the offer?
When you register on Big Cash app via Gutshot Magazine, you will get an instant cash welcome bonus of ₹50. Hey wait! There is more. This bonus is entirely usable for playing games, no locked bonus, and no rules, so we want you to focus on playing poker only.
Big Cash Poker's offer does not end with the welcome bonus. There is a lot more available on this incredible online poker app, and if you want in, keep reading further.
Big Cash Poker Deposit Bonus
Are you thinking of a deposit bonus?
Of course, Big Cash Poker has that too. When you make your first deposit on Big Cash Poker, you will receive a 100% cash bonus. Yes, you read that correctly. You will get a 100%* cash bonus which means you get a bang for your buck. The minimum deposit amount required for the deposit offer is ₹20. So, you can start from very minimal deposit and earn big rewards.
Play for Jackpot worth 2 Crore every month
Big Cash poker has Jackpot offering a whooping ₹2 Crore every month. A jackpot in poker games is an added prize pool that is awarded to players for meeting certain targets. In Big Cash you just need to achieve the daily target by playing games and once the daily target is achieved you will be provided with a ticket. You can also acquire multiple jackpot tickets by winning more targets daily.
In short, jackpots add an extra level of excitement and potential rewards to poker games, and they can be an enjoyable way for players to aim for big cash prizes in addition to their regular game winnings. Enjoy thrill of cash games at Big Cash Poker
---
ALSO READ: Witzeal Unveils A New Digital Campaign Titled 'Big Cash Pe Aao, Jalwa Dikhao'
---
Are you a cash games fanatic?
If yes, then it is time you rejoice as Big Cash Poker offers some of the best cash games in town. You can grind on stakes starting from 0.1/0.2 and the stakes go up to 300/600. If you are a cash game specialist, then Big Cash Poker should be your destination.
Cash games provide a valuable opportunity for players to hone their skills in a real-money environment. Cash games allow players to join or leave the game at any time, and play for as long as they wish.
Your favorite poker variants
Texas Hold'em – One of the most loved and played poker variant at Big Cash poker. Each player gets two-hole cards in this and they must make the best hand with use of three board cards out of five. Being a quick and skilful game, it's very popular among the card game lovers.
Super Hold'em – A famous poker variant of Texas hold'em, in this three-hole cards are dealt instead of two. Each player has to make the best hand from hole cards and board cards. Rest everything is same as Texas hold'em, this game variant has more probability of getting best hands, that is why its loved by many.
PL Omaha – Pot-Limit Omaha (PLO) is another exciting game variant available at Big Cash poker, which is played with four-hole cards. In PLO, players must use exactly two of their hole cards and three community cards to make their best possible five-card hand.
Up your poker game with poker tv
With Big Cash Poker's exclusive Poker TV feature, you can now improve your poker skills by watching another player's grind. Big Cash has introduced Live Poker TV for beginners so that they can easily learn the rules of the game, watch other players plan and improve their poker skills.
A chance to see top-level gameplay and learn from the experts. Each bet and each turn have a different level of excitement making it a great and interesting way to learn Poker.
Big Cash membership for more benefits
No one wants to miss out on such great deals, and we are all aware of this. As a result, Big Cash Poker has introduced its membership to offer players maximum returns on their gameplay. There are three types of monthly membership plans a user can have:
How does membership work?
Purchase any active pack by paying a minimal subscription fee.
Once you subscribe, you will receive numerous benefits, including:
Instant cashback
Higher daily playing bonus
Higher withdrawal limit and more times you can withdraw
Free fantasy and tournament entry and much more
Aren't you already looking for the sign-up button? Worry not, you can just click here and get your hands on that enticing welcome bonus and everything else that Big Cash Poker has to offer. Hurry, sign up today and start playing
For more news and updates, keep reading Gutshot Magazine. Follow us on Facebook, Instagram, Twitter, and Telegram.

A young and passionate writer with a postgraduate degree in Radio and Television Journalism from the Indian Institute of Mass Communication, Kumar Shubham works as an Executive Content Writer for Gutshot Magazine and enjoys watching movies, making short films, and doing voice overs.
---
---
More News
---
Comments