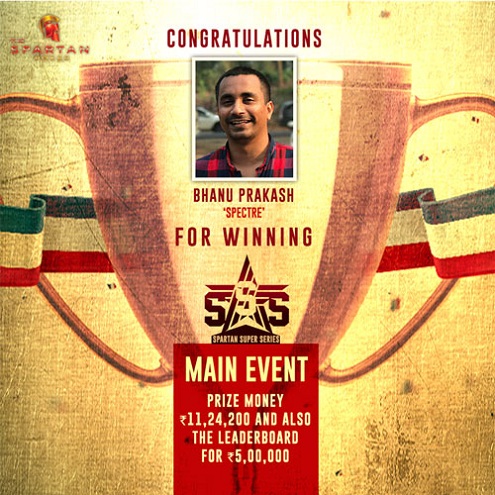 Poker
---
Bhanu Prakash wins SSS Main Event and tops Leaderboard
The recent Spartan Super Series (SSS) which took place from 18-24 September held at TheSpartanPoker.com saw a huge turnout. The 30 events scheduled for the entire series witnessed new winners emerging but the man who claimed the biggest title was a reg in the form of 'spectre' a.k.a Bhanu Prakash who shipped the SSS Main Event. Prakash outlasted Akash 'Anarchytect1' Shekhar in heads-up battle to lay claim to the title.
Gutshot was able to take an email interview of the champion and here are the excerpts:
Tell us a bit about yourself.
I am a 30-year old, B.E graduate. I was working in Infosys for over 5 years but my heart was never really there. As Steve Jobs has rightly said, "Your time is limited, so don't waste it living someone else's life. Don't be trapped by dogma – which is living with the results of other people's thinking. Don't let the noise of other's opinions drown out your own inner voice. Everything else is secondary." I quit my job 3 years back knowing that a corporate IT job was not my cup of tea. I ended up as full time poker player and am totally enjoying it.
How did you start on your poker journey? When did you first pick up the game?
I started with rummy many years ago. Over a period of time and multiple games played I felt that Rummy was more cards-dependent. There was hardly anything to learn and improve beyond a certain point. I started playing poker 3 years back, and once I did, there was no looking back and I was completely hooked.
When did you start playing poker for real money?
I started playing poker with real money directly (laughs) I never tried the play money sites. Poker being more about the bets, my humble opinion is that poker is not really poker without money involved 🙂 During my early days I have grinded freerolls and tried to run it up on most of Indian sites at that time. Name any Indian poker site and I can guarantee you that I have played there (laughs).
Tell us about your start in live poker tournaments.
I have very little live experience. I was able to play the IPC Jan 2016 Main Event because I finished as runner up in the IOPC series prior and was given an ME ticket as consolation prize (smiles). I sometimes play live tourneys in Bangalore poker rooms but that is only a small part of my poker play. Online poker comprises most of my poker games.
Tell us about your online play. What's your game mix like?
I admire the cash players who play big and maintain a calm head. I find it hard to manage my mind set while playing cash games and I have busted my bankroll many times in the beginning. Therefore I only play tourneys where I have a better chance at positive ROI. I play both Hold'em and Omaha tourneys, being more of a Hold'em player.
Describe your journey through the SSS Main Event. Kindly give us details on some key hands.
After lot of trials with my multi tabling I decided to play only one table for the evening so that I could maintain focus. Early in the game I was seated in a very tough table (usually happens when it comes to Main Events), picked up good hands and chipped up very soon. One of the key hands was when 90 players were left, I had around 14BB and I cold called a middle position min raise from button with Ac Tc . It went further to a flop check check on a low card flop, followed by a turn with an ace and the villain checked again, and I decided to go all in. Unfortunately the caller 'MercyMania' had trapped me with Ace-King off suit I got very lucky to clip a ten on river and survive. When it was close to the money bubble I scooped a few short stacks and was around 24/63 once the bubble was over. I got doubled up with K5 > QT in BB vs SB play.
Immediately, I flatted Samoh's UTG raise with Ace-Queen off suit on button and called an all in squeeze from BB. I hit runner runner flush to beat flopped set for 66 and won the hand. After this I got about 35BB stack and felt confident of finishing among the top few at least. I took it as any normal tourney and started playing without letting the pressure get the better of me. I stuck to shove or fold strategy on FT (everyone had the same strategy given the shallow stacks), and I was fortunate enough to get the right cards at right time. Previously, though I had deep runs in signature tournaments I fell short by making the wrong decisions.
This time I had decided that I would try my level best to make the right decisions so that I do not regret getting busted. Anarchytect1 played a wonderful game of Poker and knocked out most of players and soon it ended up heads up with me being slightly off guard in terms of chips. The stakes were very high and I enjoyed playing heads up against a very good player though it was some intense pressure. After few stack swings I found cooler Ace-King vs Ace-Queen to take the chip lead. In the immediate next hand I raise called off with Td 6d instinctively and won against Ace-Jack off suit to ship the tournament and beat my biggest score.
Any particular turning points in the tournament where you felt that you could win it.
One of the key hands when my heart was in my mouth was when I had AK in my BB and I shoved against an EP min raise from ogre. Luckily I found an Ace on the river to beat pocket Fives. The dynamics shifted after this hand where there were 2 short stacks left and since I had a good stack I could raise confidently to play different hands with a feel that there was a real chance to ship it.
What are your future plans in the live and online space?
I am honest about my own game and I am my own critic, I am planning to rework on my fundamentals of the game with my mentor Arsh Grover and build a strategy for the long run. I believe that learning is a journey and not a destination so I am trying my best to maximize my skillset and minimize my mistakes. The Indian poker community is growing everyday with many making a name for our country in various international tournaments. It is a privilege and a pleasure to be playing with these talented set of players.
Your feedback on The Spartan Poker itself and their promotions.
I have always been a regular at TheSpartanPoker and I love every aspect of the website. It supports the tournament players to completely focus on tournaments with tournament leader boards. There are no bonus money concepts. The TDS refunds are extremely valuable for full time professionals because it really counts. Without those promotions this win wouldn't have been possible. Looking forward to my first Spartan hoodies and also other goodies. This is Sparta! 🙂
So now that you are a Millionaire now, what do you plan to do with this money?
I have few commitments to take care of after which I will be allocating a chunk of the winnings towards my bankroll. I don't think I will try to do anything significantly different after this win, but continue playing Poker.
Anything else you want to share.
Shout out to all friends who witnessed and supported me throughout the tourney. Special thanks to Faiz Alam, Dinesh SIngh, Ananth Rao, Maxim D'Souza who were awake till I shipped it. There were a few people who were rooting for me on chat to ship the tournament and it was an amazing feeling to say the least. I am honoured and thankful for all the support.
That was the interview of the Main Event winner Bhanu 'spectre' Prakash, and now this is a round-up of other tournaments:
SSS #22 INR 550 (250K GTD) (R+A)
576 players participated in this event creating a prizepool of INR 2,88,000 which was distributed to top 27 players with a min cash of INR 2,592. 'kamakazie' tool down the title for INR 63,360 defeating Bhanu 'spectre' Prakash in heads-up battle. Prakash took INR 42,912 for his runner-up finish.
SSS #23 INR 880 (150K GTD) (FO)
The event drew 208 entries to make a prizepool of INR 1,66,400. Top 27 players took a share of the prizepool with a min cash of INR 1,498. It was 'bluffmenot' to take down the event outlasting 'bahubaliii' in heads-up battle. 'bluffmenot' received INR 36,608 for first place finish while 'bahubaliii' collected INR 24,794 for the runner-up finish.
SSS #24 INR 1,650 Dare Devil (7.5L GTD) (R+A)
579 entries participated in this event to make a prizepool of INR 8,68,500 where top 24 players took a share of the prizepool with a min cash of INR 8,685. 'greatgatsby' shipped the tournament winning INR 1,99,755. 'greatgatsby' defeated 'Armitrage' in heads-up battle who took home INR 1,34,183.
SSS #25 INR 22,000 PLO HighRoller (10L GTD) (RE)
The one and only Pot-Limit event of the series drew 59 entries making a prizepool of INR 11,80,000. The eventual winner was 'Venkatkalyan' who defeated Vivek 'Pokerbatman27' Rughani in heads-up battle. Rughani collected INR 2,59,600. Many notable players participated in the event where the event saw Jagdeep 'NodusTollens' Singh who came third in this PLO event.
SSS #26 INR 550 (100K GTD) (FO)
There were 182 players taking part in this event which was shipped by 'The Rock nd RoLLa' for INR 23,000. The winner defeated 'kayvee' in the final round who took home INR 15,450.
SSS #27 INR 1,100 (300K GTD) (RE)
349 came together for this event to generate a prizepool of INR 3,49,000. 'ztsethna' was the eventual winner of this event defeating 'kochivi' in heads-up battle. 'ztsethna' took home INR 76,780 while the runner-up player 'kochivi' collected INR 52,001.
SSS #28 INR 2,200 (600K GTD) (RE)
312 entries participated in this event to create a prizepool of INR 6,24,000. It was 'indianpro' who bested the field and defeated 'ghadiyaal' in heads-up battle. 'indianpro' received INR 1,37,280 on his win while the runner-up player 'ghadiyaal' took home INR 92,976 for the second place finish.
SSS #30 INR 5,500 Super Stack (20L GTD) (RE)
The last event of the series drew 434 entries to create a prizepool of INR 21,70,000. Top 45 players took a share with a min cash of INR 11,935. The high profile user id 'laradutta' did not wish to reveal identity defeated 'kareenakapoor' in heads-up battle. 'laradutta' collected INR 4,12,300 for first place finish while 'kareenakapoor' collected INR 2,98,375 for second place finish.
This was the round-up of the Spartan Super Series, stay tuned to GutshotMagazine.com for other stories.
---
---
Comments