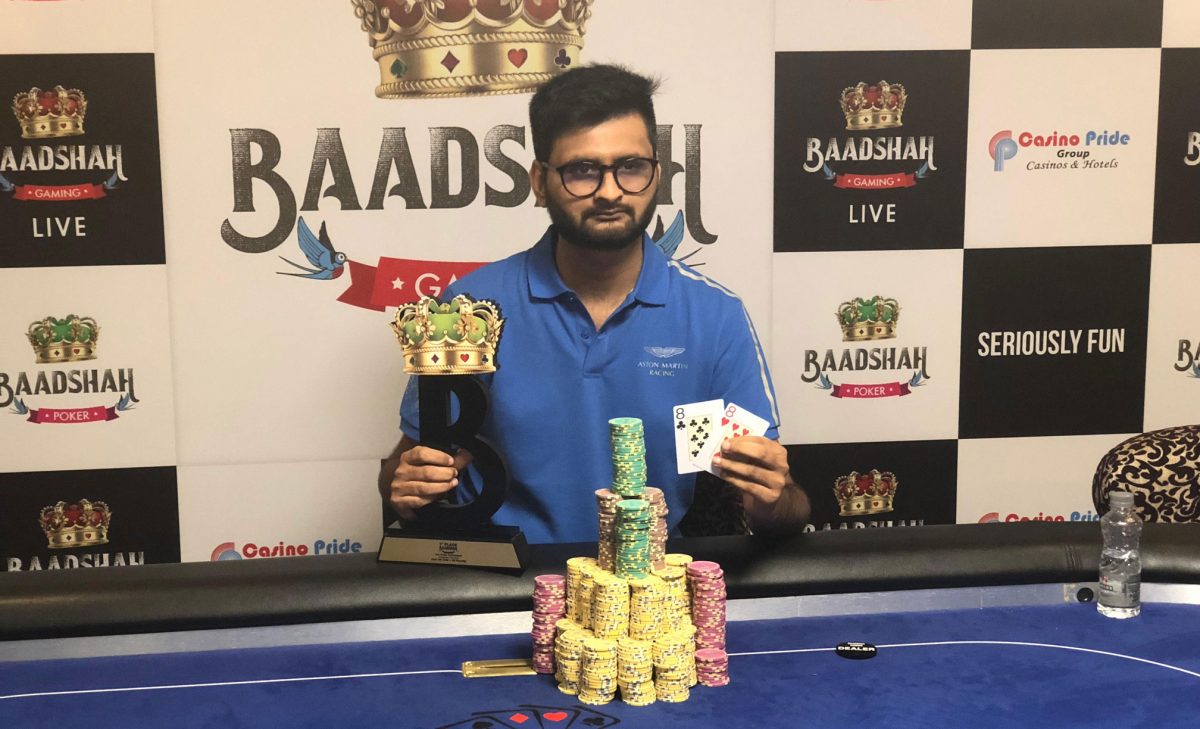 Poker
---
Ashish Munot is the BLT 15k Kickoff (Bounty) Champion!
Today was the start of the Baadshah Live Tournament series in the Pride Poker room in Casino Pride, Goa and it was an action packed day. This first event was a 15k Bounty tournament which featured a buy-in of INR 15,000 of which 5k would go towards the bounty band given to each player. So two ways for players to cash out in this tournament and some of them, while they didn't finish in the money made enough off those bands for nice little payday. But the man who walked away with the biggest chunk of that INR 6,50,000 prizepool was Ashish Munot who outlasted the field to take down the opening tournament of this BLT3 series and first place prize of INR 2,25,000.
It was a slightly delayed start to the proceedings at the poker room as some inclement weather outside delayed players. Others who were already in the poker room earlier decided to hop into the Main Event satellite which promised a guarantee of 5 seats. The action got underway a little after 6:30 pm and it didn't take too long for players to get into the thick of things. While a number of players were away from the country participating in the World Poker Tour event in Vietnam, there were still a number of regs from the circuit who came down to Goa to be a part of this poker weekend. WSOP bracelet winner Aditya Sushant was one of those names who took part as was Ashish Munot who came through as the chipleader in BLT3's Main Event Day 1A which took place online at BaadshahGaming.com. Finishing with the second best stack in that online Day 1A was Shuchi Chamaria who also participated in today's Bounty tournament but was eliminated in the middle stages. Other notables included Arjanveer Chadha who has been having a prolific run in recent times across various online poker sites, recent Deltin Poker Tour Main Event champ Awnish Singh, Jaydeep Dawar, Amit Ajwani, Badshaah Gaming's very own Madhav 'Maddy' Gupta, Gaurav Kalra, Tathagata Sengupta, online reg Anant Purohit, Kanishka Bansal, Meherzad Munsaf, Myron Pereira and many more.
Once late registrations were done, there were 65 entries on the board with payouts going to all players on the 7-handed final table. At the end of the first break it was Gaurav Kalra who was leading the pack with a stack of 60,000. Kalra fired multiple bullets in the initial stages but was unable to gain traction. His third bullet though held him in good stead and brought him up the counts. A little before midnight Tournament Director Georgie Thomas announced the payouts. It was to be a 7-handed final table with the top prize of INR 2,25,000 going to the winner. Here's the full list of payouts in the Bounty event:
1st place – 2,25,000
2nd place – 1,50,000
3rd place – 1,00,000
4th place – 70,000
5th place – 45,000
6th place – 35,000
7th place – 25,000
As the field got trimmed down to the final two tables, it was Amit Aneja in the chip lead with a stack of over 162k. Harsh Raj had a comparable stack of 160k while Ashish Munot rounded off the top 3 stack with 156k chips. Munot came back hard when it was down to 11 players accounting for the knockout of Aneja. Gaurav Sood was the unfortunate bubble boy who was eliminated just outside the money by local player Myron Pereira who built his stack to second chipleader going into the 7-handed final table. 
This is how the final seven and their stacks looked like:
Naveen Kumar – 2,69,500
Myron Pereira – 2,58,000
Jaydeep Dawer – 2,23,000
Gaurav Kalra – 1,79,000
Aditya Sushant – 1,41,000
Anant Malik – 1,40,000
Ashish Munot – 94,000
Not surprisingly with the significant payout jumps, action slowed down a bit on the final table for a couple of levels. Start of FT chipleader Navin Kumar was the in fact the first elimination from the money positions losing his pocket Queens to Jaydeep Dawer's pocket Tens which made a full house on the turn. Next to go was WSOP bracelet winner Aditya Sushant whose Eights got punched out by Anat Malik's Kings. Myron was living a bit on the edge having shoved about 4 times with his shorter stack and managed to hold on for a while till he got crippled by Gaurav Kalra and was down to just a few hands.
He headed for the exit a few minutes later courtesy Kalra again. Jaydeep Dawer nursed his stack right through this final table and kept pushing all-in whenever he had an Ace or paint. But when his King Jack ran into the black Aces of Ashish Munot it was game over for the Gujarat player out in 4th place. Munot had a commanding lead at this point with over 70% of the chips in play on his side of the table. The final two knockouts came pretty rapidly with Anant Malik's Ace King losing to the flopped flush of Munot and then a few hands later Munot dispatching Gaurav Kalra in runner-up with his pocket Eights proving best against Kalra's short stack shove with Jd 4s.
Many congratulations to Ashish Munot for winning this 15k Kickoff (Bounty) opening event here at Baadshah Live and well played to the rest of the money finishers.
That's it for the live coverage from this first event at BLT3. Remember the 75k Highroller begins tomorrow at 3:00 pm so come back right here to GutshotMagazine.com for all the updates from that event as well as Day 1B of the Main Event which kicks on later in the night at 9:00 pm. Till then from the Gutshot live reporting team we bid you goodbye.
BLT3 15k Kickoff Final Results (INR):
Ashish Munot – 2,25,000
Gaurav Kalra – 1,50,000
Anant Malik – 1,00,000
Jaydeep Dawer – 70,000
Myron Pereira – 45,000
Aditya Sushant – 35,000
Naveen Kumar – 25,000
See what Munot said in his interview with Gutshot:
Watch this space for more updates on the Baadshah Live Series in Goa!
---
---
Comments