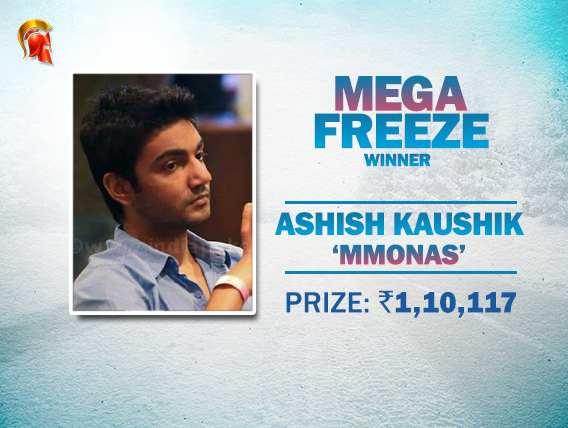 Poker
---
Ashish Kaushik wins Mega Freeze at Spartan
It was a good start to this week for Ashish Kaushik as he claimed top spot in the Monday Mega Freeze (FO) tournament at The Spartan Poker. The Mega Freeze ended up getting a prizepool of INR 5,55,000 resulting from the 111 entries that took part and crossing the INR 5 Lakhs which was guaranteed for this tournament. The top 15 places got paid with a min-cash of INR 9,990 being guaranteed to all ITM finishers. Kaushik who plays under the moniker 'mmonas' claimed the first place prize and this win on Monday night comes barely two days after he won the DareDevil tournament on Saturday night for INR 1.75 Lakhs.
Speaking about his introduction to poker, Kaushik said, "One of my best friends introduced me to poker a long while back in 2008. Initially it was just a leisure activity which soon became more than a hobby. It is only recently that I started taking games seriously on Indian poker sites. The Mega Freeze tournament was really good not because I won but because I didn't make any mistakes and that's the only plan – not to make mistakes!"
After a three-way deal between 'madhabpal2017', GuruPrasad 'DONKAKING' Gupta and 'mmonas' in Level #29, mmonas took 1st place for INR 1,10,117, DONKAKING took 2nd for INR 1,02,506 and madhabpal2017 got INR 90,962 for 3rd place.
And if one speaks about these daily featured tournaments, then leaderboard talk cannot be far off. A sizzling INR 15 Lakhs is up for grabs on Spartan's Hot Tournament Leaderboard challenge. With just 3 days to go, Arsh 'BigggTymeR' Grover is leading the race with 3,572 points and following him close behind is Vinay B 'Minimalist' with 3,306 points and Mithun 'ThePokeRaja' Mahesh with 3,024 points in 2nd and 3rd place respectively. The winner will be announced on 1st June and remember the leaderboard topper will get INR 5 Lakhs up top while the rest of the top 10 will split the remaining INR 10 Lakhs. 

---
---
Comments