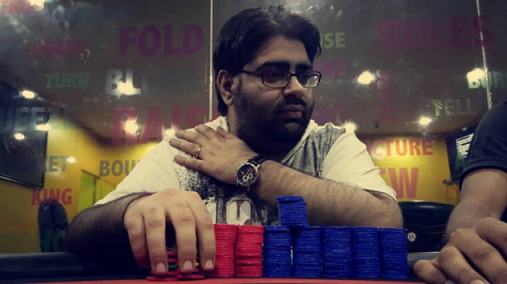 Poker
---
Ashish Ahuja wins Mega Freeze on The Spartan Poker
The Spartan Poker is one of India's leading poker websites that hosts daily online featured tournaments with high guaranteed prize pools. On Sunday, Kunal Bhatia won the Sunday SuperStack featured tournament while yesterday, it was time for the INR 5 lakh GTD Mega Freeze competition.
108 players registered to the INR 5,500 buy-in tournament and the guarantee was beaten, with a new prize pool of INR 5.4 lakh being created. The tournament began at 7:30pm IST and a little over 4 hours later, the tournament wrapped up with Ashish Ahuja aka 'Spewushhhiiiii' overcoming this big field.
Ahuja reached 3-way play with 'SlamDunk' and 'MayIwinMyFlip', and a 3-way deal was struck between them, with Ahuja holding the highest chip stack at the time of the deal. He walked away with the top prize of INR 1,06,263 for first place, while SlamDunk took home the second-place prize of INR 1,03,604 and MayIwinMyFlip was awarded INR 85,512 for third place.
Gutshot caught up with Ahuja after this big online poker win. The 29-year old is a lawyer, having done his BA LLB(Hons.) from Panjab University, Chandigarh. He is now a professional poker player and is clearly doing well at the moment. We asked him about the Mega Freeze tournament that he just won.
He said, "The Spartan Poker is currently the best online poker room in India. It has taken playing online MTTs to the next level with having all kinds of different special tournaments every day. Mega Freeze is one of my favourite tournaments as it's a freezeout tourney. One can test his/her true poker skill in a freezeout event. It has a really good structure with 8-minute blind level, and with a SS of 10k."
Speaking about key hands in the tournament, he said, "Alienrobot opened from HJ and I decided to trap with AA in CO. SB and BB come along. Flop comes Th-4h-3s. SB donks 3bb and BB calls. Alienrobot re-raises I flat, SB folds and BB also calls. Turn is 7s. BB checks, alienrobot jams, I call, BB folds. River 7c. Alienrobot shows Kd-Tc and we take down massive pot and become chip leader.
Also, on the final table, I was shortest stack 8/8 and 'CmeNOmore' had massive lead. He was playing too aggressive and we waited for the right time and doubled up from him with 77 vs AT. Then we busted Maalincoming AQhh vs AJo to become 3rd in CL. From there it was all auto pilot mode."
"My future plans in poker is very basic right now. With so much boom in online poker right now, my aim is to capitalize on this golden opportunity. Grind as much as possible online and try and improve my game and to build a substantial bankroll in the next one year so that I can travel and play live MTTs in Asian and European circuit, and finally to play WSOP if possible," he said on a parting note, regarding his future in poker.
Keep reading GutshotMagazine.com for daily reports on major online poker tournaments in India and other parts of the world.

---
---
Comments