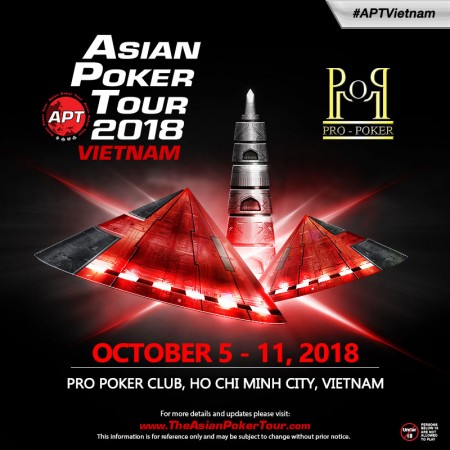 Poker
---
APT Vietnam shifts venue for Oct event
Late last year, the Asian Poker Tour (APT) had announced a set of dates and venues for their 2018 schedule. While Manila and Macau have always hosted their bigger Championship events, the APT has also looked to alternate destinations like South Korea and Vietnam. It was recently announced by the APT that their Vietnam Championships 2018 event which was originally set in Da Nang will now be staged at the Pro Poker Club in Ho Chi Minh City from 5-11 October, 2018.
This is not their first time hosting an APT event in the Pro Poker Club. This year's opening series APT Kickoff Vietnam was played at this very same club from 19-28 January. This was followed by an edition in July APT Vietnam Ho Chi Minh Championships. Da Nang is the fourth largest city in Vietnam and is located in Central Vietnam on the coast of the South China Sea. The venue in Da Nang was a brand new one for the APT but uncertainties have made them take the safer route for the sake of not inconveniencing their players.
Making the announcement, APT General Manager and Executive Tournament Director Lloyd Fontillas said that due to some logistical uncertainties with the proposed new venue in Da Nang it was felt that for the benefit of all parties, and in particular players, that the APT event would best be hosted in Ho Chi Minh. "We have now staged 2 events at the Pro Poker Club this year and APT was first to bring International Poker to Vietnam. Given that each event so far has been very well attended, and we are anticipating record player entries this coming October, it makes sense to relocate the event within the country to a tried and tested venue," said Fontillas.

Players from India might consider heading to this tournament as many have already participated in tournaments like the Asian Poker League which have earlier taken place in the Pro Poker Club. For the full schedule of this October event, click HERE.
---
---
Comments