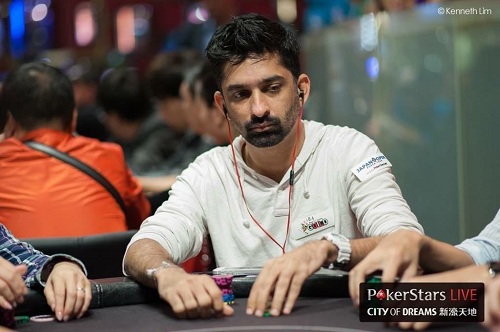 Poker
---
Amit Ajwani is January's Millionaire Winner on Spartan
The Spartan Poker launched their 'Millionaire' tournament a little over a year back and it has come a long way since then. The first Millionaire tournament in September 2016 saw an INR 10 GTD prize for the first place winner and the success of this monthly tournament since then led to an increase in the overall prize pool – a whopping INR 1 crore GTD. This month's Millionaire took place yesterday, 7th January, and the winner of this mega tournament was Amit Ajwani, who plays as 'BigLittleTilt'.
The tournament had a buy-in of INR 5,500 and Ajwani overcame a total of 1,862 entries to win the title and take home a massive prize of INR 24,50,000 for first place. The tournament began at 4:30 pm IST and went on for almost 10 hours, eventually ending at 2:22 am the next morning. After hours of grinding, it was Ajwani and Pruthvi 'Pruthvi7' Venkatanarasimhaiah who reached heads up and the latter had to settle for the runners up prize of INR 14,70,000. The tournament saw a total of 170 players being paid out, with the minimum cash prize being INR 13,000.
It was Level #55 of the tournament with blinds running 90,000-180,000-22,500 when the players went into what would become the final hand of the tournament. 'BigLittleTilt' had 26,193,962 in chips while 'Pruthvi7' had 1,736,038. 'Pruthvi7' held Js-8d and went all-in pre-flop, only to be called by 'BigLittleTilt', who had Ad-7d. The board cards that opened were Kh-6h-6d-4d-9d, giving 'BigLittleTilt' a flush and a victory which earned him a massive prize of INR 24,50,000!
Based in Mumbai, Amit Ajwani is a 37-year old with an MBA degree and a marketing background. He is no newbie to the game of poker, playing professionally since over 8 years and also having made a few international trips to play the game.
Gutshot caught up with Ajwani to ask him how he feels about this big win. Here's what he had to say to us:
How did you start your poker journey? When did you first pick up the game?
Like most poker players, I too started my poker journey by playing Zynga Poker, after being introduced to it by friends. I then got introduced to live games and kept playing, eventually leading to a trip to Macau and me shipping the Red Dragon Event at the Macau Poker Cup in 2013 (HKD 143,400/~INR 10 lacs). Since then, I started taking the game of poker more seriously and have played in quite a few international tournaments, including the world series.
Tell us about your online play. What's your game mix like? Only cash game or tournaments or both?
I usually play only in tournaments. I used to grind a lot on PokerStars but then stopped playing there a couple of years back. I took an 8-9 months break from poker recently and just resumed one month back. Since then, I finished third in the Spartan Super Series and now have made this big win as well. I have also started looking to play live cash games now.
Describe your journey through The Millionaire. 
My journey through the Millionaire yesterday was actually pretty smooth sailing. I was among the top 15 chip leaders throughout the tournament. I became pretty short when around 30 people were left but I managed to double up a few times and was back in it. The final table was more like a breeze through because I had a big chip lead. I got a lot of hands and was constantly putting pressure on the other players. My kings got busted twice but I had enough of chips to play with and eventually won.
Any particular turning points in the tournament where you felt that you could win it?
Yes, there was. There was a point where someone raised and I had to make a call of 40 BBs which was a big decision for me to make. After a lot of thinking, I called and it really turned around things for me.
What was the reaction of your friends and family?
It's a big win so they're obviously all pretty excited!
What are your future plans for the live and online space?
Right now, I'm contemplating playing live cash games. Of course, I will be playing all the big Indian tournaments but there's a lot of money in cash games so I'm working on that aspect of my game at the moment.
Your feedback on The Spartan Poker itself and their promotions?
The format of this tournament is very good and it's a very beautifully designed structure. In most tournaments, it's tough for a 'pro' to win because of the way the tournaments are structured and luck becomes a huge factor. However, that wasn't the case with the 'Millionaire'. Congratulations to the team, as they've done a really great job.
So now that you are a Millionaire, what do you plan to do with this money?
Hahaha. This is something that I haven't thought about as yet. I won the tournament just a few hours back and the moment is still sinking in. However, I will be putting some of the money into investments and a lot of it will go back into the game as well.
For similar tournament results and news on big wins, keep an eye on GutshotMagazine.com!
---
---
Comments