Two major events kicked off on the US-facing online poker site Americas Cardroom (ACR) this past week. The first was a huge online tournament series offering as much as $10 million in guarantees. The second is a series of Distributed Denial of Services (DDoS) attacks that has forced the cancellation of many of these tournaments.
Americas Cardroom turned to Twitter to update players when separate DDoS attacks started. Each message stated that techs were working to mitigate the issues and all tournaments have been paused. America Cardroom then claimed to have mitigated the attack and resumed the tournaments. Or, cancelled the tournaments and refunded buy-ins as per its terms and conditions.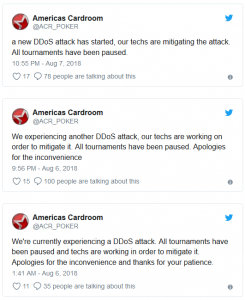 In the case of the cancellations, players who spent several hours building up equity in the tournaments, suddenly saw it all disappear. While the players got their buy-ins back, it does throw a poor light on all the guarantees which were promised during this event. Being an unregulated Americas Cardroom faces its share of bad PR but the worst part is that it can't exactly notify the proper authorities seeing as that;s like a drug dealer who got robbed wanting to complain to the police. Hackers are definitely aware of this. In fact, its one of the reasons why sites like Americas Cardroom are often targeted for DDoS attacks and legal and regulated online poker rooms rarely are.
A DDoS attack essentially use groups of computers to send data to a site at a rate far faster than its servers can handle. Therefore, unless the site is the size of Facebook or Google, it is susceptible to DDoS attack. DDoS attacks are hard to prevent, difficult to identify, and even harder to stop. They can render a site useless, and in the case of Americas Cardroom, a DDoS attack prevents players from maintaining a secure connection to its servers and playing in its tournaments and cash games.
partypoker faces DDoS problem too
But it wasn't just ACR who faced the brunt of DDoS attacks as top online site partypoker also suffered a Distributed Denial of Service (DDoS) attack on its server last weekend and then again on Thursday evening, causing the poker site to cancel some tournaments already in progress. Understandably, many customers expressed frustration with the DDoS attack on partypoker's Twitter page.
The issues were resolved within a few hours and new games began, although tournaments in-progress during the DDoS attack were subsequently cancelled and buy-ins refunded. But the poker site reported additional technical difficulties on Friday morning as some customers were frozen out of their accounts. It is unclear Friday's issues were related to the previous DDoS attacks. partypoker Managing Director Tom Waters apologized to his customers for the downtime, "These unfortunate events  were understandably frustrating for our players. After consideration, the decision was taken to pause and then subsequently cancel all affected tournaments. Our team worked hard to try to resolve the key issues. As poker players ourselves, we fully understand how frustrating it can be when an online poker room suffers technical issues, and we fully appreciate the considerable patience and understanding shown by our players in light of these difficulties."
ACR unfortunately chose to take a shot at partypoker, perhaps to show that this can happen to any website, "US regulated poker sites are not exempt from DDOS attacks," @ACR_Poker tweeted with the above image conveying partypoker's current misfortune. That tweet has not gone down well with the poker community in the US who thought that remark was tasteless and that ACR should have exhibited more class.