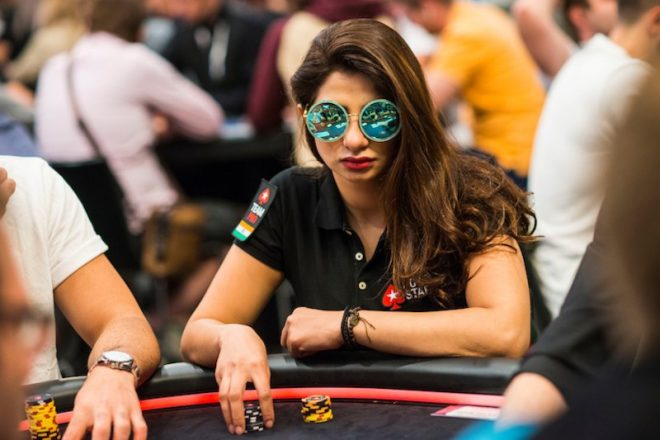 Poker
---
All you need to know about India's first sponsored female pro!
India is proud to present her first sponsored professional female Poker player, Muskan Sethi. The young and gorgeous Muskan who is barely in her late twenties had been a Poker enthusiast for a long time before she took the plunge to play the game professionally. Sethi who has been born and raised in a Punjabi family considers her family a close source of motivation.
Having done her schooling in New Delhi has a plethora of knowledge in various professional areas and boasts of holding various degrees from different backgrounds like fashion, brand management and journalism. In an interview, Sethi revealed that she was not satisfied by the outcomes of the different fields of professions she lay her hands on and found herself fascinated by her father's major passion towards the game- Poker.
She even tried social work with her mother but finally found her stint while playing Poker online. As a kid, Muskan had a great inclination towards learning new skills, playing sports and publishing newsletters for her school. "I'm fascinated by the quote 'Make a life, not just a living'", says Muskan. Cards were a part of their family gatherings since a very old time and she grew up watching her grandparents play the game which eventually led her to take up Poker recreationally and later at an International level too!
"I wanted to learn more so started watching some videos online. My journey started on PokerStars.com in 2014 when I qualified for the TV show called Sharkcage to compete against some of the biggest names in poker for $1 million dollars in Barcelona. Ever since then it's all been like a dream coming true!" says Muskan with pride beaming in her eyes.
Since then, Muskan has gone on to bank cashes all over the world, from her motherland India to Las Vegas, Spain and England. Muskan joined Aditya Agarwal who represented the biggest poker brand in the world, in one of the biggest countries in the world. It made the tournament a memorable time to be a poker player in India for the clan of Poker players including Sethi herself and the other big personalities in India.
Don't have an account on 9stacks as yet? No worries. Sign-up HERE and remember to use the code "GUTSHOT" to avail of special bonuses and promotions on their platform.
---
---
Comments