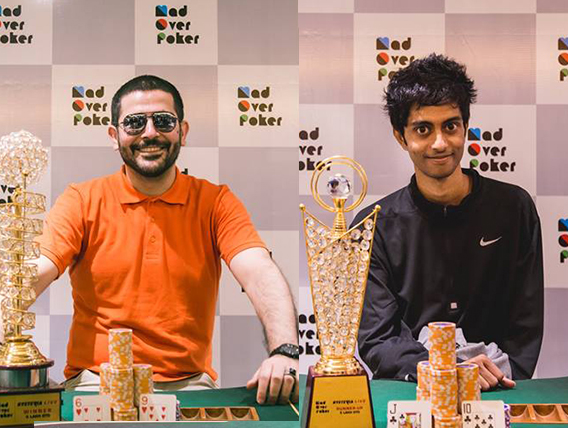 Poker
---
Alireza P wins MOP Hysteria Live event for INR 1,22,500
Alireza P (Left) emerged victorious in the Hysteria Live event organized by Mad Over Poker (MOP) at Tilt Room, Bangalore this week. The tournament drew 148 entries which made a prizepool of INR 5.92 Lakhs on a buy-in of INR 4,400. Top 18 places got a share of the prizepool with a min-cash of INR 10,000.
The champion Alireza P defeated Gautam Raju (right) in the heads-up battle of the tournament. While the heads-up opponents Alireza P and Gautam Raju made a final deal was made in the last hand into half for INR 1,22,500 each.
This was the first time for Mad Over Poker to host a live tournament where their pro Zarvan Tumboli was also present at the event. Amongst other notable players there were VB Vinstil, Madan Kumar, Praveen Dwarkanath, Vidhwath Shetty, Chirag Patel, Chirag Sodha, Anik Ajmera, Ananth.
The satellite for this tournament and the one hand satty starts with buy-in of INR 500 between 12 pm to 2 pm. 
Payouts:
1. Alireza P – INR 1,22,500
2. Gautam Raju – INR 1,22,500
3. Aditya – INR 65,000
4. Pranjal – INR 50,000
5. Stalin – INR 40,000
6. Vikas – INR 32,000
7. Praveen Dwarkanath – INR 25,000
8. Radhika – INR 20,000
9. Gokul – INR 15,000
10. Ankur Sehgal – INR 12,000
11. Nishant Pandey – INR 12,000
12. Nishanth – INR 12,000
13. Kaushik Tiberwal – INR 12,000
14. Amar Mehta – INR 10,000
15. Sanjay Choudary – INR 10,000
16. Sundeep Aneja – INR 10,000
17. Satish S P – INR 10,000
18. Amit Dev – INR 10,000

---
---
Comments