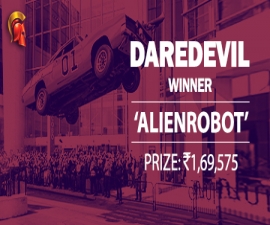 Poker
---
'alienrobot' takes down Spartan DareDevil
The rain shows no signs of letting up across the country and neither do poker players who have been grinding it out at the virtual felts of The Spartan Poker. While many are cheering on the Indian contingent who is participating in World Series of Poker Main Event, they are also playing for that big score which will boost their bankroll. The player who succeeded in that quest on Saturday night was 'alienrobot' who took down the DareDevil tournament at Spartan.
Kicking off at 7:30pm, the DareDevil is part of The Spartan Poker's daily featured tournaments. An interesting twist to the DareDevil is that while it is a re-entry format, busted players can come back in for only 50% of their original buy-in of INR 4,400. So plenty of value for those 90 entries who got together and took it past the original 6 Lakhs guarantee to end up with INR 6,46,000 in the prizepool. A total of 13 top finishers would make it to the money with INR 13,243 being the minimum assured sum for all money finishers.
Among the many familiar regs who took part, we saw Vinay B a.k.a Minimalist once again making a deep run in this tournament. Vinay who was runner-up in last night's Elite tournament for payday of just over INR 2 Lakhs, finished in 7th place in this DareDevil event. The field got whittled down to head-up in just about 5 hours and it was alienrobot who went up against 'Quickgun24' for the title. The latter was responsible for the elimination of 'Super Kings' in 3rd place when his Ad Ts turned a pair of Tens on a board of 8s Qh 4c Th 5d against Super Kings' Ac Kd. With that little slice of luck going his way, Quickgun24 brought his stack to 712k going into heads-up against the 1.03 million stack of alienrobot. Headsup battle went on for quite a while before a big pot worth 408,000 went Quickgun24's way when he flopped a pair of Sevens against his opponent's Deuce pair.
That hand gave alienrobot a commanding 1.4 million chip lead over the 333k stack of Quickgun24. The latter bled a few more chips before he decided to risk his tournament life with a preflop shove holding 6d Ks. Unfortunately for his, alienrobot picked up a strong big slick (Ah Kd) and snapped him off. Both players made a pair of Threes on a board of 4c 3h 3s Jc 8d but alienrobot's kicker played its part in handing him that pot and the title. INR 1,69,575 went the way of alienrobot for the win in this DareDevil tournament while second place Quickgun24 received a payday of INR 1,18,864 for his efforts.
Stayed tuned to GutshotMagazine.com for more such updates from the live and virtual felts of the poker world.
---
---
Comments