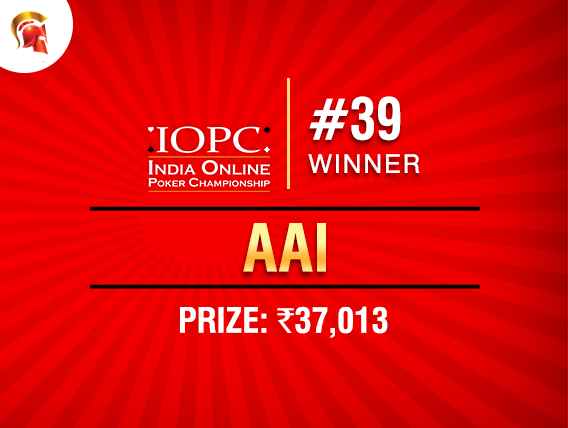 Poker
---
'AAI' wins IOPC #39 Freezeout Event
The ongoing India Online Poker Championship (IOPC) at The Spartan Poker has been garnering plenty of participants across the country who want to claim their share of the over 7 crores in prize money which is up for grabs over the course of this series. As has been over the past several days, the 4:00 pm tourney at the IOPC usually is a freezeout format. For those who are unaware, freezeout is a format where players get only one chance to buy-in and should they bust, that's the end of the ride for them in the tournament. One player though who managed to hang on and ride it all the way to the title was 'AAI' who emerged as the victor in this freezeout tournament.
INR 1.75 Laksh were guaranteed in this tournament are 31 players would walk away with a payday with a min-cash assured of INR 1,540 for this INR 770 buy-in event. The starting field of 246 was whittled down to the final table in a little over four and a half hours. A familiar name in the top finishers was 'fullfront' a.k.a Ujjwal Rana who claimed Event #8 earlier in this IOPC series. He was looking good for another one in this tournament. Being one of the short stacks in four-handed he moved all preflop with a pretty good hand in As Qh. Unfortunately for fullfront, charan1001 woke up with Js Jd and made the call. This was for fullfront's tournament life as charan1001 had twice the number of chips. However a board of 7c Kc 9s Ts 7d showed no love for fullfront's high cards and that was the end of his run in this tournament.
A short while later charan1001 was involved in another elimination when his Big Slick knocked out funckpot's Ac 6c in third place. It was now down to headsup between charan 1001 holding a 2.1 million chip advantage over AAI (911k). That lead evaporated when the latter's set of Deuces got the better of charan1001's two pair Kings and Threes. charan1001 managed to gain some of those chips back when he had a better two pair in a later hand against AAI. Pots kept going back and forth and at one point both players were virtually even. AAI once again managed to get a 2:1 advantage and that's how it was going into the final hand. A preflop all-in ensued between charan1001 (9d As) and AAI (9s 9h). AAI's pair of Nines held up on a board of 3h 6d 4h 5d 5s and that gave him the title in this IOPC freezeout for a prize of INR 37,012 while charan1001 got runner-up prize of INR 24,920.
---
---
Comments