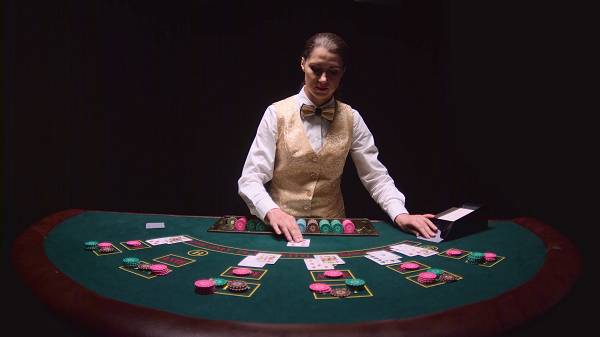 Poker
---
A Poker Dealer's Life
In the poker world there are two types of people: those that play the cards and those that deal them.
The former of the two often takes the spotlight while the latter blends into the background like a cog in the wheel. Just like the game is incomplete without the two being present, even they are incomplete without the other. In fact, when it comes to any poker variant, whether it's Texas Hold'em or Pot Limit Omaha, poker dealers are an essential ingredient that cannot be overlooked.
The poker industry always has something for you even if you are not a pro at being a poke player and if you're a fan of poker then a job as a poker dealer could be what you've been seeking all your life. To making a steady income to travelling the world, this profession could give you all of it.
Becoming a dealer sure sounds interesting but before you spend hours researching, there are some things you should be very clear about.
Like ever choice you make, you will want to consciously be sure if this is the right deal for you.
Listed below are some aspects that you could consider before trying to be a dealer:
You will have to know all the variants and games revolving around poker if you want to be a pro.
Poker has a decent amount of variants and pots. In order to impress everyone with your skills, you ought to know each variant like it is inscribed on to your bones.
You need to learn to read poker hands, bets and poker players in order to survive.
It is an essential part of the job to be able to understand the poker hands, bets and most importantly the art to judge people's behaviour in the game.
Hand reading skills & an ability to determine hand rankings quickly is also a must
Love and affection
One of the most important thing to be a dealer in poker is to love the game and have a passion that doesn't fade away, games usually last really long and only passion and dedication come handy then.
Mental Arithmetic
The ability to calculate bets and pots is an essential skill and very important for the game.
Being a poker dealer can be an extremely rewarding job, but to ensure you get the most out of the industry you'll want to make sure that you have the right skill set. From a practical perspective, there are very few formal qualifications you'll need to become a poker dealer. But, not everyone is suited for the life of a poker dealer, so it's important to recognise these abilities that will greatly help your development in this occupation.
Check out our online poker rooms section, where you can read reviews on the biggest and best poker rooms in the country, while also taking advantage of their bonuses and promotions. Check out these top poker rooms HERE.
---
---
Comments