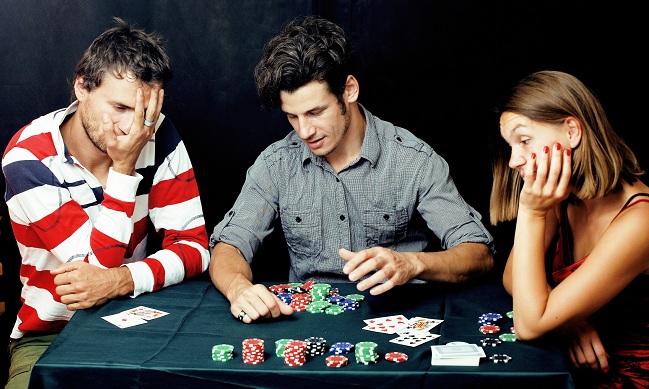 Poker
---
5 Things You Should Never Say at a Poker Table
The love that all of us have for poker does not only stem from the fact that there is money to be gained out of victories. A poker table is also a very intellectually and socially stimulating place. You meet people from different walks of life, learn their perspective on things, come to know about new things that you were unaware of and generally, gain a lot of knowledge. The game is usually played in a very jovial mood with everyone having a great time.
However, there are some topics of discussion that might make the mood a little sour. Be sure that you and your tablemates steer clear of these topics:
Don't talk politics/religion – Poker means war. However, poker is a war of gentlemen. We have deciphered from a long winding history of human evolution that nothing creates a divide among men faster than Politics or Religion. People are very sensitive to both these topics and these topics can escalate quickly. The only things that should escalate quickly at the table are bets and bluffs.
Don't discuss the hand – This is more of an ethic than a norm. Regardless of whether you are a part of the hand or not, you should never discuss your cards with your tablemates. Not only does it distract the players who are currently playing, but it might also sway their decision-making process and in turn, the outcome.
Don't ridicule weaker players – This is a note to all professional Poker players. Do not show disrespect towards new or recreational players. A condescending attitude will completely avert new players and dry up the player pool. Keep your criticism constructive and your compliments genuine. Remember, if you scare away the fish and play only with the sharks, it is going to simply hamper your chances of winning hands.
Don't abuse the dealer – Dealers, much like you, are humans. Accept the fact that they might make mistakes. Don't badmouth the dealers. Their performances also have ups and downs. Don't talk rudely to the dealer no matter how bad a job he's doing. If you are too vexed, just don't tip him and talk to the floor manager about it.
Don't tell people about your bad patch – Pessimistic and downtrodden people can be real atmosphere killers when it comes to Poker. No one wants to know about your bad beat stories either. If you portray yourself as the victim, the others will try to bully you into making mistakes. Plus, no one really likes or cares about a sob story.
Is there anything else that you think should be on 'don't ask, don't tell' list at the Poker table? If yes, then do let us know in the comments section down below.
Get latest updates on poker by subscribing to GutshotMagazine.com!
---
---
Comments