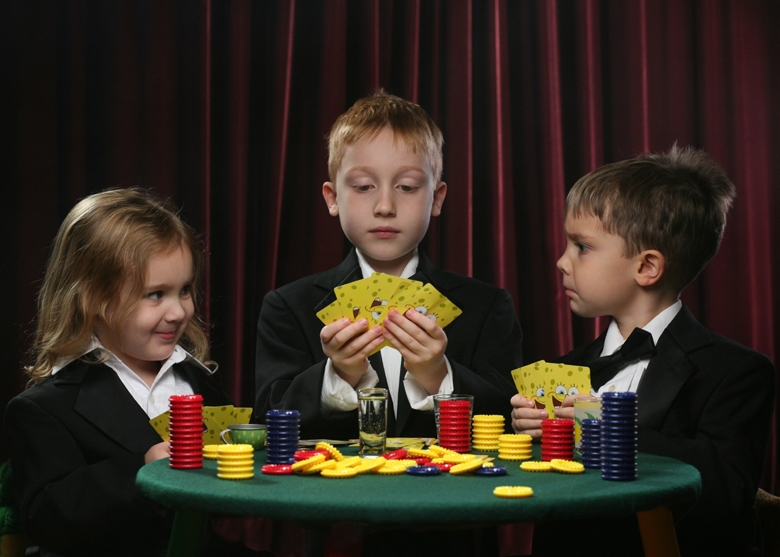 Poker
---
5 Reasons Why You Should Teach Your Kids Poker!
Have you ever given it a thought? Kids and poker may not sound very pleasing to the ears. Well, here are five reasons why you should teach kids Poker. There is a certain stigma attached with the game and parents don't want to teach their kids poker until they're old enough but kids are never too young to start learning the game. Poker is a great game to help a kid's mind to grown mentally and socially. Of course, this should be done in a kid-friendly format.  
Kids tend to be more Observant:  Being a kid, you tend to be more restless and inattentive. Poker can be an amazing way to help kids to develop their observation skills on a basic level. Also, this depends on the game they are playing. Teaching them how to pick on tells may be a little too advanced but you can give it a try. 
You're never "Last to be picked":  In a team game, you are always scared of being picked last if you lack skill. One of the best things about Poker is that it isn't a team game so you never have to worry about being the last one to be picked. Every kid in the game plays for themselves and this allows everyone to have a good time.  
Winning is always based on Luck: Usually, in sports or other individual games you can't win if you aren't skilful enough. On the other hand, you do not require skills to play a game of poker. Luck can be a great equalizer against skilful players, at least in the short term. Luck can make anyone a winner if you're playing with higher luck quotient.  
Critical Thinking Skills: One can use poker as a great tool to develop critical thinking skills. Being part of the social media world, kids aren't able to analyze situations and come up with a proper course of action. Poker is not only a luck based game but also strategy based and hence, kids need to be taught the game. 
Poker is All-Inclusive: Poker players are a diverse group with varying backgrounds and this serves as a huge advantage for bringing together kids of different backgrounds. It's not necessary that you need to try to fit in because poker automatically removes all barriers. Once you start playing the game, it doesn't matter which background you come from and that's the best part about Poker! 
Check out our online poker rooms section, where you can read reviews on the biggest and best poker rooms in the country, while also taking advantage of their bonuses and promotions. Check out these top poker rooms HERE.
---
---
Comments