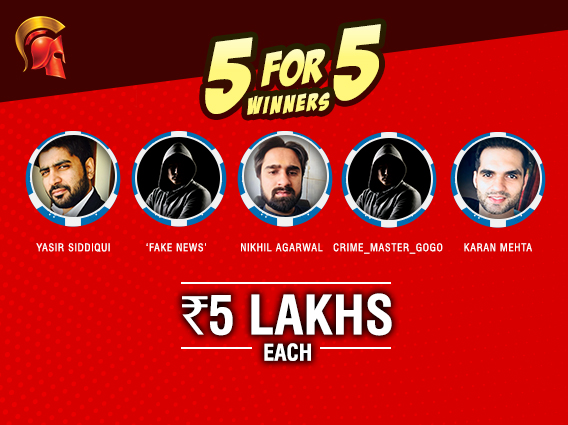 Poker
---
5 players take home 5 lakh each in Spartan's new tournament
Just a couple of weeks back, we reported Spartan having launched a new and unique tournament offering called '5 for 5'. As the name suggests, the top five players in every tournament will take away guaranteed prizes of INR 5 lakh each, regardless of the number of entries that register to the tournament.
The tournament has been scheduled for the third Sunday of every month and yesterday was the first ever edition of the 5 for 5, and it turned out to be a massive success. With a buy-in of INR 5,500, a massive field of 848 entries registered to the tournament, with play meant to stop after it reaches the 5-way stage.
The prize pool crossed INR 42 lakh in this inaugural 5 for 5 tournament and the top 60 players shared the spoils, taking away minimum prizes of INR 14,840 each. However, the top five were the most profitable, taking away INR 5 lakh each. These players were 'fake news', Yasir Anwar Siddiqui aka 'harvey1specter', Nikhil Agarwal aka 'Nick7799', Karan Mehta aka 'PokerMessi' and 'Crime_Master_Gogo'.
Having kicked off at 6pm last evening, the grind turned out to be tremendously long, eventually ending at 4:04am this morning. It would've gone on way longer had play not stopped when 'JesusOnAcid' was eliminated in 6th place for INR 2,01,400. This happened in Level #55, with the blinds at 25,000/50,000 – 5,000. 'fake news' was way ahead in the chip counts, but alas, this wasn't a tournament for a single winner, but for five winners.
Gutshot caught up with some of the winners of this amazing tournament offering. The 32-year old Yasir Siddiqui aka 'harvey1specter' is from Lucknow and is a Project Manager (Market Research). He started playing poker on Facebook through Zynga Poker during college and then later in 2014, he started playing for real money. Talking about yesterday's tournament, he said, "Initially it was not going well. I had to face bad beats. I had to buy in few times as good hands were busted. After the late reg, I decided to play patiently and only on good cards which paid off." Talking about his future plans in poker, he said, "I will continue my journey through online poker and will play live tourneys in future if I get the chance!"
Nikhil Agarwal aka 'Nick7799' is a 28-year old player from a small city in Bihar called Purnea, who is currently into business. He completed most of his schooling in Delhi and went to Bangalore for his engineering after Grade 12. "I dropped out in second year and was introduced to Poker by my brother. We started playing small stakes at home during my 4 years stay in Bangalore," he said about his introduction to poker. He also spoke about his first experience in real-money poker, saying, "The first time I played real money Poker was when I urgently required 3 lakhs to pay a bookie. I decided to go to Goa and play some poker with 80k in my pocket and I cashed out 7 lakhs in 3 days there. From that particular day, I played quite a few tournaments and cash games every now and then. I surely want to play WSOP and get a bracelet for India and for myself one day."
Another winner was Karan Mehta aka 'PokerMessi' and this 33-year old player is from Mumbai, having completed his MBA from IIM Calcutta. Talking about his introduction to poker, Mehta said, "I picked up poker on campus at IIM C just playing with friends. The first real taste of success came when I participated in the campus tourney and shipped it. It was called JSOP (Joka Series of Poker) and the poker enthusiasts from both year 1 and year 2 would compete. Even though the winning prize was small, around 15k – I was hooked. I started playing for real money immediately then on campus, mostly on PokerStars grinding small cash games."
Talking about yesterday's tournament, he said, "I was determined to finish in the top 5 in this one. Just last Sunday I was playing the Spartan SSS ME 75L GTD where I finished 7th for 1.7 lakh. I was gutted as I had a good chance of finishing in the top 3 and take home 5+ lakh min. My strategy here on the main table was to just be rational and not to be involved in too many big pots with 'fake news' and 'harvey1specter' as they were dominating the final table. I was almost knocked out with 80K chips left behind when I went all in with 1010. The hand held in a 4-way pot and I was back in the game."
Talking about his future in poker, he said, "Well. Poker is just a hobby for now. My dream is to play the WSOP someday. Till then I will keep grinding and get myself a bank roll to play the WSOP. You never know – could be a future full-time career option as well. Lastly, I would just like to thank my wife – Jinelle D'Lima. She has been a great support. A psychology major – she has helped me a great deal with the mental side of poker. She also stays up all night railing me when I play for 12-14 hours at a stretch."
'Crime_Master_Gogo' was another winner and he said, "It was a great experience playing the 5 for 5. It's a great value tournament and good to see Spartan come up with new innovative tournaments. I got in the danger zone 2-3 times but picked up hands at the right moment to come back and consistently be there in the top 5. The final table was quite lopsided as two players had most of the chips and 3 were short. 3 of us had an average stack and so the idea was to wait for the 3 shorties to blind out. The two big stacks put a lot of pressure on them and am very happy that I managed to be a winner in the inaugural tournament."
Last but not the least, we spoke to 'fake news', who has also won Spartan's Two of a Kind in the past. The player said, "It was great taking down the inaugural 5 for 5 event. I was pleased it had a great structure which allowed for a lot of good poker to be played instead of a shovefest. Looking forward for next month's 5 for 5 already!"
Keep reading GutshotMagazine.com for more updates on the biggest Indian poker tournaments.
Don't have an account on The Spartan Poker? Don't miss out on their bonuses, promotions, and guarantee-smashing tournaments. Sign-up now by clicking HERE.
---
---
Comments