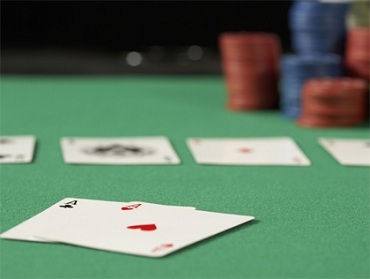 Poker
---
5 Celebrities We'd Like to See in Poker
John Cena
The WWE superstar can make one hell of a Poker Face! Probably because he's used to so much trash talking opponents. The WWE Universe has tapped almost every other Entertainment Industry, except for Poker.
We wonder why?
More or less, seeing Cena at the table will certainly be a huge joy for wrestling and Poker fans alike!
If he's at your table, would you risk knocking him out?
Ellen DeGeneres
Arguably, the most popular talk show host in the world, Ellen would be perfect for Poker. Not only she'll keep the table entertained but also it would be an awesome statement for women in Poker. She could also have some of the top female poker players on her show.
The recipient of the Presidential Medal of Freedom and the 17 time Humanitarian Award Winner, would probably end up giving all of her winnings (as she usually does) if she made the final table. She should be called, 'Ellen THE Generous'!
Dwayne Johnson
Dwayne 'The Rock' Johnson is currently Hollywood's highest paid celebrity and one of the most Influential people in the world! Also the most genuine and nicest person on earth, DJ successfully transitioned from pro wrestling to acting and now to producing. His better half, Kevin Hart is already a spokesperson for Poker and a Celebrity player for PokerStars. The duo, is hilarious! DJ's Social Media presence is global and the people just love him! Try intimidating him.
LeBron James
Nowadays, we're seeing more and more celebrity endorsements from football players. It would only be justice to see someone from Basketball as well. And who better to do it then the three-time NBA Champion and Hall of Famer, LeBron James.
LeBron is no stranger to Poker and has even played for PokerStars in the past. He has the discipline and the guts to endure the hardships in Poker. If he made the final table, it would be one of the greatest accomplishments in history by an athlete.
Donald Trump
The 45th and current President of the United States, would be the ultimate celebrity players. Doesn't matter if he's played poker or not or even if he's familiar with the game, he probably feels he's better than all of the top Poker Pros. It would be HUGE! He is likely to tweet his hand and how he's gonna destroy everyone else.
For similar poker content, keep following GutshotMagazine.com!
---
---
Comments