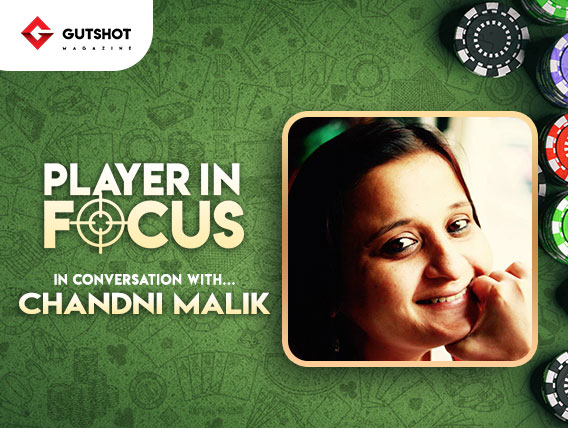 Poker
---
1-on-1 with Chandni 'Maidumji' Mali
With the poker industry expanding in our country, we've seen a whole lot of new players coming in over the past few months and years. Reading that sentence, the stereotypical image that would pop into your head is a group of men waiting outside a poker club, all eager to rake in some profits from their first ever live experience.
However, that's not how it is at all. The sport which was male-dominated in India for so many years is now producing many new female players too. Being a skill game, women and men can battle it out equally at the poker tables, especially now, with the taboo related to the sport gradually drifting away.
We have a few female pros in India who are rocking it in the poker world, while also proving to be a motivation to hundreds of aspiring women poker players across the country. One such player is Muskan Sethi, who recently became India's first female to be signed by PokerStars as a Team Pro. Earlier this year, Nikita Luther, another major inspiration, brought home India's second WSOP gold bracelet, while also becoming the country's first woman to do so.
The number of women associated with the sport is rising and that's a brilliant sign for the progress of poker in India. Another example is Chandni Malik, an upcoming female poker player who has slowly and steadily been making a name for herself in the industry. The 37-year old has a master's degree in social work (MSW) from Tata Institute of Social Sciences in Mumbai.
Playing poker part-time currently, Malik is professionally a communications specialist for public health. Coming from a small town called Bhilai in Chhattisgarh, she has been living in New Delhi since the last decade or so. Gutshot recently conducted an exclusive interview with Malik, to know more about her interest in the game of poker and how she plans on taking it further. Keep reading for more…
We've often heard that once you start taking poker seriously, you become sharper at your job and other tasks. We asked Malik if she's experienced this and she said, "Not just at day jobs, but I believe playing serious poker improves your personality in big ways. You learn discipline, patience and the art of building a story that holds. Every win improves your self-confidence and belief in yourself. Learning to lose gracefully is a tough lesson to learn but one that is essential to life, and poker teaches you that beautifully!"
Q. How were you introduced to the game of poker? Since when have you been playing real money poker?
"I was introduced to poker by a couple of friends a few years ago. Being familiar with card games in general, I picked it up quickly and we started by playing a lot of home games among ourselves. While the home games with friends involved real money, they were mostly recreational games with small stakes. It has been over a year now that I've started playing serious real money poker online."
Q. What do you prefer? Live or online poker?
"Tough question! I think both are completely different experiences and both have their own charm. Being a social person, I love playing live cash games with friends and as far as tournaments go, online is the way to go for me."
Malik has mostly grinded online since she began playing poker seriously, but now has experience in live as well as online set-ups. Making her debut at the WPT India series earlier this month, she impressed with a deep run in one tournament. She is also heading out on an international trip soon, winning an INR 2 lakh package to Australia on 9stacks, where she plays under the screen name 'Maidumji'.
Q. What would you consider your biggest achievement in the game of poker so far?
"I consider myself a beginner in the game, so every time I win something significant, it becomes big for me. The first big tournament I shipped on 9stacks was Sunday Stacks, with a prize of INR 94,000, so that was pretty special. More recently, I won a package for Aussie Millions so that is thrilling too! Also, at the WPT India 2018 in Goa, I finished in 17th place for a prize of INR 1.06 lakh (~$1,483) in one of the tournaments, so that's my first live tournament win!"
Q. We found your online username 'Maidumji' pretty hilarious. How did you come up with it?
"Ha ha ha. It's a funny story actually. I was setting up my poker account online and was wondering what username to use, when the grocery store delivery guy rang the bell to deliver groceries. He said "Maidumji, Namaste". That stuck with me and hence the username."
Q. Poker in India has mainly been a male-dominated sport. Do you think that's an advantage or disadvantage?
"It all depends on how you want to look at it. Sure, there are mostly men playing. The table talk, and bad language gets to me on many occasions, but I prefer to think of being a female player as an advantage in poker. For one, men try to bully female players with medium/no hands a lot, so if one is patient, one can trap them with a good hand and win the pot. Also, there's the perception that women players don't bluff, or at least not as much as men, so once you have that table image going, you can roll with it!"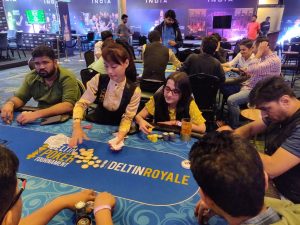 World Poker Tour (WPT) recently hosted their second series in India, played at the Deltin Royale in Goa between 13-19 November. For someone playing their first live poker series, the pressure can really get to you, but Malik finished 17th in the INR 35k Superstack tournament which was won by Abhishek Jalan. She was the highest ranked female player in that event.
Q. Tell us about your experience at the recent WPT India series in Goa.
"The WPT experience in Goa is best described as 'surreal'. It being my first experience, I loved the casino atmosphere, the lights, the sound of chips, the whole deal! I met many players from across the world and enjoyed interacting with them. I would love to become a regular at live tournaments in the future!"
Q. Having won a trip to the 2019 Aussie Millions, how are you preparing for that series?
"Since Aussie Millions will be my first International experience, I am studying hard to better my game. I am going back to reading Harrington on Hold'em, which is truly a classic. A lot of people argue that it is outdated, and the game and play has evolved since then, but I believe in getting the basics right. Once that is in place, you can choose to be as creative as you want, with a solid base to fall back on!"
Malik has a couple of months before she hits the tables at the Crown Melbourne for the 2019 Aussie Millions. Here's hoping that she makes the entire Indian poker industry proud and comes back with a title. Or two. We're also hoping that like her, several more Indian women are inspired to take up the beautiful game of poker.
On a parting note, Malik spoke her mind about poker in general, while also encouraging more women to take up the game, saying, "Poker is a wonderful sport that requires strategy, skills and patience. I would love for skeptics to give it a try before writing it off as gambling, because it is definitely not that. I would particularly urge more women to try their hand at the sport; the field surely needs more women players to compete and win the big bucks. See you at the tables!"
– With inputs from Dwayne Fernandes, Gutshot Editorial
For similar conversations with the top entities in the Indian poker industry, keep reading GutshotMagazine.com.


Check out our online poker rooms section, where you can read reviews on the biggest and best poker rooms in the country, while also taking advantage of their bonuses and promotions. Check out these top poker rooms HERE.
---
---
Comments