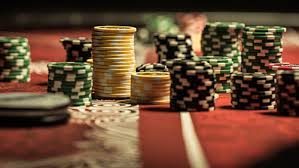 Poker
---
Top 5 tips when learning a new game
Poker has multiple variances and versions in itself. There is Texas Hold'em, 5 Stud Poker and  H.O.R.S.E formats among others. A player can expand his horizons by playing in various formats and styles of the game.
Here are some tips to bear in mind when switching into a new format of Poker
Don't forget the bluff
There are many players who forget that an integral part of poker is the bluff.You need to multi-task and focus on not only planning your next move, but also throwing off your opponent. The most crucial part of any poker strategy is the bluff and hence, you need to keep an eye on the same as well.
Wait it out
Poker needs a lot of strategizing to master. Think your next move quite carefully and don't rush to make rash decisions. Every move is crucial in this game and a wrong turn can cut through your winnings quite significantly. Take the time out to calculate your hand rankings, risks and bankroll before committing a move. This time is ideal to spot your opponents reactions and make a calculative guess about his next.
Focus on just one table
When you become proficient in one form of poker it is quite normal to play on multiple tables in that form. As you are learning the ropes on a new form of poker, it is advisable to stick to just one table at a time and concentrate on mastering your moves.Use this time to observe your opponents and strategizing so you can be back on your way to playing on multiple tables.
Save up in the beginning
Playing poker can be a huge risk at any stage of the game. As a beginner, you should keep the stakes low and focus on studying the style and strategy of your opponent. The more proficient you are, the more you can spend. A miser strategy in the beginning of the game can help you win big in the later stages as you have more to bet on.
Learn before you play
Although learning about pokerwhile playing it is a much more exciting prospect than reading about it, it's very beneficialfor you to familiarise yourself with the rules of poker before you start playing. You can lose out on the subtle nuances of the game if you haven't learnt the basics of the game. So build a strong base for yourself to build your poker game on.
For more 'Poker Gyaan' articles, keep reading GutshotMagazine.com. 


Check out our online poker rooms section, where you can read reviews on the biggest and best poker rooms in the country, while also taking advantage of their bonuses and promotions. Check out these top poker rooms HERE.
---
---
Comments