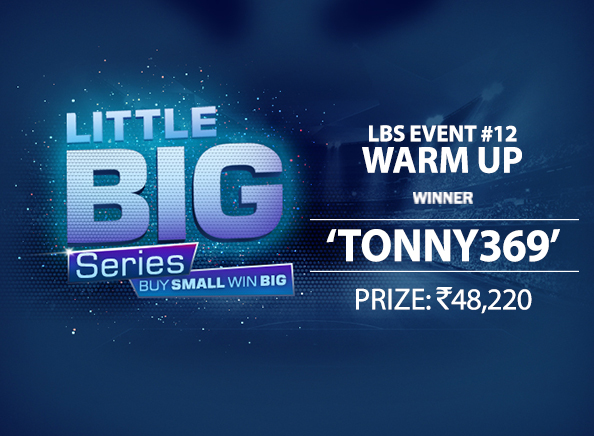 Poker
---
'Tonny369' ships Warm Up at Little Big Series
It's been a week packed with tournaments up and down the board and this ongoing Little Big Series (LBS) is drawing in plenty of players for the value being provided for buy-ins that are at a smaller level. Another four events took place yesterday at LBS's Day 3 at The Spartan Poker and we had another four winners crowned. The highlight tournament of the day was won by 'Tonny369' who claimed top honours in the Warm Up tournament which featured the biggest buy-in and guaranteed prizepool.
Let's take a quick round-up of all the tournaments on this penultimate day of action at the LBS:-
LBS #9 (60k GTD)
Action for the day kicked off at 2:00 pm in the afternoon with this Rebuy+Add-on tournament featuring a buy-in of just INR 110. 156 players took part putting in close to 500 buy-ins into the prizepool. Heads-up came down to between 'dm11' and 'EagleMan' with the latter being extremely short on chips. However he stuck in there fighting hard over a protracted heads-up match. Eventually though dm11 (6h Ah) won the tournament against EagleMan (Qh Jh) when he spiked an Ace on the turn card on a board of 2d Ts Qs As 5c. For the win, dm11 got INR 14,400 while his opponent got INR 9,750.
LBS #10 (60k GTD)
Next up was the late afternoon tournament featuring a buy-in of INR 330. This tourney followed the Progressive Knockout format where the bounty keeps increasing on the player who knocks out his opponents. Each elimination would fetch INR 100 as bounty. 'sungun' and 'buddy07' went up against each for the title with the former holding a 2:1 lead. However like with the previous tournament, the short stack put up quite a fight. The final hand had both players at virtually even stack with sungun (Ad Jd) holding a slight lead. He moved all-in before the flop and was called by buddy07 holding Ah 6c. The dominant hand become even stronger with an Ace high flush on a board of Td 9d 2d Kd 7h. sungun won INR 12,690 for first place while buddy07 took home INR 8,544.
LBS #11 (60k GTD)
The penultimate tournament of the penultimate day at the LBS saw a third consecutive 60k guaranteed prizepool up for grabs. The buy-in was similar to the previous tournament, the difference being that this was a freezeout event. The field eventually got whittled down to 'Dhanraj Seth' and 'mr.wayne' doing battle for the title. mr.wayne was the short stack but managed to close the gap a fair bit but lost a couple of big hands and was crippled when he decided to move all-in with 4s 6d. Dhanraj Seth made the call with Qd 5h and hit a pair right off on a board of 5d 7s 9s Jc Th giving him the title and top prize of INR 13,950. mr.wayne took home second place prize of INR 9.450.
LBS #12 Warm-up (2 Lakhs GTD)
And then it was time for the biggest event of the night, the LBS Warm Up featuring a guaranteed prizepool of INR 2 Lakhs for a buy-in of just INR 550. 481 entries took the prizepool up to INR 2,40,500 from which 39 players would be paid a minimum of INR 1,659. 'Exit the Matrix' ran deep in this one eventually busting in 4th place for INR 18,927. Heads-up saw 'Tonny369' taking on Bhanu Prakash a.k.a 'spectre' for the title. spectre was actually leading almost all the way through the heads-up chipping away and winning pots to open up a 3:1 lead over his opponent.
Chips shifted the balance in Tonny369's favour when in a preflop all-in his 8s Qc managed to hit two pairs against spectre's Big Slick (Ah Kc) on a board of Js Qd 9h Jd 6h. Stack were almost even with Tonny369 holding a slight lead when the final hand happened just a couple of minutes later. spectre holding Th Ah moved all-in to Tonny369's pre-flop raise with 7c Ks. The latter decided to make the call and the players saw 3s Kh 3d 2s Kc giving a full house to Tonny369 for the title and first prize of INR 48,220 while spectre had to settle for INR 32,058 for second.

That was it for Day 3 action at the Little Big Series at The Spartan Poker. Come back tomorrow for our LBS round-up from the final day of action. Also remember the Sunday SuperStack taking place later tonight where INR 500 from all buy-ins will be donated by Spartan to the Kerala Flood Relief operations so open your hearts and your wallets and play poker for a cause!
---
---
Comments