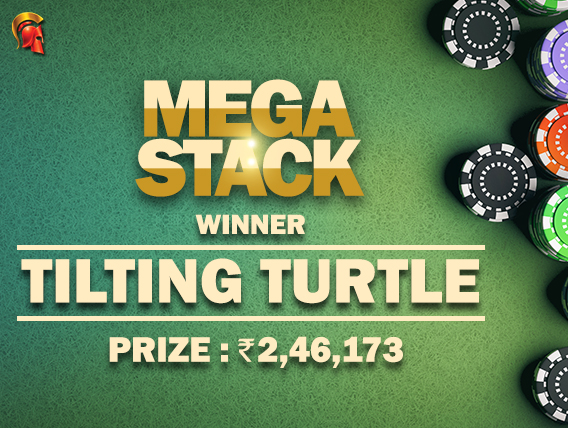 Poker
---
'tilting turtle' tops Spartan Mega Stack
It was a good outing at the virtual tables of The Spartan Poker on Tuesday night for 'tilting turtle' as he claimed the top spot in the Mega Stack tournament. For his winning effort, tilting turtle won a sum of INR 2,46,173 after a three-handed deal took place among the final three.
The INR 12 Lakhs guarantee on this event was surpassed comfortably when 467 entries ponied up the INR 3,300 buy-in for this tournament yesterday evening. A total prizepool of INR 14,01,000 was in play as a result which would be split between the top 39 finishers. Everyone who made it into the money was assured a payday of minimum INR 9,666.
Let's take a look at a couple of the big hands that went down in this Mega Stack. While the tournament continued three-handed for a while before the deal was struck, the last player elimination happened earlier in Level #48 with blinds running at 35,000-70,000-8,750. '9high' (934k chips), 'Nomercy3801' (3.4 million), tilting turtle (2.8 million) and 'Dreamfreeze' (2.1million) remained in the field. Dreamfreeze with 4s Ah raised it to 140,000 and soon faced the all-in of the shortstack 9high who held Qd Kc. While Dreamfreeze may have considered a call, that thought was laid to rest when Nomercy3801 called with pocket Jacks (Jd Jc). Hopes were immediately dashed for 9high when the board of Jh 6c 7h 7c 5s gave Nomercy3801 a fullhouse of Jacks full of Sevens which eliminated the short stack in 4th place. Nomercy3801 moved into a solid lead at this point.
A few hands later tilting turtle further consolidated his stack when he won a million chip pot against Dreamfreeze in a raise-raise battle which was conceded on the flop by the latter. But tilting turtle moved into the lead in a big way when he scored a 4 million-plus pot from Nomercy3801. After a pre-flop raise by tilting turtle (5h As) where the other two players flatcalled, flop of Jh Ah Ad was spread on the board. tilting turtle once again fired out a bet with his set of Aces and got a called in Nomercy3801 who caught a piece of that flop with his Kd Jc. Another bet fired out by tilting turtle on the turn 2h saw another flatcall by his opponent. The river Jd couldn't have been a worse possible card for Nomercy3801 who made a full house and called the 1.2 million bet fired out by tilting turtle on the river. A third flatcall only to see the bad news that tilting turtle had the better full house of Aces full of Jacks. This hand took him to 6 million in chips while Nomercy3801 dropped down to 1.1 million and Dreamfreeze was at 2.1 million.
It was coming around to just about 2 am when these three players played their final hand which was again won by tilting turtle after which the players agreed upon a deal. Basis ICM, tilting turtle took the win and INR 2.46 Lakhs while Dreamfreeze took 2nd place for INR 1.91 Lakhs and INR 1.66 Lakhs went the way of second runner-up Nomercy3801.
Get your daily dose of poker right here at GutshotMagazine.com!

---
---
Comments