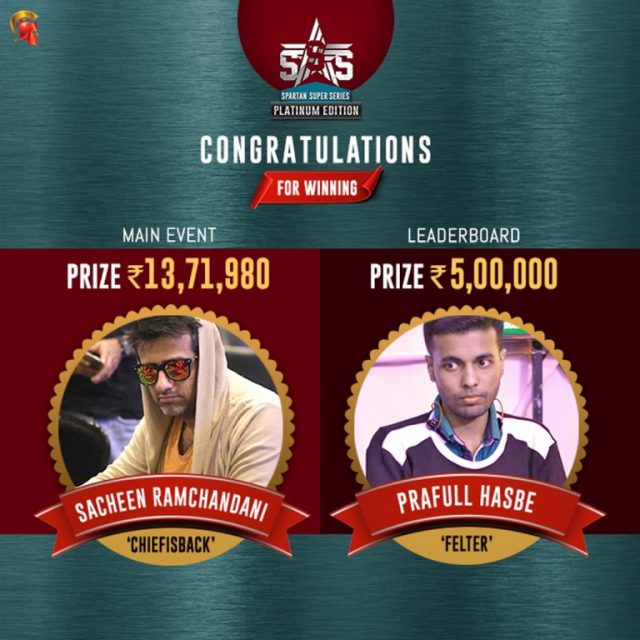 Poker
---
SSS: Sacheen Ramchandani wins ME; Prafull Hasbe tops leaderboard
TheSpartan Super Series (SSS) Platinum edition week has ended on a high note with over 35 tournaments coming to their conclusion and players taking down many titles along with their accompanying huge prizes. Sunday night was the final day of the series with 6 tournaments on schedule including the show stopper Main Event with a massive 75 Lakhs in GTD prizepools on offer all for a buy-in of INR 11K. When the virtual dust settled it was Mumbai based player Sacheen Ramchandani who shipped the title in style lasting over a a 10 hour long grind and getting a sweet payday of INR 13,71,980. Along with these tournaments, there was a SSS leaderboard too worth INR 10 Lakhs that players were competing for including the INR 5 Lakhs up top for the eventual leaderboard winner. With two titles in the bag and a number of consistent finishes, it was another Mumbai player and a Spartan Millionaire runner-up in Prafull 'Felter' Hasbe who topped the leaderboard and scored a 5 Lakh payday. 
Gutshot spo
How does it feel to win SSS Platinum Leaderboard?
First of all, I would like to thank Spartan for arranging this beautiful series with great structures, and congratulations to all the tournament winners. It feels so surreal after winning the SSS TLB. The competition was tough, but 2 titles, a 2nd place finish in Destiny, 2 additional final tables along with 3 more ITM finishes helped me lock down this win on the SSS TLB. 
How did you start on your poker journey?
I started my poker journey about 3 years back when my college mate introduced me to poker and no I actually did not start my journey with Zynga Poker. I started from the bottom, playing freerolls on some Indian sites. Built decent bankroll so many times through tourneys and then lost it on cash tables. One day I decided to quit cash games and focus mainly on tournaments. That's how I rebuilt my bankroll. 
Tell us about your online play. What's your game mix like?
I play NL hold'em tournaments only online on Indian sites for now. Like I said I quit cash games, but if I am in the mood, I play Omaha cash games only. 
What do you do to improve your game?
I watch a lot of YouTube videos on poker as reading was never my habit really. I watch cards-up coverage of big tournaments from start to end if available. Recently I subscribed to PokerGo. Watching the Poker Masters helped me take my game to a whole new level. 
Is your family supportive of you for playing poker?
I told my parents about my poker life just two months back. Believe me, Indian parents do not like the word – Cards! After explaining the whole concept behind poker, my dad supported me a little bit, but my mum shouts at me every day. She still wants me to complete my Bachelor's degree and get a job. 
What are your future plans for the live and online space?
My future plans – First of all, know the identity of 'eemansingh', secondly to become a pro, and third is to conquer the live arena also. 
Here is the quick round-up of the last day of the series: 
SSS #30 INR 550 (100K GTD) (FO) 
The day began with 207 entries making a prize pool of INR 1,03,500 which was distributed to top 26 places with a min-cash of INR 932. Outlasting these entries it was 'Vampire2706' to ship the first title of the day for INR 22,700. 'Vampire2706' defeated 'LUSTYNUTS' in the heads-up battle who took home INR 15,421 for the second place finish. 
SSS #31 INR 1,100 (300K GTD) (RE) 
An exact 329 players registered for this tournament to make a prize pool of INR 3,29,000. Top 30 places were paid with a min-cash of INR 2,468. Vivek 'Shvek25' Dubey was the last man standing in this tournament to defeat 'arjanchadha' in the heads-up battle. Dubey collected INR 69,090 for his first-place finish while the runner-up 'arjanchadha' collected INR 48,363. 
SSS #32 INR 1,100 (400K GTD) (R+A) 
The third event of the day started with 434 participants creating a prize pool of INR 4,34,000 which was distributed to top 21 places with a min-cash of INR 5,425. 'arjunk511' knocked down this tournament for INR 1,04,160 defeating 'TheGrinder' in the heads-up battle. 'TheGrinder' collected INR 70,525 for the second place finish. 
SSS#33 INR 11,000 Main Event (75L GTD) (RE) 
The showstopper Main Event drew 758 entries to make a prize pool of INR 7,58,000 where top 64 places took a share of the prize pool with a min-cash of INR 26,530. Mumbai based professional poker player Sacheen Ramchandani who plays under the moniker 'chiefisback' claimed the title outlasting these huge entries and bagged the Main Event title for INR 13,71,980. Ramchandani defeated 29-year old Amar Mehta a.k.a 'kidpoker0109' in the heads-up battle who collected INR 9,92,980. 
Sr. Consultant at a Global Consulting Firm, Mehta said, "Loved the 9-hour grind of the Main Event. I was playing after a gap of 2 months due to work and was delighted to be back in action. The tournament structure was very deep which suits my style of play. I had about 5 blinds an hour before the bubble, got a couple of good spots to push to get the much needed double ups. Just entered the money pretty short and ran pretty hot since then. I had one of the top stacks for the rest of tournament with about 50 remaining and never looked back for there. Was aggressive throughout keeping ICM in mind and put a lot of pressure on my table which helped me maintain my stack till the end. Was a good heads-up (HU) battle which ended when my queens got busted with Ax Tx on the river. I would like to thanks TheSpartanPoker for such deep structured and high guarantee tournaments." 
Gutshot spoke to the very handsome 36-year old Sacheen Ramchandani on his win and he said, "It was 10 hours of grinding in which I went for food tasting at a friends restaurant. There were lots of ups and downs in the beginning. I came from 9K to 30K+ then I just couldn't climb up till I decided it's now or never after like 3 or 4 hours." 
He shared few key hands from the tournament, "There were hands like I played suites As 5s vas Ax Qx and I hit my 5x on the flop. Also Qx Qx vas Ax Kx where the flop came with Xx Xx Ax and the turn Qx gave me a double up." 
"Tthe most crucial for me was Ax Ax on UTG I limped and flop I hit my trips with a flush draw and turn the draw completed and river the guys shoved all in on me. It took me more than 85 seconds to call, after that there was no looking back. The final had was AMAZING 'kidpoker0109' had Qx Qx I had Ax Tx I hit runner runner straight. 
2 days back Raj Kundra's inaugural Match Indian Poker League (Match IPL) concluded in which Ramchandani was a part of the winning team Mumbai All-Stars, he said, sharing some glimpse he said, "2 titles in 2 days feel good, it was the different form of poker. My team Is amazing Mumbai All Stars each and every player is amazing." On his win he and his team will be representing India on the international platform, "I am looking forward to representing India for Match IPL, this Main Event title under the belt, 2017 is having a good end." 
He never forgets his homework which improves his game, "I watch lots of videos online, I love listening and learning from all poker players as everyone has a different take on how to play poker." Lastly, "I would like to thank all my friends for support till it got over and staying awake with me." 
SSS #34 INR 5,500 SuperStack (25L GTD) (RE) 
The second last tournament of the day and the series SuperStack attracted 509 entries to make a prize pool of INR 25,45,000. Top 47 places were paid with a min-cash of INR 11,453. Coming on top it was 'brianmay' taking down the title for INR 4,70,825. 'brianmay' outlasted 'Hebe' in the heads-up battle who took home INR 3,39,758 for the second place finish.
 SSS #35 INR 2,200 Last Chance (600K GTD) (RE) 
'IamMental' outlasted 361 entries to claim the last event of the series for INR 1,44,400. These entries made a prize pool of INR 7,22,000 which was distributed to top 35 players with a min-cash of INR 4,693. 'IamMental' defeated 'nexus010' in the heads-up battle who collected INR 1,01,080 for the second place finish. 
And with that the Spartan Super Series – Platinum Edition comes to a glorious end. We've been told that the next big series on schedule is the IOPC in January and according to insider reports, there's more than INR 5 crores in guaranteed prizepools on the cards. Stay tuned for more upcoming series and stories with us.
---
---
Comments