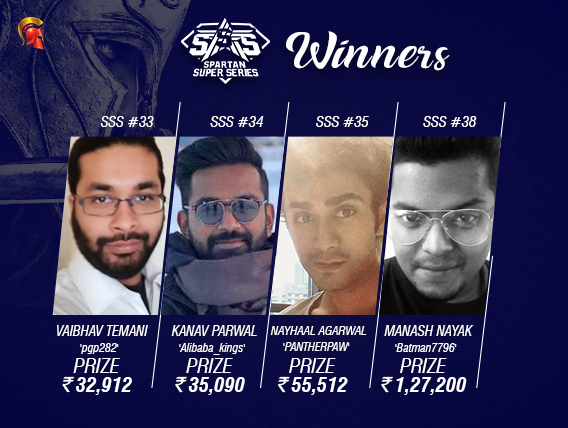 Poker
---
SSS Day 6: Nayak, Agarwal, Parwal, Temani among winners
The penultimate day of the ongoing Spartan Super Series (SSS) saw a total of 6 tournaments lined-up, all varied in their GTDs and buy-ins so as to suit players of all pockets. The day's biggest tournament was Saturday's feature tournament of Spartan Poker, the DareDevil. Here's a round-up of all the exciting action witnessed yesterday:
SSS #33 – INR 1.25 Lakhs GTD
The day began on a humble note and kicked off with a low GTD tournament. The tournament attracted 163 unique players to the felts and awarded the top 27 places with pay-checks for a min-cash of INR 1,346. Winning the first-place cash prize of INR 32,912 was Vaibhav Temani aka 'pgp282' who beat 'Laard Labakdas' in heads-up.
Heads-up saw Temani with a comfortable chip lead. He had 2s Kd in hand and raised all-in before the flop. His opponent called with Qd Td and the board of 4s Ah 4h 9c Jh revealed, giving Fours to both. Temani bagged the victory with the higher King kicker. The runner-up earned INR 22,290 at 2nd place.
SSS #34 – INR 1.5 Lakhs GTD
This one drew a total of 141 unique players to the virtual felts and saw the top 27 places being paid (min-cash INR 1,435). Kanav Parwal aka 'Alibaba_kings' won the second tournament of the day for INR 35,090. He beat 'Moji Padu' in heads-up to secure his victory.
The last hand of the tournament saw Parwal packing Tens and shoving his stack pre-flop. His opponent had Ah Ks and called to see the 6c 4h 7d 3h 3d board. Parwal took the pot and the title down with his Tens and Threes beating Moji Padu's Threes.
SSS #35 – INR 2.25 Lakhs GTD
The 3rd event of the day attracted 124 unique players and even crossed the guarantee, for a buy-in of INR 990. Overcoming the field and finishing 1st was Nayhaal Agarwal aka 'PantherPaw' for INR 55,512. He beat Zarvan Tumboli aka 'BolAuntyAuKya' in heads-up to secure the victory.
In the last hand, he beat Tumboli's Ad 5h with As 3d, making Aces and Threes on a board of 3c 8d 9d Jd Ac which was enough to beat Tumboli's Aces. Agarwal has already won the SSS #3 title in this edition on Day 1, earning his 2nd yesterday. Tumboli had won the SSS #2 on the same day.
SSS #36 – INR 2 Lakhs GTD
The fourth tournament of the day, for INR 660 buy-in, attracted a total of 142 unique players to it. The top 24 places were paid for a min-cash of INR 2,000. Emerging on the top of the field and earning INR 46,000 as the first-place cash prize was '7vik'. He beat 'Deepak32145' in heads-up to secure his victory. 7vik is a regular grinder and has ran deep in previous online tournaments on Spartan.
SSS #37 – DareDevil INR 10 Lakhs GTD
The tournament was the biggest for the day and saw a total of 15 places being paid for a min-cash of INR 19,760. A total of 112 unique players were attracted to the felts. Claiming the title and the first-place cash prize of INR 2,91,200 was 'Psycorp1'. He beat acclaimed pro Goonjan Mall aka 'gmtesting' in heads-up to claim the prize.
The final hand of the tournament saw Psycorp1 with over 2:1 chip lead over Mall. It was a pre-flop all-in situation, Psycorp1 shoving with Qs Ts. Mall called with 6h Ac to see the board of 9s 2h 5s 6s 2s. Psycorop1 took the pot down with a Queen high flush over Mall's two pair.
SSS #38 – Hi-Fi INR 3.5 Lakhs GTD
The day ended with the Hi-Fi which saw a total turnout of 109 unique players. The top 21 places were paid for a min-cash of INR 6,625. Manash Nayak aka 'Batman7796' won the tournament for a decent pay-check of INR 1,27,200 and beat 'StoneAK47' in heads-up.
In the last hand of the day, Nayak and his opponent played till the entire board of 9d9 Th 2h Qd Kd was revealed. Nayak held Ac Jh and shoved on the river, making a Ten to Ace straight. His opponent called with Tc Js, making a straight too, but little did he know that he'd be beaten by a higher straight. The runner-up later settled for INR 86,125 as the second-place cash prize.
Keep reading GutshotMagazine.com for more such tournament updates, roundups and for your daily dose of poker news from around the world.


Don't have an account on Spartan Poker? Check out their review page here, and don't miss out on their bonuses, promotions, and guarantee-smashing tournaments. Sign-up now.
---
---
Comments