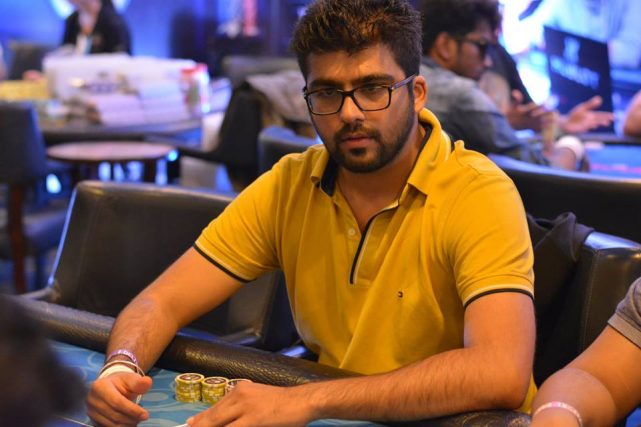 Poker
---
Siddharth Karia is the 7th Destiny 3.0 winner on Spartan
Just a few weeks left for the Destiny 3.0 Finale SnG and we now have seven of those 10 seats filled with the sixth Destiny winner emerging in the ongoing Spartan Super Series (SSS) Finale 2017 on TheSpartanPoker. That winner was none other than Siddharth Karia, a well known quantity from the domestic poker circuit. An entrepreneur by day, Karia has plenty of experience on the international circuit as well. Aside from this Destiny title, Karia's online exploits at Spartan include a title win at India Online Poker Championship (IOPC) back in July. He even received his trophy at the IPC Awards held in Bangalore this past September.
In fact, Karia is a massive heater at the moment. As we publish this article Karia has just shipped another title in the SSS and that's The Elite which further consolidates his top position on the SSS leaderboard. The big prize up top for this leaderboard is a smoking hot Harley Davidson 750cc motorcycle as well as an additional INR 5 lakh in cold hard cash chips. The 25-year old Ahmedabad resident scored a payday of INR 662,200 for his win at the Destiny tournament and also a ticket to the Destiny SnG Finale worth INR 1 lakh. He outlasted 594 entries in the tournament all contributing to a prize pool of INR 29,70,000. The top 50 places took a share of the prize pool with a min-cash of INR 14,850.
An interesting fact about Karia is that during his teens he aspired to become a professional cricketer. To that end, he represented the Gujarat State Cricket Team for the Under-15's and Under-17's. Poker came into his life when his elder brother taught Siddharth the basics about poker. Karia shared, "My brother was so intrigued by it that he stopped playing other card games with us and that made me curious as well. Once I started knowing the complexities of it, I too was hooked."
Gutshot caught up with with the champion Siddharth Karia in an email interview amidst his tight schedule of playing the SSS and here are the excerpts:-
Congratulations Siddharth! Please tell us when did you start playing poker for real money?
I ended up going to the same college as my brother, Symbiosis and started playing for real money with our then seniors and now very close friends. We used to play house games every day and love for poker increased during that period.
What about live tournaments in a poker/card room?
Recently, I have only been playing online. But my love for poker tournaments reignited when I was in the US for my MBA. I visited Vegas and other poker destinations in the US and did well in the live tournaments. My last three outings in live tournaments have been great as well. Came 2nd in a $300 tournament in Macau during the Asia Championship of Poker. While representing Goan Nuts in the Poker Sports league, I won the heads up event, came 3rd in the ME and reached the FT of teams event. I also finished 6th in the Bounty Event of WPT, Inda.
Describe your journey through Destiny.
I had got a decent start but was down to the bottom 5% when 60 players were left. I was always in the bottom 10% of the total players right until the FT. However, I knew that one or two double ups will change it all. That's exactly what happened, entered 7/8 on the FT and got a setup hand straight away. "Randomuncle" opened from Hi Jack with Pocket Nines (99) and we shoved with Pocket Tens (TT). Our Tens held and we were in business. After that, I got quite a few chips from "IMUNAGI". We hero called with pocket Deuces and won a decent hand on another sort of setup, where our flush of Ks 7s won against 'IMUNAGI's' three of a kind. Once we got these chips we never looked back. Heads up was against "Bluffer", and our AT held against his KJ. Kudos to The Spartan Poker's team for having such a great structure of the tournament, which allowed us to dig in.
Any particular turning points in the tournament where you felt that you could win it?
After those two hands that I mentioned against IMUNAGI, I really thought I could win.
What are your future plans for the live and online space?
Future plans are to keep playing online on a regular basis and mix work with Live tournaments in India and abroad. However, right now the focus is on doing well in the Spartan Super Series Leaderboard.
Your feedback on The Spartan Poker?
The Spartan Poker has been doing a fantastic job with the promotions. The Harley Davidson 750cc motorcycle and INR 5 lacs to the leaderboard winner have taken everyone's attention and also forced "poker players" to take leave from work. Cheers to the whole team! (laughs)
What do you plan to do with this money?
Some go to the bankroll and some will be invested in my portfolio.
Anything else you want to share?
Want to tell just one thing to all the budding poker players – "Variance hai toh Poker hai"
Stay tuned to GutshotMagazine.com for more such stories.
---
---
Comments