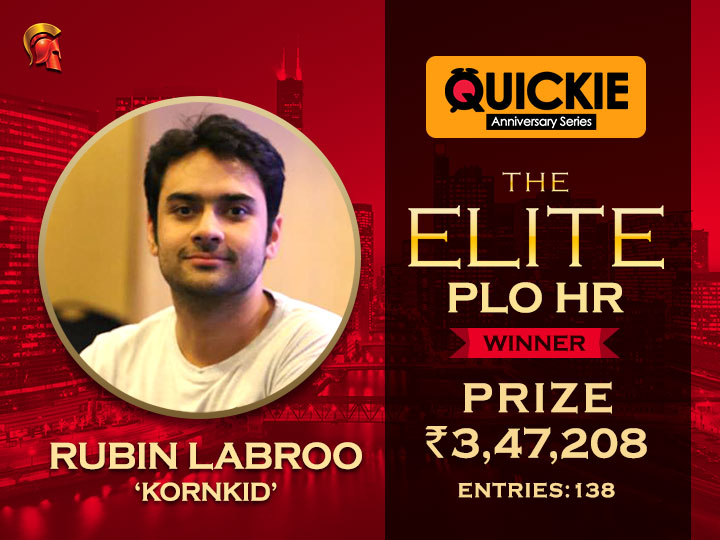 Poker
---
Rubin Labroo wins Quickie Elite PLO for ?3,47,208
The ongoing super entertaining Quickie Series on TheSpartanPoker has concluded its Day 2 with two big tournaments i.e. Destiny and Elite PLO Highroller. Two days into the series, 'Drunkenf1st' is maintaining the lead on the Quickie leaderboard with 4,400 points. There are some sweet prizes for the leaderboard topper who will receive a brand Suzuki Intruder motorbike as well as INR 40,000 in cash! Only two days left to claim these fantastic prizes as the Quickie Series will end on 16 February. The final day will feature the 40L GTD Finale in which the first-place finisher is guaranteed to receive a minimum of INR 10 Lakhs on a buy-in of just INR 5,500. Check out the graphic below to see all Day 2 winners.
Let's take a quick look at the featured tourneys, first one being Destiny; the weekly tournament where the winner will not only receive cash prizes but also a ticket to the Destiny SnG Finale. Winning this SnG can send this lucky player to Las Vegas on a package worth INR 10 Lakhs! Besides return flights and hotel stay, the winning player will also gain entry into the live tournament in the world where he/she could wins millions of dollars! Last night saw 'Alfie Solomons' claiming the Destiny title for INR 562,500 and a ticket worth INR 1,00,000 for the Destiny SnG Finale which is scheduled on 18 March at 6:30 pm. Till now the Destiny 4.0 series has already locked in six qualifiers for the SnG Finale including 'Bikini Babe', 'fishrag', 'mrgr33n', 'pokernoob', 'randomuncle' and our latest winner in 'Alfie Solomons'.
Speaking with Gutshot, 'Alfie Solomons' shared tournament experience with us, "My tournament experience was good. I think the final hand was very key. My opponent was playing very aggressive and I decided to go with my instinct." The heads-up play was between 'Alfie Solomons' and 'kalu9999' ended in Level #40 with blinds running at 50,000-100,000-10,000. 'kalu9999' had Ah Ks and 'Alfie Solomons' was holding 5c Ac. An all-in on the flop opened up a board of 6h 5s Qd 6c 3h which gave two pairs, Sixes and Fives to 'Alfie Solomons' and also the title. 'kalu9999' was eliminated in second place for INR 412,500.
The second big tournament of the day saw the Elite PLO take place and which was claimed by one of the regs on TheSpartanPoker. Rubin 'kornkid' Labroo was best of the 138 entries which made a prizepool of INR 13,80,000. The prize pool was distributed to top 17 places with a min-cash of INR 21,666. Labroo outlasted these entries to claim the first place prize of INR 347,208 eliminating 'Bikini Babe' in second place for INR 234,600.
In the Level #42 with blinds18,000-36,000, 'Bikini Babe' had 4c 8c As 9d against 'kornkid's' 9s 5s 9c 7s. The board of Jh 2c 6s 8s Jd gave 'kornkid' the title taking it down with two pair, Jacks and Nines.
An excited Labroo spoke to Gutshot the following day, "It was a great experience playing the TheSpartanPoker's Quickie Elite PLO. The tournament had a great deep structure with a lot of playability. I entered the tournament an hour and a half of the late registration. I got an early double up and then a triple up to have a massive chip lead early in the game where I had a 700K stack and the second guy had 190K (3.5:1 chip lead) when around 40 people were remaining. I just kept bullying continuing to play an aggressive game. Got a lot of setup situations, to be honest but also exploited blocker bluffs a lot. I entered the final table with a 4:1 chip lead and knocked everyone out one by one. 'kalu9999' and 'Bikini Babe' were tough opponents as they played back a lot and did not give in to the pressure as much I would have liked them too. Had a swingy heads up with 'Bikini Babe' and finally won the tournament."

---
---
Comments