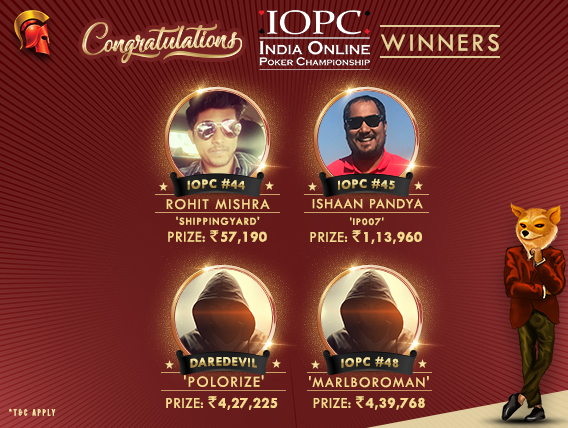 Poker
---
Rohit Mishra wins among 4 others on IOPC Day 9
After the reportage of Vinod Megalmani winning the IOPC Day 9's the PLO HR, it's time to report the rest of the happenings on the day. The India Online Poker Championship (IOPC), starting 11th January 2019, was a phenomenal success so far, breaking almost every tournament's guarantee. Such was the case on Day 8 also.
IOPC #44 – INR 2 Lakhs GTD
The first of the events on the day was an INR 2 Lakhs NLHE, attracting 298 entries and breaking the guarantee and creating a fresh prize pool of INR 3,01,000. The top 45 paid positions saw Rohit Mishra aka 'ShippingYard' claim the 1st place and the cash prize of INR 57,190. He beat well-known grinder and IOPC Triple Bubble winner Rajesh Shukla aka 'macchi_fry' to bag the title.
The final hand of the tournament saw both players with a pretty even chip stack, but things would take a completely different turn in moments. Shukla went all-in pre-flop with pocket Sevens and received a call from Mishra, who had Jd As. The board revealed a Jack on the flop and nothing for Shukla till the river. Mishra ultimately took the cash prize with Jacks beating Sevens.
Mishra is a known online grinder and has quite an online record, shipping a few and making plenty of cashes. He'll be looking forward to converting this another bankroll addition into cash prizes soon.
IOPC #45 – INR 4 Lakhs GTD
The second one was a relatively smaller event of INR 4 Lakhs and attracted a total of 190 entries for a buy-in of INR 770. The winner to bag the first place out of this was Ishaan Pandya aka 'ip007', taking home INR 1,13,960 and beating another regular Ankit Wadhawan aka 'd00mtr00p3r' in heads-up. Top 27 places were paid in the event for a min-cash of INR 4,662 out of the INR 5,18,000 prize pool created.
The final hand saw Pandya with a chip lead of over 2:1. Wadhawan made a shove pre-flop with Js Ks, pretty good hole cards. Pandya accepted the challenge and called with Ac Ts. The board ran Th 4h Ad 7c 6c and Wadhawan had nothing to show but an Ace-high, enabling Pandya to sweep the table clean and claim the 1st place.
We got in touch with the champion and he had this to say about it, "IOPC is one of the best online poker tournament series, which gives a platform to professional players and part time poker enthusiasts (like me) to test their skills at this beautiful game. Spartan's online platform gave a seamless poker experience throughout the series, especially considering the huge turnout for all tournaments."
IOPC #46 – DareDevil INR 15 Lakhs GTD
The third event on the day was the third biggest too, after PLO HR and INR 18 Lakhs GTD, and attracted a total of 554 entries. Top 24 places were paid for a min-cash of INR 18,575. The winner to emerge victorious from this 'polorize' who bagged the largest amount out of the prize pool INR 4,27,225 as 1st place cash prize.
The final hand of this tournament also saw a pre-flop all-in. The opponent 'Jannat52' shoved with 6c 8c against polorize'sTc Ad. The board ran Js 9c 4s As 7c and the eventual champion made an Ace-pair and beat his opponent's Ace-high and collected his cash prize.
IOPC #48 – INR 18 Lakhs GTD
The last tournament of the day was the INR 18 Lakhs GTD and attracted 390 entries, who collectively broke the guarantee to create the INR 23,40,000 prize pool. Top 31 places were paid for a min- cash of INR 20,592 and plenty of action-packed hands were seen, given that the tournament was relatively high priced for a buy-in of INR 6,600.
The player to ship this was Marlboroman, who already has won an event in this edition's IOPC, the IOPC #37 for over INR 2.2 Lakhs. This tournament saw him take another wholesome amount of INR 4,39,768 as the 1st place cash prize making a deep run in IOPC overall.
Marlboroman made a heads-up deal with regular grinder and IOPC #20 Mega Freeze winner Pranjal Gandhi aka 'lilmessipranjal' to secure his lion's share. Gandhi got his share of INR 3,88,358 as the 2nd place cash prize. We don't know who Marlboroman is, but the player has been making waves in the community lately and could win a huge tournament in the exciting line-up of 2019.
Keep reading GutshotMagazine.com for more tournament roundups and results from around the world as well as for your daily dose of poker articles covering a wide range of topics.
Don't have an account on The Spartan Poker? Check out their review page here, and don't miss out on their bonuses, promotions, and guarantee-smashing tournaments. Sign-up now.
---
---
Comments