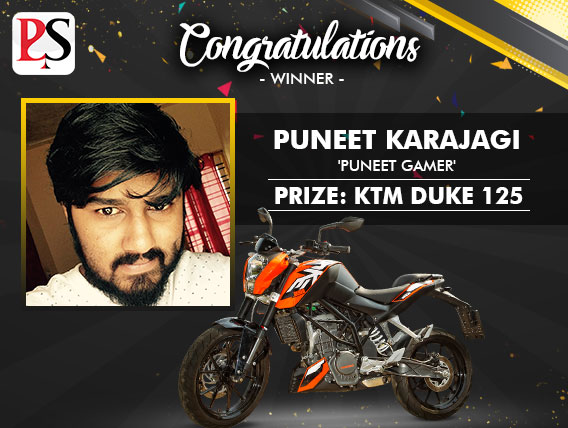 Poker
---
Puneet Karajagi wins KTM Duke in latest PokerSaint promo
PokerSaint is one of India's online poker websites that's doing well in the past couple of years. The company is owned by Pacific Gaming, a global gaming and entertainment provider, and they have hundreds of loyal users playing on the platform. They have hosted numerous cash game promos for all kinds of stakes, with luxurious cars and sports bikes constantly up for grabs on the platform, like the latest AUTOBAN cash game promo which was scheduled between 11-24 February.
The latest cash table promo which ended on PokerSaint was The Days of Fire and Ice. The promo lasted 14 days, from 28 Jan to 10 Feb 2019. There were some stunning prizes to be won in the race in five different categories, Diamond, Platinum, Gold, Silver and Bronze. Bikes like Benelli 302R, Apache RR310, RE Interceptor 650, Himalayan, and KTM Duke 125 were up for grabs in the event.
One player who's been at the epicentre of various cash table promos for the past 8 months or so on PokerSaint is Puneet Karajagi He won the KTM Duke 125 in the Fire and Ice promo by topping Gold Leaderboard, but this is just an addition to this history of huge wins on the platform.
He has won bikes on PokerSaint already, first the Royal Enfield Thunderbird 350cc in the Wars of the First Men I promotion held in September-October last year. In the Wars of the First Men II, he won the RE Thunderbird 350cc again and became the proud owner of two bikes. Subsequently, he took part in later promotions like Valar Morghulis Final edition and Game of Thrones Season 1 promotion and made headlines there too.
Here's Karajagi himself explaining his red-hot run in the past few months in an exclusive chat with GutshotMagazine: "I have been winning every race from 8 months now and it has become a habit. I started with the Bronze category (1/2 blinds) with just INR 5,000 in bankroll and managed to win the Samsung S9 in the first PokerSaint's biggest event: GOT 1. Then I got enough bankroll and shifted to Silver (2/4,3/6) blinds and won the Thunderbird 350 in GOT2. Then I shifted to Gold category and I'm still on this level. Initially, it was difficult to win in the Gold category and I remember being awake for 3 days straight just to take a lead."
Karajagi further elaborated, "These days, every player on the platform has grown accustomed to my presence on the cash tables and that's one reason that I see less competition now. I have grinded over INR 15 Lakhs in the months leading up to now. Finally, I want to advise aspirants wanting a piece of the sweet pie in poker. To win on any poker website, first you need to know proper bankroll management. Managing your anger and stress while playing games is also an essential aspect while playing this mind game."
Karajagi's awesome streak is a sure inspiration to many poker aficionados across the country who can look up to this guy and say that dreams really come true playing poker. Keep reading GutshotMagazine.com for more such updates and for general poker news from around the world.
Don't have an account on PokerSaint? Check out their review page here, and don't miss out on their bonuses, promotions, and guarantee-smashing tournaments. Sign-up now.
---
---
Comments