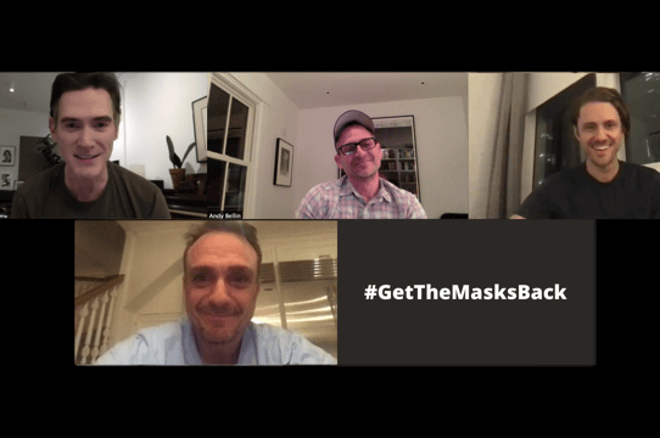 Poker
---
Poker celebrities launch #GetTheMasksBack campaign
For the health care workers, N95 mask is the greatest support right now, a defense against the pandemic Coronavirus. And we are quite aware by now that these highly protective respirators can keep doctors and nurses from getting infected by their patients, however, the world is quickly running out of them.
The overwhelming shortage of N95 masks has been caused by the hoarders and black marketeers who have no real need of that specific item. So, a group of poker loving celebrities in New York have come up with a campaign named #GetTheMasksBack. The NY based celebrities, including screenwriter Andy Bellin explained that these individuals have recouped the masks rather than, "…the healthcare workers for whom they are absolutely essential."
Bellin who is working on the script for The Baccarat Machine movie inspired by Phil Ivey/KellySun was joined by his home buddies including Hank Azaria, Billy Crudup, David Schwimmer and Aaron Tviet to help fight against the devastating epidemic. Bellin is simply trying to raise $35,000 to supply masks to the Mount Sinai Hospital in NYC.
Bellin clearly explained that his close pal named Ben tenOever who works in virus research lab at Mount Sinai working on cures and vaccines feared that the lab might have to close down due to a mask shortage. He continued, "The general idea is that we're asking people with spare N95 masks to call their local hospitals and find out how to donate them back. And if they won't donate them we'll buy them back and get them to the healthcare workers and researchers who are in desperate need."
There are tons of N95 masks in the black market whose prices have risen from $3 to $35 per mask and these Hollywood poker buddies are working towards buying 1000 of them with money raised and donate them to frontline health workers.
This idea struck after Tveit tested positive for COVID-19 although he seem to be in a better position. Bellin explained, "When I heard he (Tveit) tested positive it was obviously alarming as hell. It was my first intimate interaction with the disease, and while we've learned that it doesn't have a particularly high mortality rate for young healthy guys like him, it still was deeply disconcerting. But watching him rebound was really uplifting. Made us all feel better about the situation in both micro and macro ways."
Bellin and his family got out of the city a couple of weeks ago, to which he says, "We stayed in NYC until March 18. It was surreal. We stopped taking the elevator in our apartment. The day we left for our summer place in Maine was just one of those perfect NYC days. I was in the park with my kids and everything was so amazing — but underneath you knew there was something wrong — it really reminded me of being in the city on 9-11. That most perfect fall day."
For more updates on casino industry around the world, keep reading GutshotMagazine.com and stay tuned!
Check out our online poker rooms section, where you can read reviews on the biggest and best poker rooms in the country, while also taking advantage of their bonuses and promotions. Check out these top poker rooms HERE.
---
---
Comments