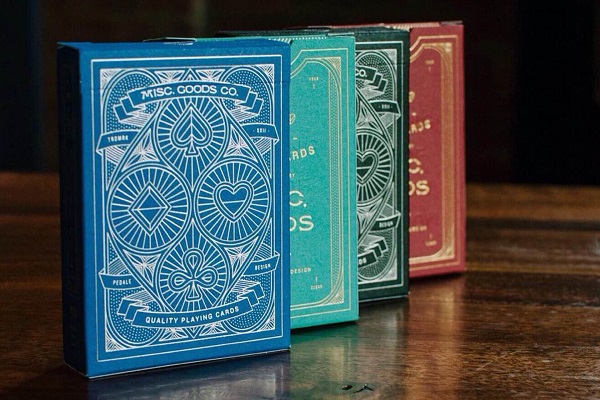 Poker
---
Poker cards that will give your next game a visual treat!
Poker is the most common card games of the pack. It's fun, engaging and with these highly creative cards, it can be a visual masterpiece as well.
Here are our top favourite cards to play poker with :-
1. Black poker cards
These poker cards are every black enthusiast's dream come true! They are waterproof cards that are made out of plastic and they glow in the dark as well. They are made by a few LA-based companies and cost $6.99 only.  
2. Gold plated Cards
These cards are made for glory! They are foiled with Gold and are made from plastic. They have whimsical depictions of the royals and are definitely an indulgence. They have a few variations as well.
3. Contemporary cards
"Joker playing cards" is one of the most exciting card manufacturers in the field. They have a variety of 'out of the box ideas' for poker designs, but this sophisticated yet modern deck has caught our attention. Moving away from the monotony of the same pattern for all its cards, this deck has a different design for each of its house. On top of it all, it is made from Soy based organic ink.
4. Rainbow cards
These cards by Fredricks and Mae have explored the entire spectrum of colors for this deck. This Brooklyn based couple has created a visual treat for its consumers. The cards pop out when you arrange them in a combination or as a gradient scale altogether. The deck comes along with a booklet which mentions a variety of games that can be played with these cards.
5. Minimalistic cards
These cards are a treat for those who believe in the adage of 'less is more'. Its simple yet elegant design gives relief to the eyes and its subtlety sticks in your minds for a long time. These cards are made by Joshua Smith from Italy. It's one of the few decks that are completely sponsored by a Kickstarter campaign. He has recently started a new campaign for a limited edition deck of cards with the Italian flag.
6. Transparent cards
Transparent cards are the next big thing in the future of card games. Its clear design and intricate artwork would definitely strikeout. The deck is made out of plastic cards and is waterproof as well. The golden edges and the elegant font make this a definite buy.
7. Typography cards
We don't know what we liked more about this deck, the strong look or its modern design. This is a limited edition deck made by Luke Wadey and is still campaigning on Kick-starter. The modern interpretation and its play on typography make this a stand out product in our mind.
Check out our online poker rooms section, where you can read reviews on the biggest and best poker rooms in the country, while also taking advantage of their bonuses and promotions. Check out these top poker rooms HERE.
---
---