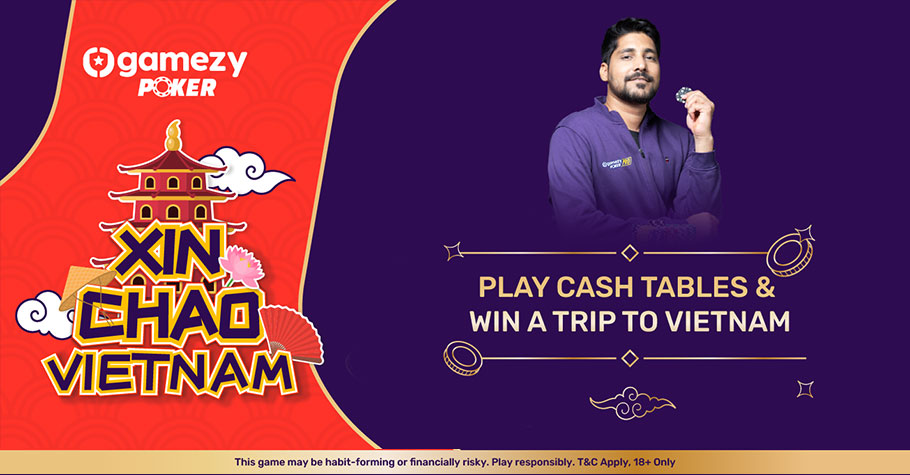 Poker
---
Poker On Cash Tables Can Win You A Trip To Vietnam
Gamezy Poker's offer is ready to transport you to the cities of beaches, rivers, buddhist pagodas, and delectable cuisines. Many of us would have desired visiting this foreign country without paying any expenses, but sadly, this dream remained unfulfilled. But now, if you follow Gamezy's trail, your dreams will undoubtedly come true.
If you want to be the one who travels to Vietnam at no cost, start playing at the cash tables between 13th April 2023 at 4 PM to 15th May 2023 at 11:59 PM. Keep this in mind! You must continue collecting points until you have earned a total of 25 Lakh points.
You're probably thinking that earning 25 Lakh points is a big challenge. However, Gamezy Poker's cash table game has always been intriguing, and this time it will be even more so. We are confident that once you begin, you will not be able to stop midway.
If you have accumulated the points mentioned above, you will be awarded the flagship package (Vietnam Diamond) worth ₹12 Lakh. You may be wondering if accumulating 25 Lakh points will only help you win a trip to Vietnam. Rest assured players, we know you all will try reaching the cliff, but it's not possible for everyone in absolution.
In order to ensure that no player is overlooked, we are offering multiple packages in addition to the Vietnam Diamond. If you earn 2 Lakh points, you will receive a ₹75,000 worth Vietnam Silver package.
---
Also Read: Gamezy Referral Bonus Is A Reward For You And Your Friends
---
Vietnam Gold worth ₹1.5 Lakh can be earned for 3.9 Lakh points. Vietnam Emerald is worth ₹3 Lakh for every 7.5 Lakh points earned. Vietnam Ruby, worth ₹5.5 Lakh for a total of 12 lakh points, is the last package in line.
WHAT DOES THE TRIP PACKAGE INCLUDE?
Vietnam Silver – MMT voucher worth ₹75,000.
Vietnam Gold – ₹75,000 MMT voucher plus ₹75,000 in Gamezy winnings wallet.
Vietnam Emerald – ₹1.5 Lakh MMT voucher + ₹1.5 Lakh in Gamezy winnings wallet.
Vietnam Ruby – ₹1.5 Lakh MMT voucher + ₹4 Lakh in Gamezy winnings wallet.
Vietnam Diamond – ₹1.5 Lakh MMT voucher + ₹10.5 Lakh in Gamezy winnings wallet.
SIGN-UP REWARD
Apart from getting your tour package, you should not overlook the sign-up add-on. Remember to sign up on Gamezy Poker via Gutshot Magazine to receive a FREE ₹50
Play poker on Gamezy and get ready to travel and explore the surrounding area all over Vietnam. Visit amusement parks, try various delicacies, learn about their culture, and won't stop until you're completely satisfied.
For more news and updates, keep reading Gutshot Magazine. Follow us on our social media handles Facebook, Instagram, Twitter, and Telegram. 

---
---
Comments