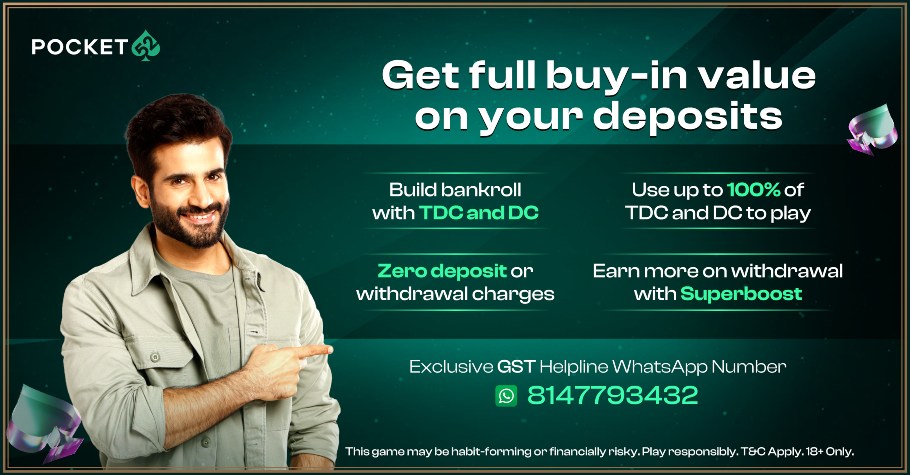 Poker
---
Pocket52 Tournament Discounts: Your Winning Ticket to Savings!
Pocket52.com is one of the fast-growing online poker platforms in India. They are known to offer some of the best promotions and tournaments in the country. Recently, the Central government passed a new bill and saw 28% Goods and Service Tax (GST) being implemented on online gaming, casinos, and horse racing, coming into effect from 1st October 2023.

With the new bill in place, every time a player makes any deposit on any real money gaming platform, 28% GST will be levied. Previously if a player deposited ₹110 for a ₹110 buy-in event, ₹100 would be considered as part of the prize pool & ₹10 was earned by the poker site as platform fees. On that 18% GST = 1.52. Today if you deposit ₹110 then GST on that is ₹24.

In the past, platforms were subject to GST @18% on the 'Platform Fee/Commission'. However, the recent amendments in GST law have seen this rate change to GST @ 28% on 'Deposits made by the Player'. Citing the recent changes in the GST rate, Pocket52 has presented an amazing opportunity for all online poker players and enthusiasts in the country. Pocket52 is offering Tournament Discount Credits (TDC) and Discount Credits (DC), which can be used to build your bankroll like never before.
What is TDC?

An in-game currency introduced by Pocket52 to play tournaments

Benefits of TDC?

Utilised first on buy-in and re-buy of any tournament
100% usable. Not locked!
Doesn't expire if active in 30 days
Build bankroll without re-deposit
Use and win real cash (100% withdrawable)

How to get TDC?

As part of promotions and offers (similar to tournament tickets)
As a proportionate amount during overlay ( Example: A 10L event with 2750 buy-in should get 400 entries. But if 360 entries come then overlay is 1 L or 10%. It will be distributed among places paid in the same proportion i.e 90% real cash and 10% TDC)
Pocket52 Tournament Discount Credits
Tournament Discount Credits (TDC) have been introduced as a valuable addition to the world of competitive gaming for several reasons. Firstly, TDC serves as a solution to address the issue of tournament overlays, where the total prize pool doesn't meet the expected level due to lower participation. In such cases, TDC steps in to compensate the winners, enabling them to receive their rightful earnings. This not only benefits players by ensuring fair rewards but also encourages participation in tournaments without the worry of overlays.

Players can choose to withdraw their actual winnings as real cash and utilize TDC to bolster their bankroll for future tournaments, streamlining the process and reducing the need for repetitive deposits. In the absence of overlays, all winnings are real and can be withdrawn, providing flexibility and convenience to players. TDC offers several distinct advantages to players. One of the primary benefits is the ability to grow their tournament bankroll without the requirement of constantly depositing funds. With 100% of TDC available for tournament buy-ins or re-entries, players can select any tournament they desire and use TDC as a payment method.

TDC is structured to optimize a player's financial approach, reducing investment while maximizing profits and minimizing tax implications. By focusing on tournament play, TDC helps players safeguard their bankroll, ensuring it remains unaffected by losses incurred in cash games. It's a valuable tool for the savvy gamer looking to enhance their gaming strategy and financial efficiency.

Pocket52 Discount Credits

Discount Credits (DC) are an innovative feature introduced by Pocket52 to address the challenge of players receiving buy-ins that match the money they deposit, even in the face of increased Goods and Services Tax (GST) amounts. When a player deposits, for example, ₹100, they receive a buy-in worth ₹100. This buy-in is divided into two components:₹78 as Game Balance and ₹22 in DC. The unique aspect of DC is its versatility, as it can be used in both cash games and tournaments, providing players with flexibility in their gaming experience.

DC serves as a valuable tool to help players maximize their gaming value while managing the impact of increased GST, ensuring that they receive the full value of their deposit. Using Discount Credit is straightforward and player-friendly. When initiating a buy-in, DC is used after Game Balance and before utilising any winnings. This sequential order ensures that DC is efficiently used when the Game Balance is depleted in the player's wallet. While DC cannot be withdrawn as real cash, it can be employed for both cash games and tournaments, further enhancing the player's gaming experience and providing a versatile financial tool to optimise their gameplay.

As for the expiration of DC, it remains active as long as the player stays engaged. Inactivity is defined as not adding cash or participating in paid gameplay. To maintain the vitality of their DC, all a player needs to do is engage in a single hand of gameplay in a month, ensuring that their DC remains accessible and useful in their gaming endeavours. 
Pocket52 Superboost
The withdrawal policy implemented by Pocket52 offers several advantages to players, ensuring a seamless and cost-effective process for accessing their winnings. One of the key benefits of this policy is the absence of any charges or fees for withdrawals, making it a player-friendly system. This means that players can access their hard-earned winnings without deductions, providing a transparent and fair experience. 
Additionally, the withdrawal policy allows one withdrawal per day, enabling players to conveniently access their funds every day after 12 AM, enhancing the flexibility and accessibility of their earnings. The withdrawal amount limit is set according to the player's current Royalty Reward (RR) level, with a maximum withdrawal cap of ₹3 Lakh. This structure ensures that players are rewarded based on their loyalty and engagement with the platform. 
Moreover, the introduction of the Superboost option during withdrawals provides an attractive incentive for players. This feature allows users to choose between a complete withdrawal or a partial withdrawal, with a bonus of 4% Discount Credit on the total withdrawal amount when opting for the latter. For example, if a player decides to withdraw ₹90,000 in winnings, they can choose to withdraw ₹45,000 and receive an additional ₹3,600 in Discount Credit. This encourages users to withdraw funds at their convenience while simultaneously increasing their earnings on partial withdrawals, further enhancing the overall value of the withdrawal process. The policy is designed to provide players with greater control, transparency, and financial benefits when accessing their earnings.
Remember, the online poker platform is allowing players to withdraw once every day starting 1st October 2023, withdrawals will be available after 12 AM daily.
Players can reach out to Pocket52 on their WhatsApp number: +91 8147793432. You can also click on the WhatsApp icon on Pocket52 which will redirect you to their WhatsApp account and an automated line will appear stating: Hey, Let's chat about GST changes on Pocket52. Want to make use of all the benefits mentioned above? If yes then download the Pocket52 app and sign-up via Gutshot Magazine.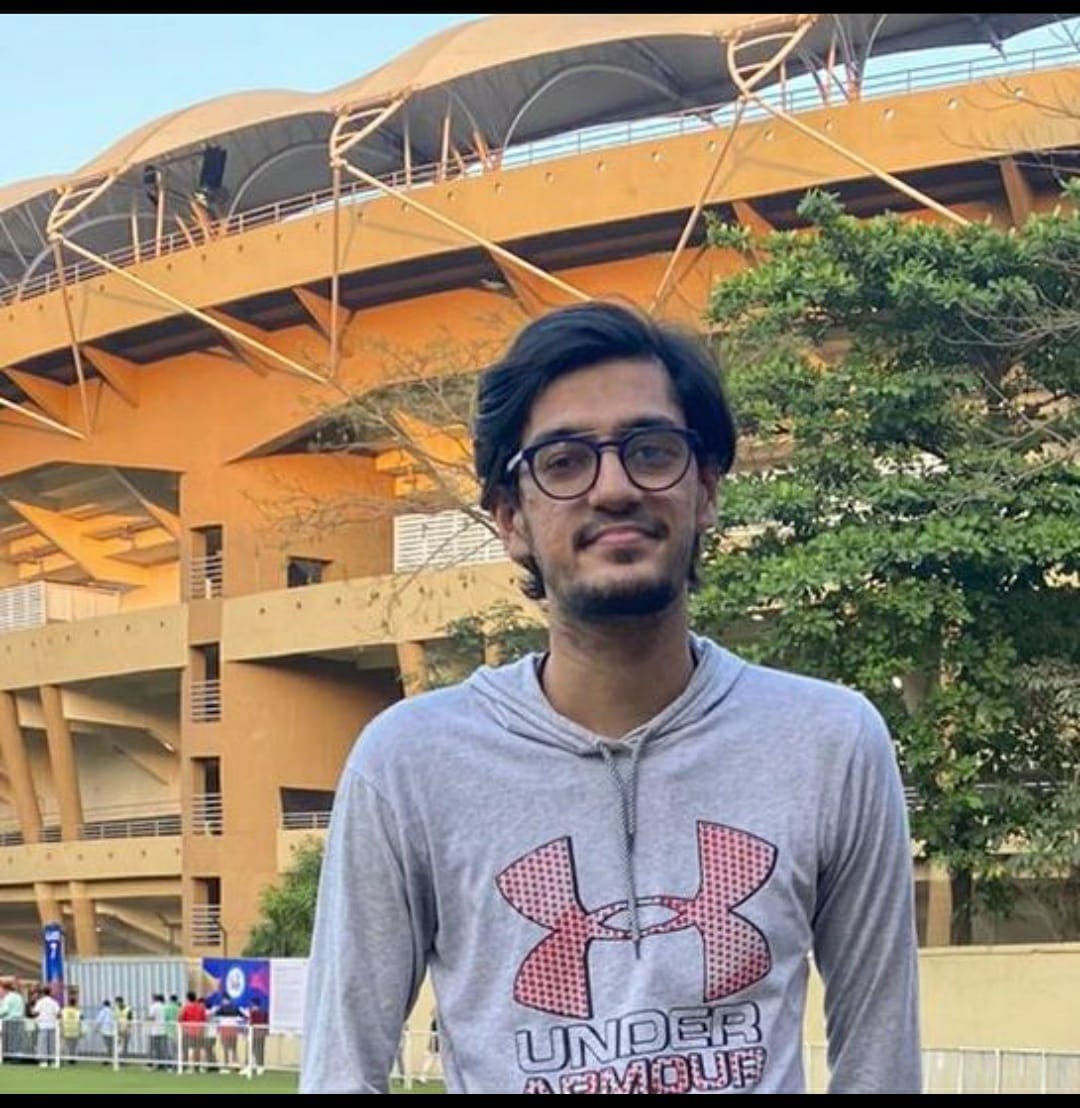 Smit is a sports writer at Gutshot Magazine. After completing his Bachelor's in Mass Media, and a Master's degree in Sports Management, this sports fanatic uses articles as a tool to express his opinions. Bring up cricket or football and you will find this usually quiet guy speak for hours! He also co-heads the official supporters club of Chelsea FC in Mumbai, wherein he hosts screenings, football meets and other such events.
---
---
More News
---
Comments