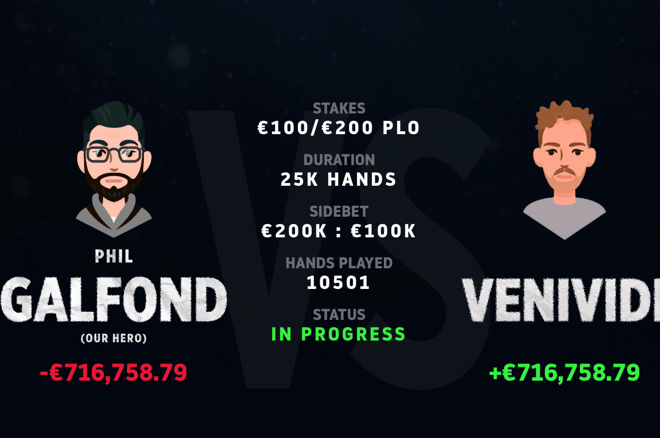 Poker
---
Phil Galfond returns from hiatus!
The first Galfond Challenge of 2020 between Run It Once Poker founder Phil Galfond and his mystery challenger 'VeniVidi1993' was truly a horror story. The three-time WSOP bracelet winner was ready to throw in the towel when he suspended his heads-up challenge. Galfond entered the Wednesday session down with more than €900,000 but he booked a win of more than €180,000!
After taking a month's break, Galfond resumed the challenge on 4 March with 574 hands played. The Galfond Challenge between him and 'VeniVidi1993' is now 10,501 hands complete. Both players are scheduled to play 25,000 hands with Galfond laying €200,000 side bet to €100,000 of 'VeniVidi1993'. After the completion of Wednesday's session of €100-200 PLO, Galfond deficit to 'VeniVidi1993' stands at €716,785. But on 26 February 2020, he posted on the Run It Once site, "I'm gonna keep playing."
Poker pro Like Schwartz didn't shy away from making opinions after Galfond decided to take a break from his loss. After reviewing his hand history about which he spoke in a recent chat with poker vlogger Joey Ingram, Galfond returned to the grind!
"What I think that did for me is, I was playing a very tough regular here, day in and day out, but there's a dynamic that gets created when you're losing every day. Your opponent's confident, you're not confident, you're scared in some spots. They kind of have the edge on you in the psychological component of the game," said Galfond. "But it was also good to show myself that I can play with very strong competition and it's just getting over the hump and out of the routine of losing and having [VeniVidi1993] a step ahead of me is I think what I needed."
Although it is too early to call it a comeback but with the recent session Galfond seems to be a little more evenly matched. And this is going to be exciting to watch. He also admitted that losing was definitely getting to him. Constantly losing to 'VeniVidi1993' led him to play bigger pots. Galfond is quite thrilled by the love and support as he tweeted.
Check out our online poker rooms section, where you can read reviews on the biggest and best poker rooms in the country, while also taking advantage of their bonuses and promotions. Check out these top poker rooms HERE.
---
---
Comments