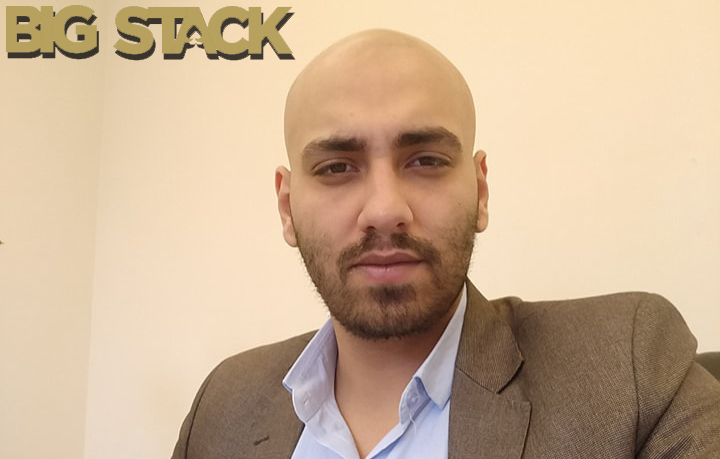 Poker
---
One-on-One with Rai Khurana
Poker has been in India for the better part of a decade. We love this game as players and the business side of poker has also attracted many. When live poker began its start in the country, there were many takers in the organising space who launched tournament brands. When online poker started to catch the fancy of the players, other businesses were launched to cater to this need of the modern Indian poker player. But there are other business models too which are coming up due to this sport and today we take a look at one of them.
Let us now introduce to you a brand that has converted their love for poker to a business segment that no one else in the industry has looked at yet. They are called Big Stack Clothing and yes, as the name suggests, this is a clothing brand with a poker twist.
Gutshot spoke to the co-founder of this unique business to get some more insights into Big Stack. Read on to know more…
Rai Sahib Singh Khurana, a Hospitality Management student from Delhi, has been in the hotel business since a while now, running a couple of restaurants in Delhi and also dabbling in the textile business. He and his brother, both poker enthusiasts, often host house games and they decided to take their love for the game to the next level. They thought, "Instead of introducing people to poker by making them play, why not make them wear poker?" That led to the formation of Big Stack.
While Rai had no clue about the game called 'Zynga Poker', he often heard about the game from friends who used to play on the social gaming app. "All I heard was Zynga, Zynga, Zynga," said Rai. He revealed that his real introduction to poker was through house and basement games, and that's where he started playing and his love for the game took off. Not a tournament player, Rai plays a few cash tables online when he gets the time but uses no software apart from PokerStars. We asked Rai what his major accomplishment was as a poker player. His answer was simple – "Big Stack."
"Being a poker lover, I often read news about how the game faced legality issues in India and I wanted to convey the message that I supported poker as a sport too, and I thought that adding another segment to the game altogether would help do that. People wearing poker designs and slogans would help show support, while having absolutely nothing to do with gambling. And again, I wanted people to wear and think poker, introducing the game to people in a way other than making them play," said Rai, explaining how the idea of Big Stack was floated.
Pretty obviously, the name 'Big Stack' has a direct connection to the game of poker and we dug deeper to find out why Rai decided to use this particular reference to the game. He said, "Poker is a game of royalties, and the first brand we wanted to introduce was a high-end clothing brand, so we thought that 'Big Stack' becomes the ideal name for this brand. 'Under The Gun' is another name we considered and will definitely use that name one day."
Setting up a poker business is always going to be a task in a country like India and Rai had his share of difficulties as well. "Coming from a textile background, there were no issues setting up, since we had the sources and resources. However, introducing the poker aspect to the business was a small challenge. People didn't support the idea, including my family members. However, I was hellbent on promoting poker as a sport."
"We were adding another segment that was not related to gambling, but we were still using the word 'poker' which created most of the issues. There were no legality issues as such, but marketing faces a few challenges whenever they try to promote the clothing brand on social media," said the 27-year old.
Big Stack raised about half a million dollars to begin this venture and they're still utilizing this money, before they decide to go in for another round of funding. Officially launched just over a month back, Big Stack has already completed over 50 orders so far, which is not a bad start at all.
Growth, expansion, tie-ups
We then spoke to Khurana about his expansion plans. "Firstly, we want to convey the general message about poker (that it's not just a game) to the masses. People are actually making their livelihoods through poker. We're introducing 'poker school' as a product, which will be up in around a year from now," he explained.
"Our immediate focus is on the poker school concept. Then, we'll look at opening physical stores, in the next 2-3 years, as we're just an online store for now. Basically, we're aiming at a one-stop shop for poker – hand drawn cards, poker tables and other accessories. We're also getting into merchandise items, home furnishing and electronics soon, like designed headphones, carpets, etc."
Poker school: Teaching poker completely from the beginner level to a proper and complete 'Pro' level. Details will be released soon.
"Everyone's trying to promote poker as a game of skill to the general public, to grow their own businesses. More the numbers, better for everyone. More players, better profits for companies. We're not like that. We're majorly promoting it for the love of the game. When poker reaches out to more people and the number of poker lovers increases, our business will automatically do well," said the entrepreneur on how poker being promoted as a sport can help his business.
Some of their products:
Poker websites and live rooms in the country are the ones currently making the most money from the game, so a company like Big Stack collaborating with such companies only makes sense. That's exactly what Rai has in mind.
"We're in major collaboration talks with a couple of the top online poker companies in India. We will be sponsoring some of their tournaments and further details will be out as and when this is finalized. Our personalized card collections will soon be used in poker rooms across the country as well."
Poker is a sport and that's the main message that Big Stack wants to get across to potential customers. That's what we at Gutshot have always advocated as well. People need to be educated about the game and parents should also realize that it's no harm if their kids play poker. We're wishing Big Stack the best of luck in this unique business venture.
For those who may be interested in buying some accessories from Big Stack, head over to their website now and use code "GUT20" to get a 20% off on checkout.

---
---
Comments