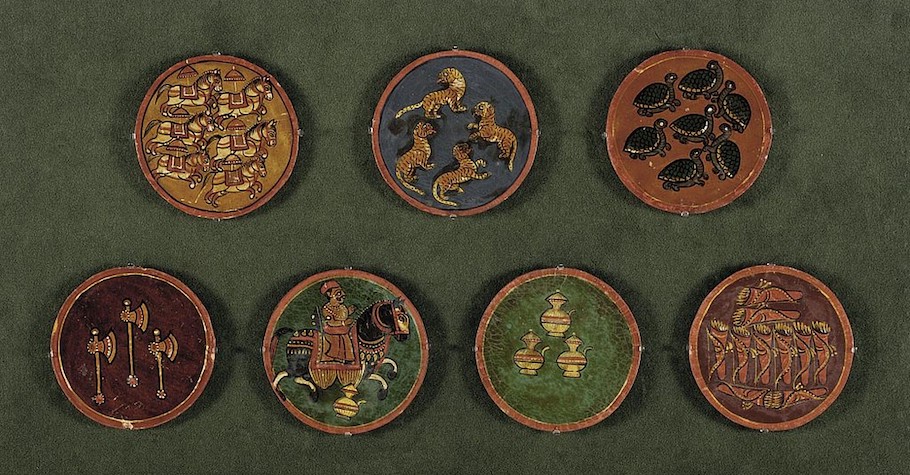 Gambling
---
India and it's history of playing cards
Playing cards have become an inseparable part of society, especially in India. From a pass-time to an important part of our culture, cards have found a way into every aspect of Indian life. Families bond over a variety of card games such as Rummy, Mendikot, Teen patti, etc. However, card games have evolved in modern times and many new varieties of cards have emerged.
Cards are part of Indian tradition and heritage. Every region of India has its own intricate game of cards they have either conceptualized or adopted to make their own. 
Origin
Playing cards was introduced in the 16th century by the Mughal emperors from Central Asia. The first references made to 'Ganjifa' was found in the biography of Babur, who was the founder of the Mughal dynasty in India. The emperors were fond of this game and named it after a Persian word known as 'ganjifeh'. This card game soon became part of kings court games and was played with lavish sets of cards that were made with various ivory or tortoise shells and were decorated with various precious stones such as gold and silver. The wealthier you were, the more expensive you're sets of cards were.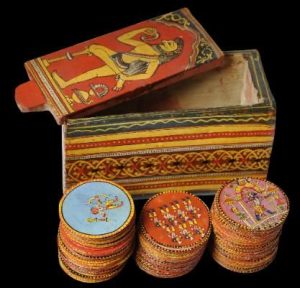 Unlike the rectangular shape cards used in Korea and China, another theory for the origin of cards in India was that they were originally round in shape. These round cards were made of ivory, wood, cotton fibre, paper, etc and their diameter was ranged from 1 ½ to 4 ½ inches. The cards were represented with ten suits, where each suit consisted of ten numerics and two court cards. Each symbol on these cards had a specific value and had images of animals, plants, ships, horses, soldiers, etc on them. The card sets were always different as each style, decoration and arrangement of card based on the artisan who made them. 
Another explanation of the creation of playing cards on India revolves around a Hindu legend. Cards are connected within the King's chamber where the wife of an Indian King is bored. He has a habit of constantly plucking hair from his beard. To keep her husbands hands occupied and away from his beard, the wife conceived the idea of a game that used cards. 
NEWSLETTER SIGNUP
British Influence 
Apart from the 200 years of slavery and strategically planned famines, the British also introduced their own style of playing cards in India. The traditional game of teen patti eventually blackjack under the British rule as they brought the 52 card deck to India. However, the new card games failed to attract most citizens. Indians continued to play local games, while the upper class began playing blackjack and bridge. Indians also invented baccarat at the time of the British colonial rule.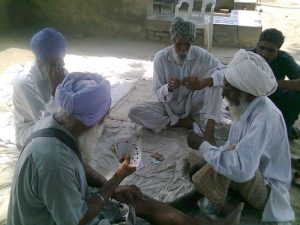 You can try a few of the most popular Indian card games online and for updates on playing cards online, keep reading GutshotMagazine.com

---
---
Comments