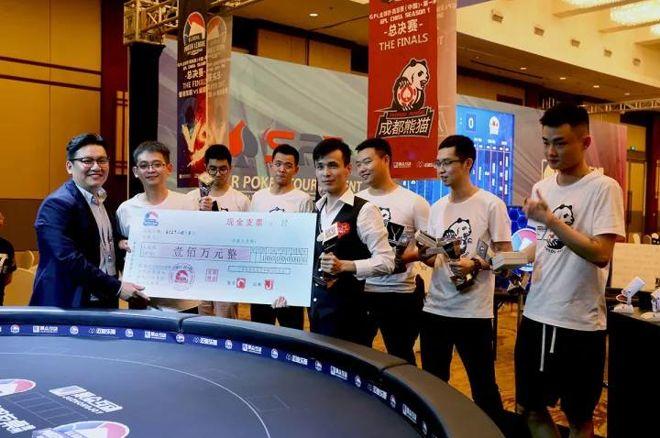 Poker
---
Chengdu Pandas Win First Ever GPL China
The inaugural season of the Global Poker League China concluded very recently, and it was the Chengdu Pandas (1 of the 12 participating teams) who were crowned CHAMPIONS. On the last day of Season 1, Chengdu Pandas beat the Hong Kong Treasure Ships in the best-of-three finale, winning the prize of 1,000,000 Chinese Yuan (150,000+ USD).
GPL China's Season 1 was a huge step forward for the progression of poker in the country as a team sport. Different varieties of team-based poker tournaments were held across 12 different regions in China, and winners of those tournaments eventually went on to become each respective region's GPL franchise. Here were the 12 participating teams:
Beijing Great Dragons
Chengdu Pandas
Guangzhou Pioneers
Hangzhou Legends
Hong Kong Treasure Ships
Kunming Phoenix
Macau Lions
Shanghai Golden Tigers
Shenzhen Eagles
Taiwan Black Bears
Tianjin Guardians
Xi'an Warriors
Round 1: The three different variants played in the finale were 6-max, Heads up and '2v2' Heads up in a best-of-three contest; the first team to win 2 rounds would win the GPL China title. While the Treasure Ships won majority points in the 6-max, the Pandas registered consecutive wins in the heads up and the 2v2, giving them a 1-0 advantage over the Treasure Ships.
Round 2: The Pandas won the 2v2 game but Winfred Yu won the heads up contest for the Treasure Ships, drawing level in the 2nd Round and taking things down to the wire. It looked like Treasure Ships had the 6-way as well, with 2 players on the table as compared to Pandas' 1. We saw a 3-way all-in when the flop opened with 8-A-2.
The Panda player held A-3 and was behind one Treasure Ship player, who held A-10 (the other held 9-4). Chengdu Pandas would've been delighted with the 3 on the flop, giving their player a 2-pair, and the Q on the river meant that the Pandas were crowned champions of the inaugural GPL China!
Chengdu Pandas were awarded the prize money of 1 million Yuan and they will also represent China in any future GPL global events. The team donated 5% of their winnings to local charities.
---
---
Comments