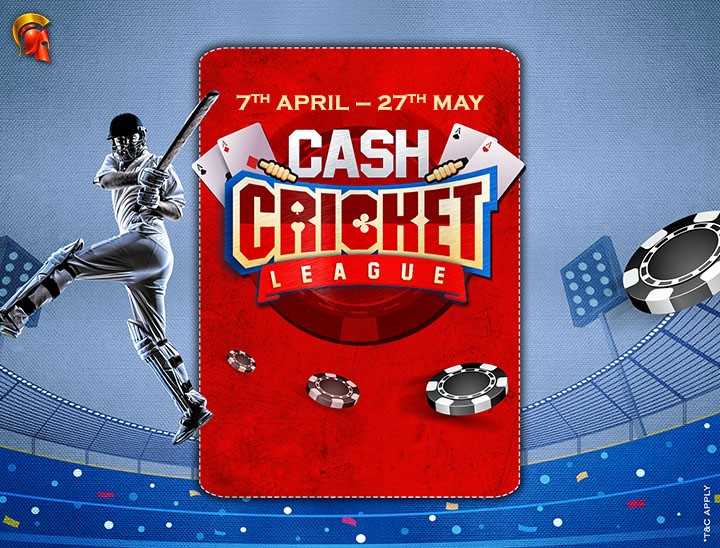 Poker
---
Cash Cricket League This Summer at Spartan
India's biggest and best cricket tournament is only a few days away and poker website TheSpartanPoker.com is giving you a chance to win some cool cash prizes during this tournament. Their latest promotion called the 'Cash Cricket League' (CCL) is a concept that will let you play and win on a daily basis. Additionally, users can win a chance to watch the league's semi final at the one of the biggest stadiums in India! A whole lot is on offer in this cash game promotion, which will take place between 7th April and 27th May 2018.
EARN VIP POINTS
Participating in this contest is very easy. All you have to do each match day is pick the team you believe will win and make a deposit to The Spartan Poker using that particular team's assigned deposit code for that specific match and start playing cash games! For a full list of the codes, check the bottom of the article, or click here.
If the team you picked wins, you will be rewarded with 10 Bonus Money for every VIP Point you generate on that day. (Minimum requirement is 100 VIP Points. Maximum reward capped at INR 10,000. Earn period is 24 hours i.e. 5:30 AM to 5:29 AM).
Example: On 7th April, you believe that Mumbai will be the winning team. Deposit INR 1,000 using the code 'MUM0704'. Your guess is correct and Mumbai wins. If you have generated 320 VIP points on the specific match day (5:30 AM to 5:29 AM), The Spartan Poker will reward you with Bonus Money worth 3200.
MAN OF THE MATCH
Players having deposited using any code of the day are eligible for the MAN OF THE MATCH promotion. The users playing the maximum active hands will win from the daily leaderboard prizepool of INR 10,000:
1st place: INR 5,000
2nd place: INR 3,000
3rd place: INR 2,000
This daily winning amount will be credited as Real Cash Chips into the user's account. Eligible stakes – NLH and PLO (INR 5/10, 10/20, 25/50 and 50/100).
MAN OF THE SERIES
The user earning the maximum number of VIP points till the end of the qualifying round will get a Man of the Series package, consisting of a ticket to watch the semi final along with one night's stay at a hotel nearest to the stadium. The package will also include a flight ticket in case the player resides in a different state of India.
Eligible stakes – NLH and PLO (INR 5/10, 10/20, 25/50 and 50/100). The user must make at least one deposit between 7th April and May 20th.
CUP WINNERS FREEROLL
This fantastic promotion doesn't end here! The Spartan Poker will additionally host an INR 1 lakh freeroll for all the users who have deposited between 7th and 30th April 2018. To register, the user must make a minimum deposit of INR 500 using the codes given below:
The user must deposited using the winning team's code to be registered to this freeroll. Good Luck at the tables!
Terms and Conditions:
A minimum deposit of INR 1,000 for 'Earn VIP Points'. The deposit must be instant.
To qualify, minimum VIP points to be generated within a day is 100 VIP points.
Each day shall be considered from 5:30 AM to 5:29 AM
Every VIP point is equal to INR 10 real cash, the maximum reward is capped at INR 10,000
Withdrawal policy remains the same of every deposit in this cash game promotion.
This promotion will be active on a daily basis.
In case of more than one match in a day, only the 8:00 PM match will be eligible for the CCL promo.
Player must deposit using a code of his/her favorite team of the day and then player must generate at least 100 VIP points from 5:30 am on the day to next day 5:30 am in order to qualify.
Stakes applicable for promo 'Earn VIP points': NLH and PLO (INR 0.25/0.50 to INR 100/200)
Heads-up tables are not eligible for 'MAN OF THE MATCH'
Only instant deposits using the code will be counted towards this cash game promo; cumulative deposits are not eligible for this promotion.
If player deposits using codes for both teams, only the first code used shall be considered.
List of daily deposit codes:
Keep watching GutshotMagazine.com for similar news on excellent poker promotions across the world.
---
---
Comments