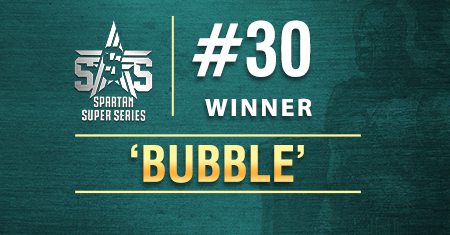 Poker
---
'bubble' takes down SSS Event 30
His name might be 'bubble' but that was definitely not where this player finished up by the end of Event 30 at the Spartan Super Series (SSS) tournament which took place last evening at The Spartan Poker.
A very healthy INR 5 Lakhs in a guaranteed prizepool was up for grabs for participants in this fourth tournament of Day 6 at the SSS. The tournament had a buy-in of INR 1,100 and from the 293 entries, a total of 45 players would make it to the money. INR 2,750 was the amount assured to each of those money finishers and of course everyone was vying to finish in the top few spots for the maximum payday. There were quite a few past winners who were in the mix like Ankit Wadhawan a.k.a 'd00mtr00p3r' who captured a title on Day 2 of this SSS, this time around finishing in 20th place for INR 4,750.
There was Mayur 'NoMercy3801' Vengurlenkar who took down SSS Event 13 but finished in 17th place in this event for INR 5,500. Closer to the top payouts was Bhanu 'sceptre' Prakash who is a former topper of the India Online Poker Championship (IOPC) leaderboard and last year also won the Main Event in the SSS edition that took place in September. So lots of tough competition for players to make their way through to the title.
In the end though it came down to bubble and his heads-up opponent 'BAHUBALLI'. It was not much of a difference between the two players stack-wise with bubble's 2.1 million holding a slight lead over BAHUBALLI's 1.7 million. In the midst of their heads-up face-off, over a million chips went from BAHUBALLI to bubble's stack in back-to-back hands which opened up the gap between the two. After a raise and flat, both players saw and caught a piece of the 2s 9c 5d flop. BAHUBALLI held top pair with his Ah 9h while bottom pair was bubble's holdings (2h Jc). Fourth street 2c flipped things bubble's with a set of Twos and it became even stronger with a full house on the river 5h. BAHUBALLI fired out on all streets believing his top two pairs were good only to be disappinted on that river eliminating him in second place for INR 68,750. bubble would take home INR 95,000 for the win.
Just one more event roundup left this Day 6 of the SSS and we will bring you that update shortly. 
---
---
Comments