Best Android Poker App in India: Your Ultimate Guide
Poker has come a long way from dimly lit, smoky backrooms to the bright screens of our smartphones. In India, where poker is gaining immense popularity, having the best Android poker app can be a game-changer. Whether you're a seasoned pro or just starting your poker journey, this article will guide you through the top Android poker apps available in India, ensuring you get the best bang for your buck.
On these online poker apps, you can deposit and withdraw money seamlessly, enjoying a thrilling poker experience, while also giving yourself the chance to earn money daily. On this page, we've listed down some of the best Android poker apps, which can be downloaded to enjoy a great poker experience. Keep reading to see the list below…
Importance of choosing the right Android poker app
User interface and design – The user interface of a poker app can greatly affect your overall gaming experience. A well-designed, intuitive interface makes it easy to navigate through tables, track your progress, and communicate with other players. Look for an app that suits your preferences in terms of layout, graphics, and ease of use.
Game variety – Different poker apps offer varying types of games, including Texas Hold'em, Omaha, Open Face Chinese, Seven Card Stud, and more. The right app for you should align with your preferred poker variant. Having access to a wide variety of games ensures that you can continuously challenge yourself and improve your skills while avoiding boredom. 
Real money vs free money – Always choose a Android poker app that will allow you to practice with free chips or play chips. Especially for someone trying their hand at online poker for the first time, it's good to try a little bit of poker before getting into the real money game. It'll help your confidence as well. 
Player base and traffic – A bustling poker community is essential for a vibrant and enjoyable gaming experience. The right poker app should have a substantial player base, which means you'll find tables and tournaments at various skill levels at any time. Apps with a larger player traffic also tend to offer bigger guaranteed prize pools and more competitive games.
Security and FairPlay – One of the primary concerns when playing poker online is the security of your personal and financial information. Reputable poker apps invest heavily in cutting-edge encryption and security measures to protect their users' data. Moreover, they employ sophisticated algorithms to ensure fair play and prevent cheating. Choosing a well-established poker app with a proven track record in these areas ensures your peace of mind while enjoying the game.
Bonuses and promotions – Many Indian online poker poker apps offer enticing bonuses and promotions to attract and retain players. These can include welcome bonuses, deposit matches, and freeroll tournaments. Choosing an app that offers appealing bonuses can give you an edge in building your poker bankroll.
Mobile optimisation – In today's mobile-driven world, having a poker app that works seamlessly on your preferred device is essential. Whether you're using an iOS or Android smartphone or a tablet, compatibility matters. The best poker apps offer a consistent gaming experience across various platforms. Today, over 80% of users prefer mobile apps than playing on their desktop or computers. 
Customer support – Having access to responsive customer support is invaluable when encountering issues or needing assistance. The right poker app should provide multiple support channels, such as live chat, email, or phone support, to ensure prompt resolution of any problems or inquiries. 
SpartanPoker.com has earned a reputation for hosting some of the most prestigious online poker tournaments in India, including flagship events like India Online Poker Championship (IOPC) and Final Table Series (FTS). With a strong focus on Texas Hold'em and Omaha, this Android poker app appeals to serious poker players looking for high-stakes action. Spartan Poker also offers a wide range of promotions and bonuses, making it an enticing choice for players seeking additional value.
Pros:
High-stakes poker action.
Prestigious tournaments.
Generous promotions.
Secure and reliable.
250+ Crore in yearly tournament guarantees.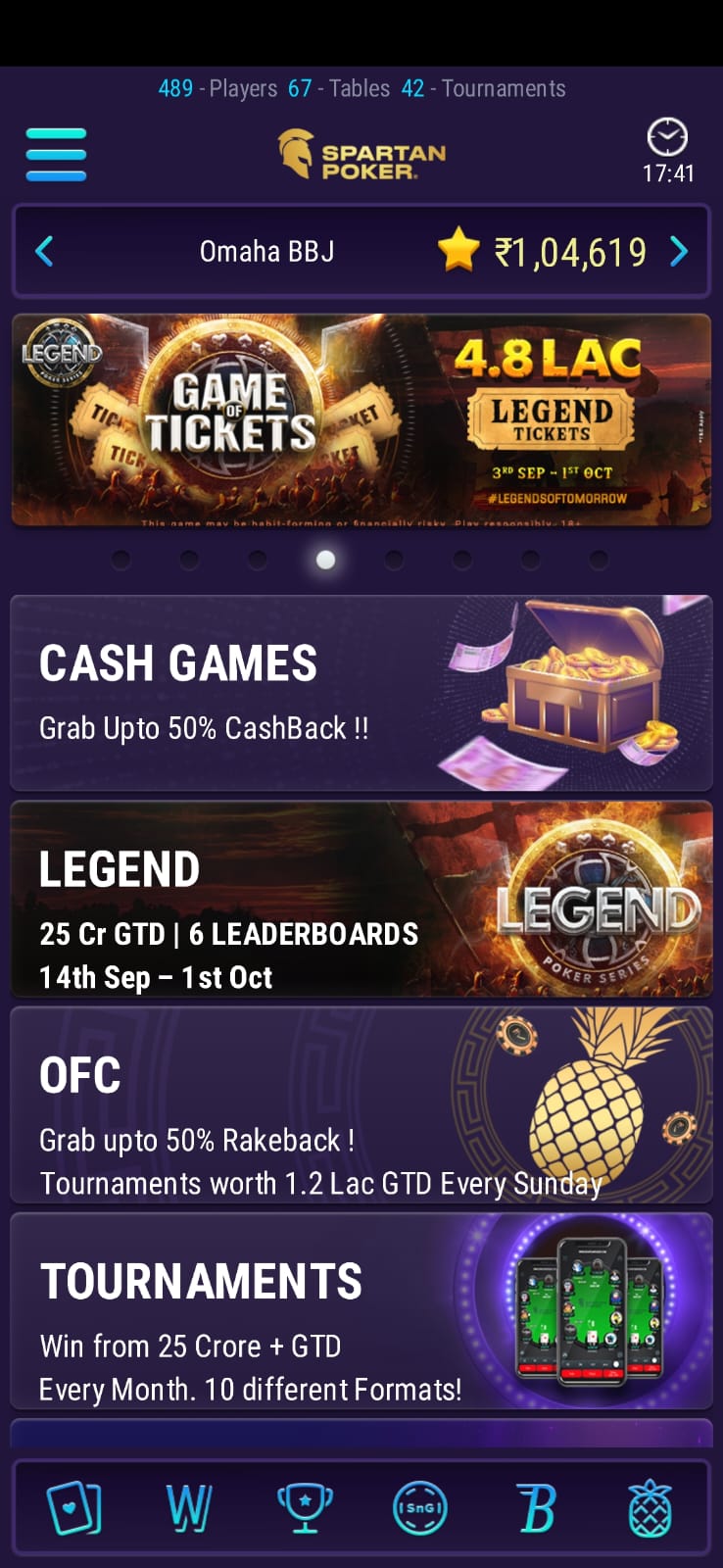 Adda52 is a name that resonates with poker enthusiasts across India. This app offers a wide range of poker variants, including Texas Hold'em, Omaha, and more. What sets Adda52 apart is its strong player base, ensuring you always find a table to suit your skill level. The app also hosts exciting tournaments and promotions, making it a favourite among Indian poker players. They host 'Poker Night With Stars' which will allow users to enjoy a game of poker with their favourite celebrities from time to time.
Pros:
Variety of poker games.
Strong player community.
Regular tournaments and promotions.
User-friendly interface.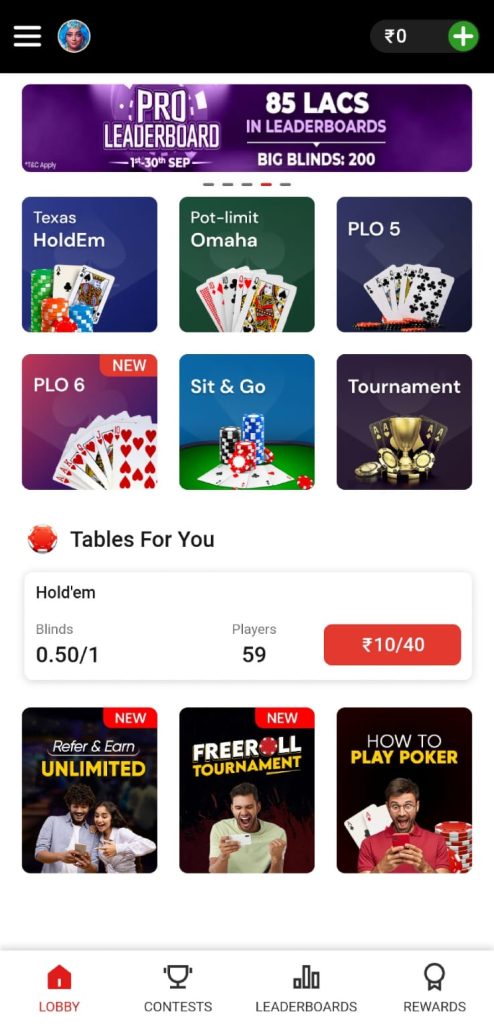 PokerBaazi is another popular choice for a best Android poker app among Indian poker aficionados. It boasts a sleek and user-friendly interface, making it easy for both beginners and experienced players to navigate. This app offers various poker formats, including cash games, sit & go tournaments, and multi-table tournaments. PokerBaazi also rewards loyal players with its loyalty program, adding an extra layer of excitement. Don't be awed if you find a Shahid Kapoor endorsed PokerBaazi ad campaign on television from time to time!
Pros:
Intuitive interface.
Multiple game formats.
Loyalty program.
Excellent customer support.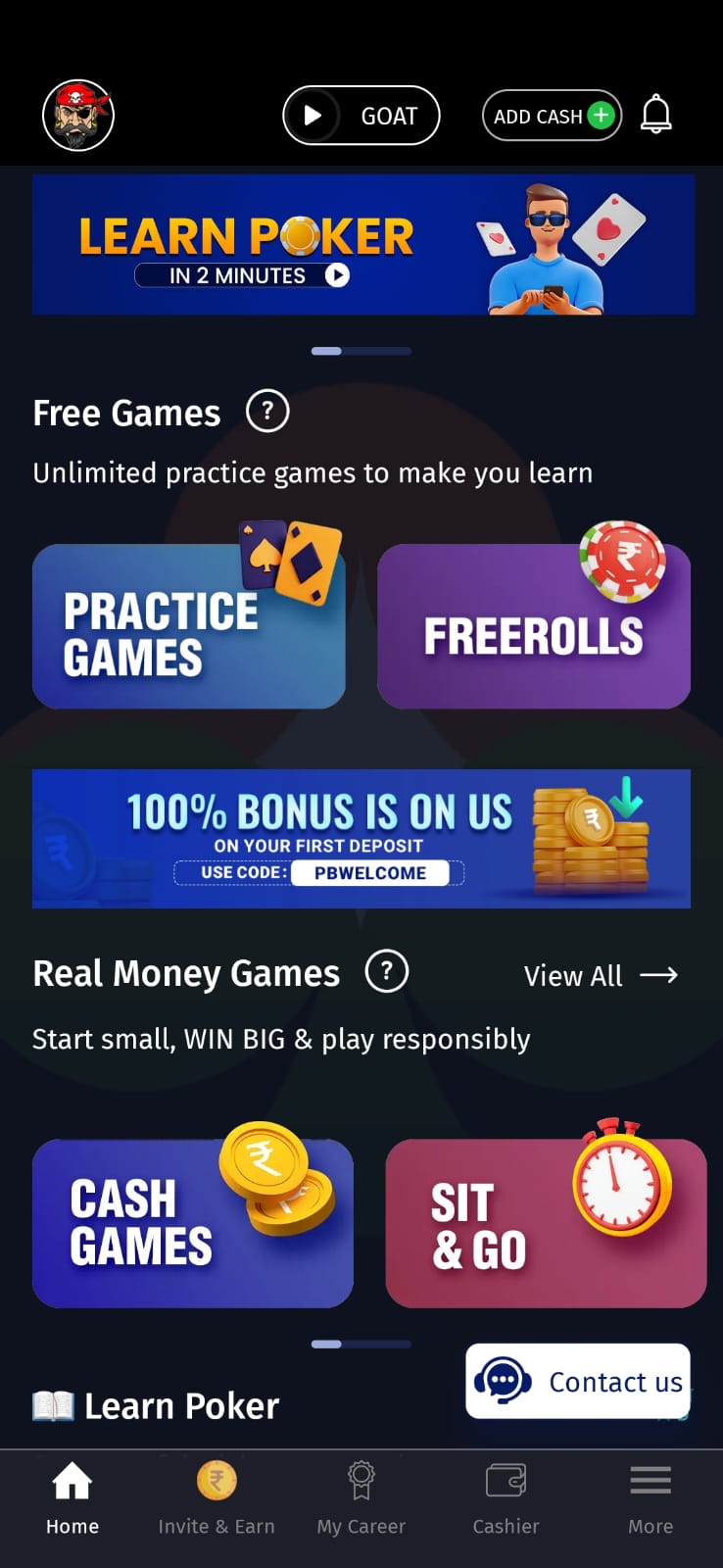 PokerSaint has become a go-to destination for poker lovers seeking a reputable, engaging, and secure online poker experience. They have cash games as well as regular daily and weekly tournaments, with a good range of PKO (Progressive Knockout) tournaments on their schedule too. For cash game lovers, PokerSaint has a new series being hosted every 2 weeks, where you can win cash prizes as well as other rewards like bikes, gadgets, and more.
Pros:
Bi-weekly cash games.
Win cash as well as rewards.
Smooth deposit/withdrawal transactions.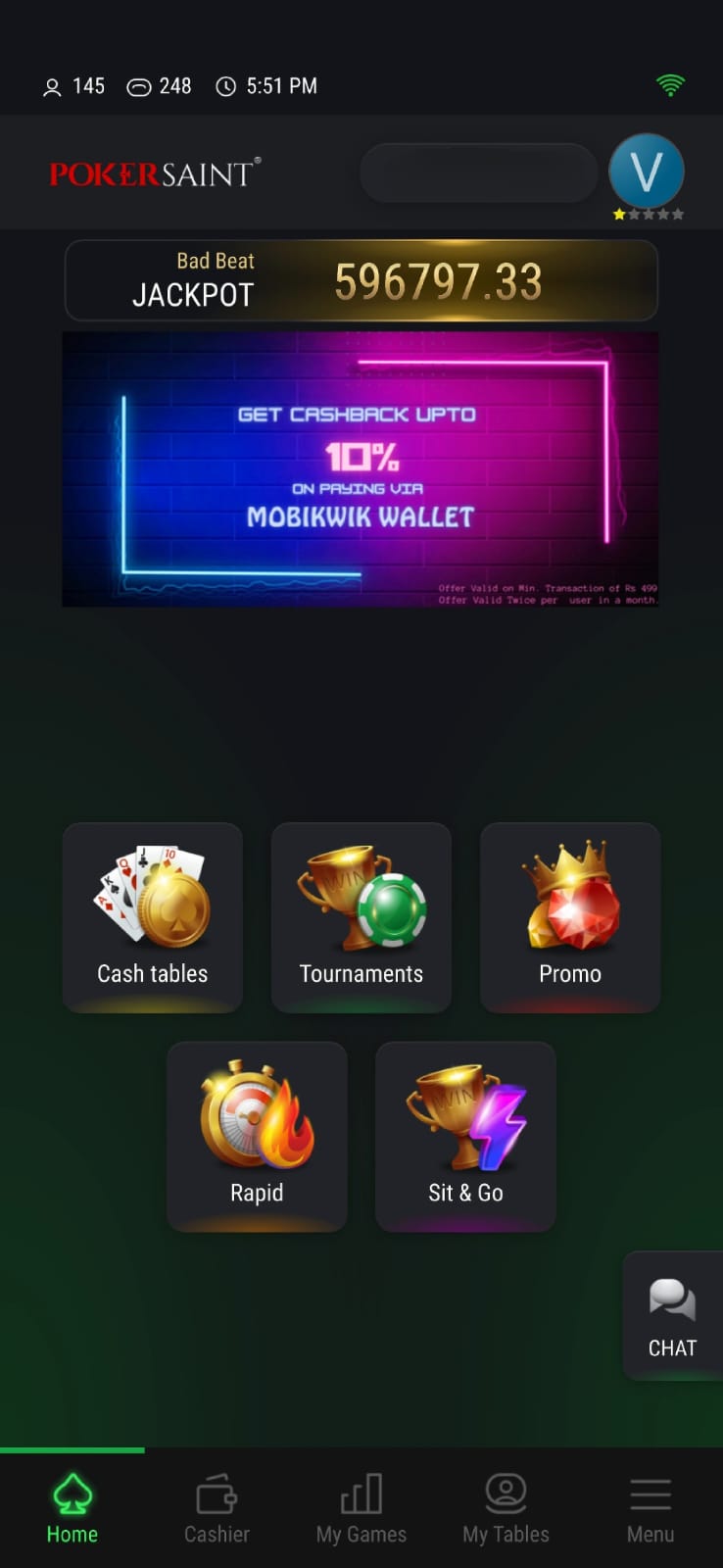 Pocket52 combines the thrill of poker with cutting-edge technology. This app boasts innovative features like the newly launched Pocket52 Royalty Rewards, with only level upgrades and no downgrades. With a variety of game formats and a user-friendly interface, Pocket52 is an excellent choice for those looking to sharpen their poker skills. Additionally, you can refer friends and earn for every friend sent to their Android poker app.
Pros:
Innovative features for skill improvement.
Rewarding referral program.
'No downgrades' Royalty Program.
Secure and reliable.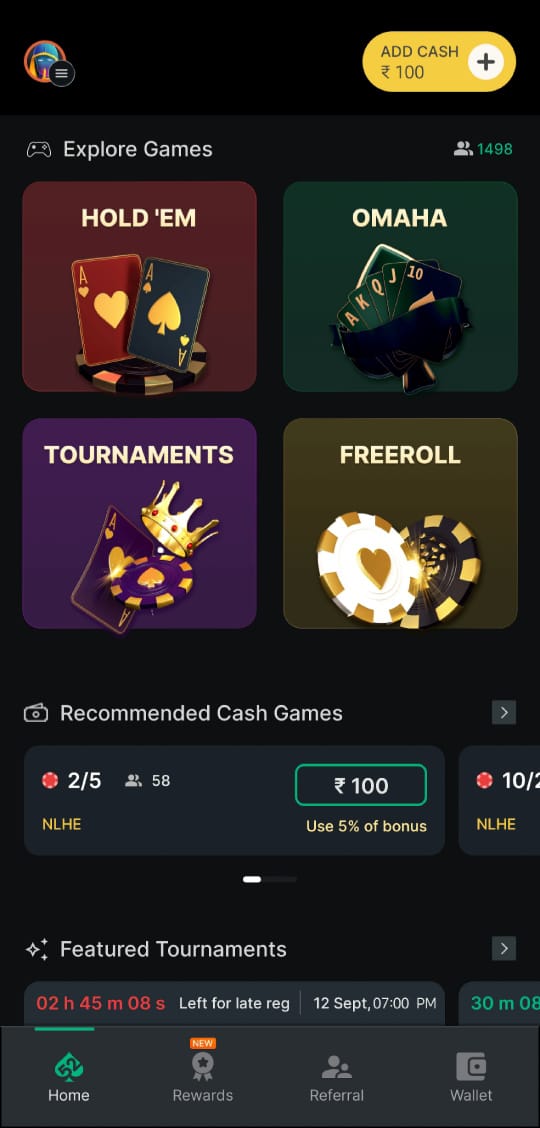 PokerStars is a global giant in the online poker industry for many years now, and its Android app offers Indian players access to a wide range of international tournaments and cash games. With a massive player base, you can always find a table that suits your skill level. PokerStars also offers a range of promotions and bonuses to keep the excitement levels high, including multiple and unique game formats like Spin & Go.
Pros:
International tournaments and cash games.
Large player pool.
Generous promotions.
Excellent software and security.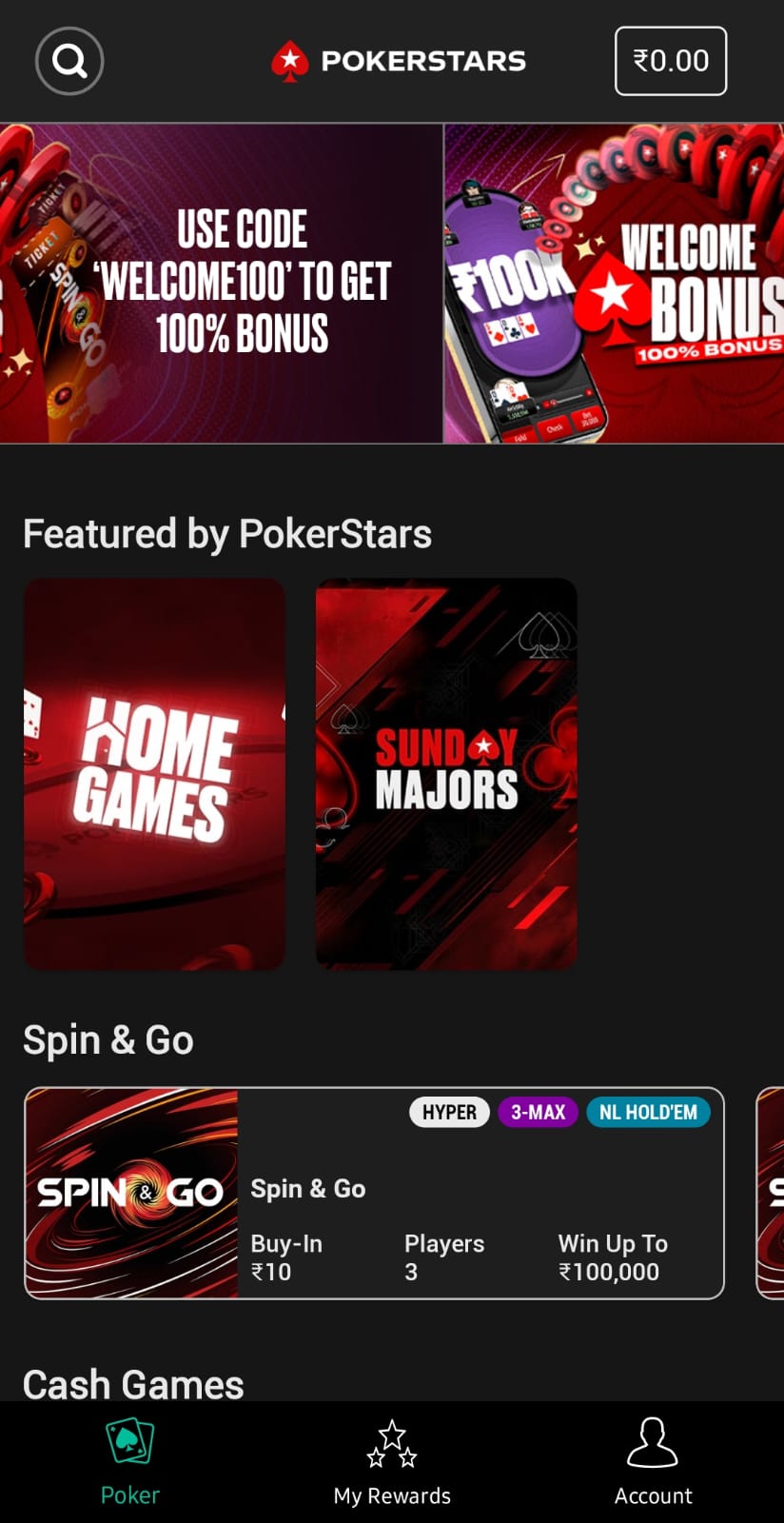 How to download and get started?
Go to the respective poker website's homepage and navigate to the 'Download app' options. Most brands will give you multiple download options including Android poker app, desktop apps, instant play, and iOS apps as well. Once installed, register an account and start playing online poker on some of the best Android apps in the market.
---
Choosing the best Android poker app in India ultimately depends on your preferences and skill level. Each app listed here offers a unique experience, from the bustling player base of Adda52 to the high-stakes action of Spartan Poker. Remember to play responsibly and within your limits, and you'll find that the world of online poker in India is both thrilling and rewarding. So, download your preferred app, sharpen your skills, and may the cards be ever in your favour!