Do you know of a fun variant of Hold'em that can be played with almost similar rules but double the fun? It's Short Deck. A staple in high-stakes cash games and tournament series in recent years. Hand rankings in this poker game are slightly different than in traditional games and the game is played with 36 playing cards.
Poker is undoubtedly an attractive and fun game. Unlikely normal Hold'em, Short Deck is typically played as an ante game. All players place forward an ante to begin with which eventually helps to build the main pot. The player on the button places forth an additional ante, which will be used for the first preflop round of betting. Action starts with the player to the left of the dealer also known as the button, and players are given the option of either call, raise, or fold vs this button ante. After the preflop betting round, post flop play continues just like Hold'em, with a flop, turn and river being dealt with betting rounds after each.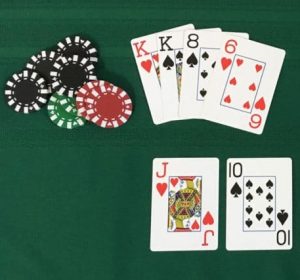 During these betting rounds, action starts with first remaining player seated to the left of the button. If, after the final betting round, there are multiple players remaining, a showdown is reached and the player with the highest hand wins the pot. Note that Short Deck is usually played as a no-limit game, meaning players can go all-in at any point in time.
The actions in the game are much more thrilling than traditional No-limit Hold'em but with same gameplay. An additional benefit in the game is that players are able to take money off the table after they've surpassed a certain minimum required threshold, which will help lessen the extent of the variance that a player may incur in this game.
The game accounts to making the best hand, spicing up the action and winning the pot! To read about more such poker variants, keep reading GutshotMagazine.com