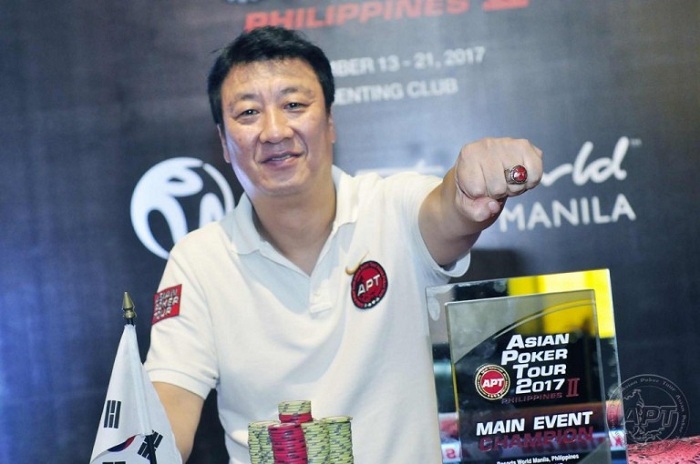 Poker
---
APT Philippines II: Sung Ho Kim wins Main Event For $40,250
After eight hours of intense Final 8 Main Event action at the Asian Poker Tour Philippines 2017 II, the newest champion emerged with Korea's Sung Ho Kim defeating fellow countryman Jae Hyun Lim to capture his first APT Championship trophy, the APT Championship Ring, and the $40,250 first prize.
The first head he claimed happened within minutes of the opening round with Lebanon's Hanna Khalife unable to get away from a board of 2♠ A♥ K♥ J♣ 8♥. The shoves were on the turn with Khalife behind holding A♣ Q♥ top pair against Sung Ho's A♦ K♠ top two pairs. The second player to bite the dust was Japan's Zentaro Nakayashiki in 7th place with 9♣ 9♦ unable to improve against Sung Ho's J♥ J♦.
With the table loosened to six players, this brought the arrival of the first big pot between the two past APT champions in the lineup, Philippines's Mike Takayama, and Korea's Soo Jo Kim. Takayama called Soo Jo all the way down to the river on a board of 5-6-3-3-Q only to muck to Soo Jo's J-J. Several hands later, a similar situation happened with Takayama losing more chips, this time to Korea's Jae Hyun Lim after calling him down as well. Jae Hyun held a winning A-10 on a board of A-6-T-K-9. Takayama's run for a third title ended several places short in 6th place.
The Final 8 also included another player from the Philippines, Eugene Co, who was already a celebrity at the festival having won the opening event. After a couple of big run-ins with the leader Sung Ho, with the first one landing him a double up, the second meeting was his demise. Co moved all in with A♠ 8♦ and ran right into Sung Ho's A♣ A♦. Co finished in 5th place and was Sung Ho's third victim of the day.
Entering the Final 8 with only 14 big blinds was Japan's Daiki Kohagi who played minimally at the onset. He started getting more involved in the action after a few players were eliminated. Despite picking his spots well and nearly reaching the million mark, Jae Hyun had his number and sent him out in 4th place. Jae Hyun's Q♦ T♥ formed a winning straight on a board of Q♠ J♠ 9♥ 4♠ K♣ to best K♠ J♦ two pair.
Three-handed Korean showdown
With the fall of Kohagi, it was an all-Korean affair at the final three. After several hands, an ICM deal was discussed and reached with $5,000 left aside for the champion.
There were many hands between the three that are worth posting in this recap but deserving the most attention was a huge pot between Jae Hyun and Soo Jo.
With blinds at 40K-80K, Sung Ho raised to 175K and was called by sb Jae Hyun and bb Soo Jo. At the flop K♥ 2♦ Q♠, it was checked by all. On the 9♣ turn, the action was checked to Sung Ho who continued with a 175K bet. Jae Hyun called while Soo Jo raised to 550K. Action back to Sung Ho, he folded and Jae Hyun called. On the 4♥ river Jae Hyun checked again, Soo Jo fired out a massive 955K bet, and after some serious tanking, Jae Hyun called. Soo Jo had J♥ 9♥ while Jae Hyun had the winning A♠ Q♦.
This huge win sent Jae Hyun zooming to the chip leader's seat; it was the first time anyone usurped Sung Ho at the Final 8. A few hands later, Jae Hyun denied Soo Jo the second title, eliminating him in 3rd place.
Heads up: Sung Ho vs Jae Hyun
The heads-up round began with Jae Hyun leading 3:1 in chips. Two hands later, his lead was much less with Sung Ho claiming the first big pot between them. It was another one of those doozy hands that saw big bets called.
With blinds at 60K-120K, Jae Hyun raised to 295K and Sung Ho called. On the flop 5♣ K♥ A♥, Sung Ho check-called a 200K bet. On the A♠ turn, both players checked. On the 5♠ river, Sung Ho check-called a 300K bet and won with K♦ 6♣. Jae Hyun played the board.
Sung Ho retook the lead on the next hand then climbed higher with a winning flush holding 9♥ 5♥ over A♦ 3♦ on a board of 10♥ 8♦ A♣ 8♥ J♥.
Sung Ho rose to victory with his A♦ J♣ connecting with a higher pair on the river to defeat Q♥ Q♣ on a board that ran 10♥ 4♣ 2♠ 8♦ A♠.
The Main Event began five days ago with 132 total entries, each one ponying up the $1,650 buy-in. This created a prize pool of $192,060 with 18 players getting a piece of the pie. The money started flowing in Day 3 with 10 players padding up their wallet while the rest were awarded at today's Final 8 battle.
Final 8 payouts:
1. Sung Ho Kim – $40,250 (ICM deal made)
2. Jae Hyun Lim – $28,880 (ICM deal made)
3. Soo Jo Kim – $28,530 (ICM deal made)
4. Daiki Kohagi – $14,500
5. Eugene Co – $12,000
6. Mike Takayama – $9,890
7. Zentaro Nakayashiki – $8,160
8. Hanna Khalife – $6,820
---
---
Comments