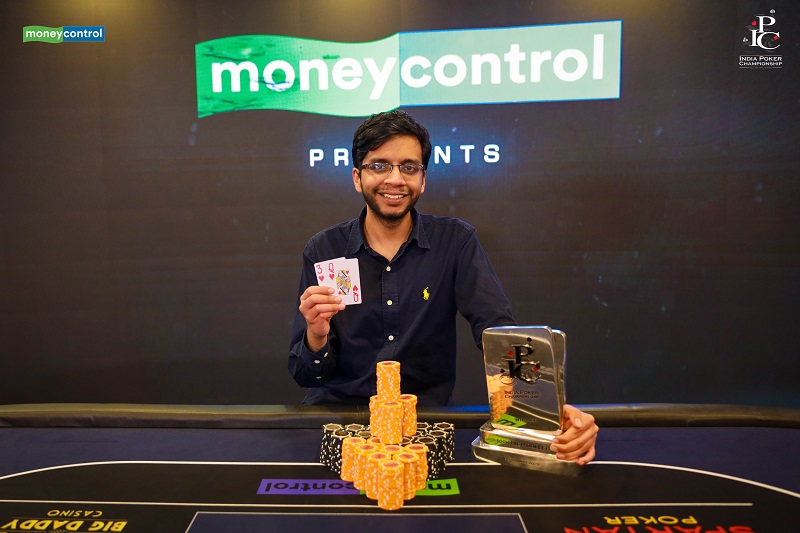 Poker
---
Anmol Srivats on his maiden title at first IPC tournament
The India Poker Championship (IPC) is known for creating heroes from the Indian poker community, successfully doing so since its inception in the 2010-11 season. The latest IPC edition took place on board Goa's Big Daddy Casino and there too, heroes were made. One of them Gutshot recently spoke to is 25-year old Anmol Srivats, who took down the IPC 100k Highroller last month.
Most people would shy away from entering a 100k poker tournament in India, but not Srivats. He's had a few small cashes in Barcelona, Edinburgh and London in 2015-16, and then had a few runs in the Baazi Poker Tour last month. Having been playing the game since a decade, he's banked huge profits from online games over the years.
He backed his skills at IPC and managed to impress one and all last month, taking away a huge prize sum of INR 39,37,812 after a 3-way deal with Zarvan Tumboli and Raag Fernandes. Originally from Bangalore, Srivats studied Mathematics at the University of St Andrews in UK, did a short bootcamp in Data Science/Machine Learning and worked briefly as a trader too, before turning to a full-time poker pro in September 2019.
Just months into this decision of turning pro, Srivats took down one of the most prestigious titles in live poker in India and we're sure he's convinced he made the right decision of going pro. What's better is that this victory was the one and only IPC tournament he's played till date! Keep reading for our complete chat with the IPC 100k Highroller champ…
Hi Anmol, congrats again on the victory. Tell us your views on the IPC brand in general…
This was my first India Poker Championship (IPC) series. In fact, I played just one tournament and I went on to win it, so I'm quite a fan haha. Also, the 100% tax refund being offered to players by Spartan Poker was nice.
What were your expectations going into IPC Jan 2020? Did you think you'd walk away with a title?
I didn't necessarily think I'd win a title but was feeling very confident about my game in general. I played 3 tournaments at Baazi Poker Tour (BPT) just before IPC, where I made 2 FTs – 4th in 20k PLO and 6th in 15k Big Bounty – and got 1 min-cash too. In both tourneys where I FT'd, I was huge chip leader at one point and lost the chips later.
When did you start believing you have a chance to take it down?
I knew I had a chance when my stack got to 1 million chips (3% of chips in play at the time), and I felt confident about accumulating on my table.
How did you react to being crowned the IPC 100k Highroller champion?
The final table was such a huge whirlwind that I wasn't sure how to feel. The nerves really built up when we were down to 5-handed, and the shorter stack survived 6-7 all-ins in a row. My friends and family were extremely supportive and were happy for me. We got some champagne later that night, and dinner was on me of course. Other than that, I've just used the prize money to play more poker. I'm also looking to travel more for poker. Perhaps WPT Ho Chi Minh, and Vegas is a huge dream too.
Many believe that a 100k buy-in is too much of a punt. What's your thought about that?
I felt I had enough of an edge there. If you can't spot the mistakes of your opponents, you should work harder on your game!
You've a unique style of playing, capable of pulling off the biggest bluffs too…
You should be capable of bluffing in every situation where you might be betting a good hand – that is just game theory. If you are not doing this, you should be working harder on your game!
Why didn't you go for an outright win considering you were highest stacked when the deal happened?
It's just lower variance. 20L for 3rd place, 35L for 2nd place and 51L for 1st place. I was being offered 39L, which is literally 19L over what I was guaranteed. Would I have played a 19L tournament there trying to win 12 Lakhs more? OF COURSE NOT! So how could I refuse the deal?!
Rapid fire with Anmol Srivats
Favourite Indian poker player – Naman Madan
Favourite international poker player – Fedor Holz, Richard Gryko
Favourite hand in poker – AA
Anything you'd credit your HR victory to? Luck
Method of relaxing after a grind – Playing a different strategy game; watching videos about a topic of my interest.
Poker crush – Abhineet Jain
That's all we've got for today, but you can stay tuned to GutshotMagazine.com for similar interviews with some of the biggest online and live poker winners in India.
– With inputs from Dwayne Fernandes, Gutshot Editorial
Check out our online poker rooms section, where you can read reviews on the biggest and best poker rooms in the country, while also taking advantage of their bonuses and promotions. Check out these top poker rooms HERE.
---
---
Comments