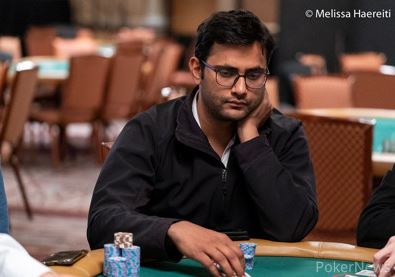 Poker
---
Aditya Systla takes 14th place in Salute to Warriors Event
This is a new entrant into the World Series of Poker (WSOP) schedule, one which is dedicated to the US Army, both for veterans as well as current members. The tournament features a small buy-in of $500 from where $40 will go towards to the United Services Organization (USO) and other military-related charities.
Yesterday was Day 1 of this tournament which saw a field of 1,723 entries being generated and by the end of the day, only 267 players progressed to Day 2. There wasn't a lot of participation from Indian players and by the end of the day, two Indians to progress included Aditya Systla and Sachidananda Sivakumar.
Sivakumar is a lesser known Indian player from Coimbatore and he ended the day with a stack of 70,000 chips while Systla is slightly better known with 4 live cashes in Goa, India between 2016-2018. Systla took a better stack of 310,000 chips to Day 2 and we're here to report a deep finish from the player today on Day 2.
The player ran deep today and eventually, thought it was wise to shove all of his 1,300,000 chips into the pot with JK and he received a call from Lu Chen, who had K9. Systla went behind immediately after the 9-8-4 flop but had a straight draw when T opened on the river. However, the 5 on the river didn't help him and he was knocked out in 14th place for a pay-out of $5,819 (~INR 4 Lakh).
Before Systla busted, Sivakumar also hit the rail in 141st place for a small cash of $865. The Final Table has been formed at the end of Day 2 of this tournament, but everyone's attention is one the Main Event which kicked off with Day 1A today. Stay tuned to GutshotMagazine.com for all updates from WSOP 2019.
---
---
Comments