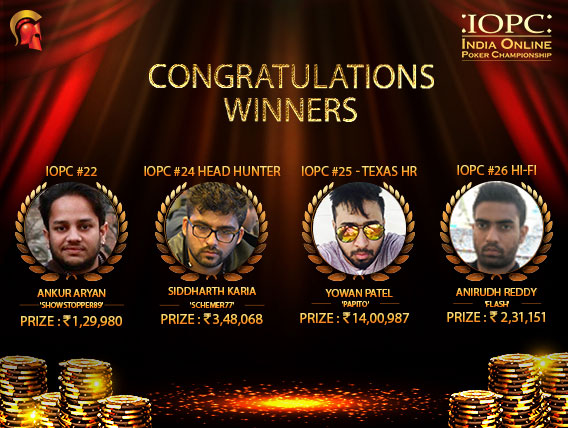 Poker
---
Yowan Patel wins Texas HR on IOPC Day 5 on Spartan
In a pretty exciting India Online Poker Championship (IOPC) schedule so far, yesterday had to be the biggest day of all, with 6 tournaments lined up including the massive INR 50 Lakh GTD IOPC Texas HR. There was so much anticipation coming into this day on Spartan Poker as prior to this, 20/20 had their guarantees crossed in this series which already has an advertised GTD of 11+ Crore!
Yowan Patel was the winner of the Texas HR, bagging his second title of the series and also claiming the largest online cash of his career so far. Other title winners included Siddharth Karia who recently returned from Las Vegas as well as Ankur Aryan and Anirudh Reddy. Keep reading for our complete summary of IOPC Day 5…
IOPC Event #21 INR 2 Lakh GTD
As usual, the day began with a smaller guarantee tournament, where a field of 651 entries registered paying INR 550 each and crossing the guarantee to create a new prize pool of INR 3,25,500. From them, the top 47 players were paid out, each receiving a min-cash of INR 1,855. Topping the field and shipping the tournament in a few hours since the start was 'SSMG6617' who managed to add INR 63,439 to his bank account for this victory. He bagged a prestigious IOPC title on Spartan Poker and this came after he beat Aman Parakh aka 'KarmaPoker' in heads-up. The latter won INR 40,296 for finishing second here, two days after winning a title on IOPC Day 3.
IOPC Event #22 INR 5 Lakh GTD
Ankur Aryan really seems to up his game every time there's a big series like SSS or IOPC to be played. Here, he was one of 670 entries that each paid INR 1,100 to participate and the resultant prize pool of INR 6.7 Lakh was distributed among the top 55 finishers, each being paid a min-cash of INR 3,283. Aryan plays as 'showstopper89' on Spartan and here, he beat 'Steelshot' in heads-up to win a handsome first-place prize of INR 1,29,980. His Kh Ad hit a pair of Aces on the flop of the final hand, beating 9h 8s to win the title while Steelshot had to settle for the runner-up prize of INR 82,410.
IOPC Event #23 INR 3 Lakh GTD
All those who participated in this tournament had to pay INR 770 each and by the end of the registration period, we had a field of 540 entries in all. Once again, the prize pool rose to INR 3,78,000 and it was shared by the top 39 players, each receiving a minimum of INR 2,608 in prize money. Playing from the FTR platform, it was 'yogijogi' who shipped the tournament for INR 75,789, beating 'patea1971' in heads-up and the latter winning INR 50,387 as runner-up cash prize.
IOPC Event #24 Head-Hunter INR 12.5 Lakh GTD
Fresh off his trip from Las Vegas at the WSOP 2019, Siddharth Karia aka 'schemer77' managed to top the field here at the Thursday weekly featured tournament on Spartan Poker, Head-Hunter. The bounty tournament saw a total participation of 434 entries which led to the guarantee being absolutely smashed, with INR 17+ Lakh generated in the tournament prize pool and another INR 4+ Lakh towards the bounty prize pool. Karia powered through this field and took home the top prize of INR 3,48,068 plus bounties, beating another known Spartan grinder, Aditya Bahl aka 'addyb' in heads-up. The top 39 players in this tournament were rewarded with INR 11,978 each plus bounties. When Gutshot reached out to Karia, he said, "It was a tough decision to not grind the full IOPC schedule as I needed to concentrate on other things after WSOP. However, shipping one of first tournaments I played was sweet. Looking forward to the rest of the series, cheers!"
IOPC Event #25 Texas HR INR 50 Lakh GTD
This was the biggest tournament of the ongoing IOPC series so far, both in terms of the buy-in as well as in terms of the prize pool. Already promising a massive amount in prize money, the mega event saw a field of 253 entries, each paying INR 27,500 to enter and boy, there was some really tough competition on the virtual felts last night. What began at 9pm last night went on till 4:47am this morning for a grind of nearly 8 hours before Yowam Patel aka 'PAPITO' was declared the winner. His efforts brought him a whopping grand prize of INR 14,00,987 after he beat 'Yea_gl_gg' in heads-up, with the runner-up bagging INR 9,45,587 for this run.
Patel spoke to Gutshot after this big victory, saying, "It's a great tournament to win, and it's my highest score till date online as well. I would like to thank Spartan Poker for having such exciting tournaments with great prize pools. The tournament was going well for me from the start and most of the time, I had average stack but after getting into money, I won 3 big flips to get into the top 3 stacks. When it was around 8 players left, I ran like god. Whatever hand I got connected. When I went to Final Table, I had 1:6 chip lead so was cruising and did not have any sweat in the FT. It was going so smooth without any threat and eventually, I eliminated all the 5 players and won the tournament. I would like to thank all my friends who have encouraged me so much to do well and this IOPC has been so great where everything is going well, so I'm looking forward to the rest of the events. Hopefully, I'll do well in the Millionaire and other tournaments."
IOPC Event #26 Hi-Fi INR 8 Lakh GTD
If every other tournament was passing the guarantee, there was no chance the Hi-Fi wouldn't. One of Spartan's most popular tournaments, it attracted a playing field of 593 entries each paying INR 2,200, inflating the prize pool to INR 11.86 Lakh. The top 47 players were paid out and each of them received a minimum prize of INR 6,760. As for Anirudh Reddy, he didn't want a min-cash last night. He grinded his way through every tough spot and eventually, won the top prize of INR 2,31,151. Playing as 'flash' on Spartan, Reddy outlasted the field including 'Potodds' in heads-up, with the latter winning INR 1,46,826 for finishing second. When we spoke to Reddy, he said, "I was down to 9 bigs at a point when the blinds were 1200/2400. I got a couple of double ups to reach the final table 5/8. In 4-handed, I had a huge hand with 'LuckyBhai$'. I had AK > AQss and got a big double up. The winning hand was eventually A10 > JJs."
For more updates on the top online poker tournaments in India, stay tuned to GutshotMagazine.com.
---
---
Comments