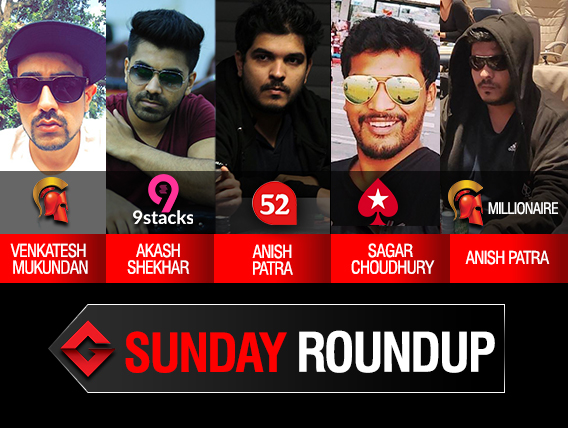 Poker
---
Sunday Roundup: Anish Patra wins Millionaire, Mega Suits
It was a smashing Sunday on online felts! A day off for each citizen of the country, the virtual platform was packed with numerous hopefuls and the ultimate winner was awarded the prize money! Sunday wasn't mundane as Spartan Poker wrapped up the Millionaire – Legends guaranteeing INR 2 Crores and the champion came out with flying colours. And here is a complete summary of Sunday majors…
Millionaire Legends
Ever since the commencement of Millionaire, the virtual felts were lit with poker pros. Indians who are representing the country in Asian Poker Tour (APT) Vietnam also took to the tables. And it was only yesterday that the champion rose to grab the ultimate title after shipping the tournament Anish Patra aka 'Illusionist'.
Total Entries – 872
Prize Pool – INR 21,80,000
Places Paid- 145
Min-Cash – INR 32,700
It was a memorable night on Spartan Poker! The huge guarantee was surpassed to create a prize pool that was shared among the top 145 places. To add on, this was the second win for Patra on Sunday night after triumphing on Adda52 Mega Suits (read below).
In Level #27, blinds at 80,000/160,000 ante 16,000, 3 players enter the final hand of the tournament. Patra (Qd Qs) carrying the largest stack of 6.16 million playing against Vikrant Varma aka 'borntrouble' (9s Js) with 6.6 million chips and 'blindgame' (Ah Qh) with 4.6 million chips. Pre-flop saw Varma folding while 'blindgame' put his entire stack in the middle and got a call of 3.9 million from Patra. The board ran Ts 3s 5 Th 2d and that's when the Patra showed two pairs of Queens and tens over 'blindgame' holding a single pair TT. Immediately later the final two players settled for a deal with Patra carrying the larger stack triumphing the tournament.
Other notable players to cash include Manish Lakhotia aka 'thekid' (4th), Naren Purohit aka 'IMUNAGI' (12th), Yowan Patel aka 'PAPITO' (13th), Day 1A chip leader Sriharsha Doddapaneni aka 'Fish2050' (23rd), Yasheel Doddanavar aka 'YagammiLight7' (31st), Jayjit Ray aka 'David Blaine' (36th), yesterday's Sunday SuperStack winner (read below) Venkatesh Mukundan aka 'Borissss' (40th), Sahil Mahboobani aka 'HomelessOnWiFi' (53rd), Chirag Sodha aka 'chilling' (54th), Ashish Munot aka 'Donkey 07' (68th), Aditya Sushant aka ' SuperuSer' (81st), Wilson Yomso aka 'Rohinisharma' (94th), Rajat Sharma aka 'Garammasala' (97th) and so on.
Sunday SuperStack
At 8 pm sharp, Spartan Poker hosted Sunday SuperStack INR 30 Lakhs GTD. This featured tournament is scheduled for every Sunday and tends to draw a lot of participants given that it's a holiday for most of the country. The man who walked away with the biggest share of the prize pool was quite a well-known player Venkatesh Mukundan aka 'Borissss' who triumphed the field after defeating 'Norman Bates' in heads-up.
Total Entries – 610
Prize Pool – INR 30,50,000
Places Paid- 63
Min-Cash – INR 13,267
In Level #49, blinds at 60,000/120,000 ante 12,000, Mukundan (3h 4h) enters with 12 million chips playing against 'Norman Bates' (8d Ts) with 2 million chips. 9h 2h Th gave a flush to the former on the flop itself betting 132k and getting a call from the latter. The turn and river cards 8s 2d respectively made no difference for the winner who showed Flush with Ten high against 'Norman Bates' holding two pairs of Tens and eights.
Other notable players to cash include Eka Vedantham aka 'gettingthere' (3rd), Faiz Alam aka 'DrStrange' (10th), Ashish Ahuja aka 'Spewushhhiiiii' (22nd), Aditya Sushant aka 'SuperuSer' (38th), Rajat Sharma aka 'Garammasala' (54th), Guneet Kwatra aka 'guntz' (55th) and so on.
BSS SuperStack
Each player chipped in INR 5,500 to enter the tournament at 7 pm sharp. The guarantee was seen to surpass creating a higher prize pool. Several hopefuls took to their seats but the one to outlast the field was 'a_one'. The winner of Sunday night at Pokerbaazi was seen adding INR 5,36,760 into his poker bankroll after defeating Raman Gujral aka 'ifryu'. The runner-up managed to grab INR 2,41,968.
Total Entries – 568
Prize Pool – INR 28,40,000
Places Paid- 72
Min-Cash – INR 8,804
Other players receiving a paycheck include Bunty Batra aka 'hiteshbhai' (3rd), Ujjwal Narwal aka  'Mr_Robot' (7th), Jitendra Gadhwal aka 'Jeet0' (20th), Nadeem Basha aka 'SpadeHunter' (29th), Kanishka Samant aka 'Highness' (43rd) and others.
Big Slick
Sundays are reserved for two major tournaments on Adda52, one such is the Big Slick INR 15 Lakhs GTD. Kicking off at 5 pm, the 7-hour long haul saw a massive field with each player chipping in INR 2,200 buy-in. The only man standing throughout the tournament was Saket Kumar aka 'saker' who attached a major title to his name after championing Big Slick in August, September and yesterday for the third time. With this win, Kumar has added another feather to his poker cap. The winner defeated Ujjwal Narwal aka 'fourteenk' in heads-up and pocketed INR 2,11,433.
Total Entries – 719
Prize Pool – INR 15,00,008
Places Paid- 80
Min-Cash – INR 6,291
The tournament halted at 12:45 am and before that the top remaining players received a paycheck including Avitij Jaiswal aka 'avijitjazz93' (5th), Kapil Vasita aka 'Kapsa92' (7th), Anubhav Ghosh aka 'pokpok' (16th), Harsh Bubna aka 'harsh1327' (43rd) and so on.
Mega Suits
Another major tournament hosted by Adda52 on Sunday night at 8 pm was Mega Suits INR 25 Lakhs GTD. A great field was observed with each player entering for a buy-in of INR 5,500. And once again, Anish Patra aka 'anishpatra' emerged victoriously, winning back to back titles across major platforms after both players settled for a heads-up deal. Patra took home INR 4,88,377 and Uttam Kumar Sinha aka 'chinunew' in the runner-up position managed INR 4,88,223.
Total Entries – 514
Prize Pool – INR 25,70,000
Places Paid- 55
Min-Cash – INR 11,565
Other notable players in contention to cash include Deepak Singh aka 'Peacelover' (4th), Pranjal Gandhi aka 'lillmessipranjal' (5th), Neel Joshi aka 'neeljoshi23' (11th), Sumit Spara aka 'Hammer_Head' (20th), Prateek Pandey aka 'ishuv' (23rd), Guneet Kwatra aka 'guntz' (26th), Ayan Ray aka 'gutshotguru1' (29th) Adda52 pro Kunal Patni (43rd), Shravan Chhabria aka 'sweatmyass13' (45th), Aditya Sushant (55th) and others.
Sunday Special
PokerStars hosted Sunday Special INR 10 Lakhs GTD. Another well-known player shining across various online platforms emerged as the winner of the night, Sagar Choudhury aka 'sagarpupull' who bagged INR 1,87,840 first-place prize money after defeating 'Armageddon444' in heads-up who eventually rested with INR 1,37,686.
Total Entries – 306
Prize Pool – INR 10,00,000
Places Paid- 53
Min-Cash – INR 6,353
After 7-hours of intense grinding, the top players received a paycheck including Honey Bijlani aka 'h09ey' (4th), Goonjan Mall aka 'gmtesting' (6th), Ashutosh Balodhi aka 'Msnugget' (29th), Rubin Labroo aka 'kornkid4' (33rd), Ram Kakkar aka 'TheLagLawyer' (42nd) and so on.
The Joker
At 7:29 pm, 9stacks hosted The Joker INR 15 Lakhs GTD, several hopefuls entered for a buy-in of INR 5,500. The grinding continued for 8 long hours until the ultimate winner was seen powering through the field. Akash Shekhar aka 'K9_A' shipped the tournament for INR 3,67,500. Shekhar beat Ashish Ahuja aka 'HakunahMatata' who eventually managed to secure INR 2,47,500.
Total Entries – 300
Prize Pool – INR 15,00,000
Places Paid- 37
Min-Cash – INR 9,000
Resting in 10th position in 2019 WPT Vietnam Megastack Turbo and WPT kickoff event in September, both in Vietnam. Shekhar is a well-known player in live as and online felts and with this win he has added another valuable amount to his poker bankroll. Other notables to cash include Sanjay Taneja aka 'WereWolf' (3rd), Ankit Abhishek aka 'yoan' (5th), Kartik Ved aka 'TheInternetKid' (6th), Harshit Sanghi aka 'Harsh114' (20th) and others.
For latest updates on live and online poker tournaments keep reading GutshotMagazine.com and stay tuned!

Check out our online poker rooms section, where you can read reviews on the biggest and best poker rooms in the country, while also taking advantage of their bonuses and promotions. Check out these top poker rooms HERE.
---
---
Comments