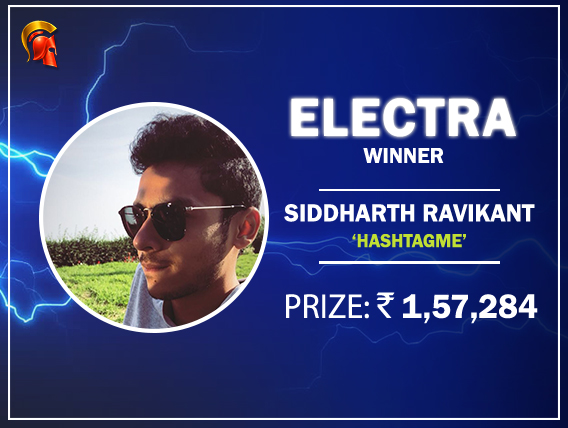 Poker
---
Siddharth Ravikant is Electra champ at Spartan
It looks the rains have well and truly set in this monsoon season and those poker players confined indoors are putting their time to the best use by participating in high value tournaments at sites like The Spartan Poker. One of the many tournament innovations which were introduced at Spartan was the Electra, an INR 1,650 tournament with a re-entry format which promised a guarantee of INR 6 Lakhs. The unique twist added to this tournament was that any female player who made the final table would be given a ticket to Spartan's monthly signature tournament The Millionaire.
The player who was last man standing at the end of the 4 hour grind was Siddharth 'hashtagme' Ravikant who won INR 1,57,284 for his efforts. This daily featured tournament began at 7:30 pm yesterday and 345 entries came together to crush the guarantee making a final prizepool of INR 8.07 Lakhs. 47 players got paid out with a minimum payday of INR 4,599 going to all.  
All those entries got whittled down to the final 3 in 'Sumit2121' (722k in chips), 'BeatTheFish' (1.1 million) and hashtagme was leading with 1.9 million in chips. Being the chipleader, hashtagme (Th 9s) decided to flex his stack and raised it up to 70k with the blinds at 17,500-35,000-3,500. While BeatTheFish got out of the way, Sumit2121 decided to commit his short stack and tournament life with Ac Kh. hastagme made the call and immediately improved his chances on the 8d 9d 6h flop which gave him an open-ender straight draw. A sweaty turn Qc which lead to the Jc on the river which completed the straight. That endedSumit2121's run in this tournament for a score of INR 74,889. 
The final hand of the tournaments took barely a couple of hands more. hashtagme held a better than 2:1 lead over BeatTheFish when this hand happened. BeatTheFish (Tc 2d) and hashtagme (3s Js) completed the blinds to see a flop of 4c 5s 2c. Holding bottom pair, BeatTheFish bet minimum and with his open ender, hashtagme made the call. Jh on the turn didn't really change things too much but there was a raising battle here with BeatTheFish again betting minimum to hashtagme's check. hashtagme reraised heavy to 189,000 and this was flatcalled by his opponent. The river Ac was exactly the card hashtagme was looking for and predictably the money went in. A rivered straight for Siddharth 'hashtagme' Ravikant got his the hand and the title while BeatTheFish would have to settle for the runner-up prize of INR 99,906.
The Electra will taking a break from next week but fear not folks as everyone's favourite the 'Destiny' series will be making a comeback. Remember this past year the Destiny series gave an opportunity to multiple winners to make their way to Las Vegas each of them winning INR 10 Lakhs package for tournament buy-ins, return flight tickets and hotel stay.

---
---
Comments