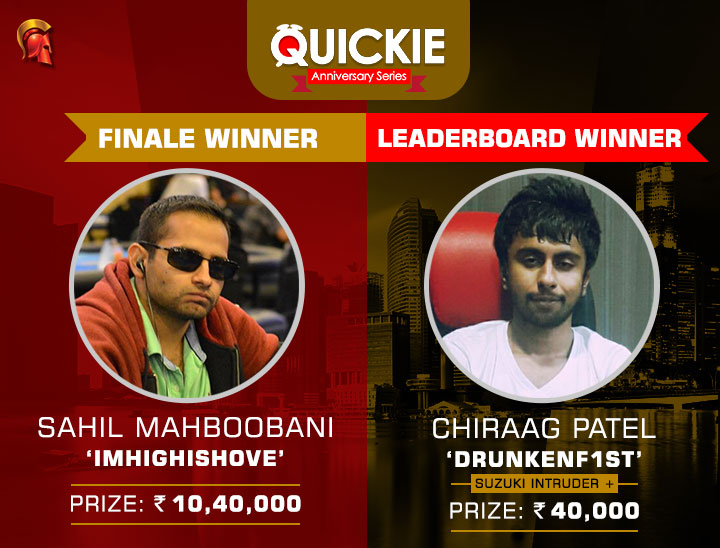 Poker
---
Sahil Mahboobani wins Quickie FINALE, Chiraag Patel tops leaderboard
The Quickie Anniversary Series has come to an end and many players have ended up taking big prizes including a brand-new Suzuki Intruder motorcycle. The leaderboard winner Chiraag 'Drunkenf1st' Patel is not new to TheSpartanPoker having won a side event in the India Online Poker Championship (IOPC) and he now adds this sweet ride along with a bonus cash prize of INR 40,000.
Speaking with GutshotMagazine.com, Patel shared his excitement stating, "My experience through four days of the Quickie Series has been nothing short of fantastic! I've had consistent deep runs in MTT's in the recent past which finally culminated in a couple of victories as well as several final tables during this series. I especially enjoyed battling it out for pole position on the leaderboard against 'Alfie Solomons', 'Button_Hai_Bhai' and 'Bounceez'. In fact, it went down to wire completely with 'Alfie Solomons' and 'Bounceez' making the final table of the last event in the series, and it could have gone either way. This is my first leaderboard victory and it feels awesome! I think I will have to learn to ride that Suzuki Intruder."
The last day of the Quickie Series had nine tournaments scheduled along with 40L GTD Finale where the winner was assured of a minimum payday of INR 10 Lakhs. That eventual winner was Sahil Mahboobani who plays under the moniker 'ImHighIshove' who indeed ended on a high of INR 10,40,000 for his win. 26-year old Mahboobani was born and brought up in Hong Kong and completed his studies in Australia for a year. He ended up dropping out to pursue a career in professional gaming (Counter Strike) and just moved to India around a year ago to play fulltime. Gutshot caught up with Mahboobani in an email interview and here are the excerpts:-
How did you start on your poker journey?
I started playing poker back in high school, we used to play with our lunch money. Then I and another close friend find out about online poker, back in those days the focus was Full Tilt Poker, I remember my friend won a freeroll from 2700 people for $15 USD, I was there at the time, it was one of the most exciting things I had ever seen. The next day he joined a real money table which excited me, we were only 15/16 at the time playing underage on FullTilt poker, so then I eventually decided to steal my parent's credit card and make my first ever deposit online.
When did you start playing poker for real money?
After depositing on Full Tilt I tried out many formats of poker but eventually, I started grinding $11-26 45 men sit and goes and found it to be most profitable. It helped me understand all the different aspects of multi-table tournaments. Whilst all this was happening my focus was my dedication to trying to become a professional gamer, I feel there are a lot of similarities in professional gaming and online poker, which really helped in a smooth transition into real money poker. At the time my idol was Griffin Benger, the number one counter-strike player in the world, known as 'shaguar' who then transitioned into poker and became the number one online poker player in the world. This was a big inspiration to me.
Tell us about your start in live poker tournaments.
I remember my first ever live experience, I was 17-years old and a real poker club had launched in the heart of Hong Kong, opened by Phill Laak. I went there with a fake ID as I was underage at the time, I was doing quite well until they found out and banned me and told me to come back when I was of legal age. One day after my 18th birthday I went back with 100% of my net worth and turned $2000 HKD into $50,000 HKD within a month. This was my opening to live poker and the very same year I played my first ever live tournament which was the Red Dragon, the biggest Main Event in Asia.
What's your game mix like?
Currently my focus is multi-table tournaments, however, when I first moved to India I started off playing cash games, both live and online. I was playing both Hold'em and PLO, mid to high stakes where I was 6 tabling around 12 hours a day and doing well. Initially, there were very few tournaments to play online for it to be a full grind but over the last one year, the Indian tournament scene has grown rapidly which brought my attention back to MTT's which is truly the format of poker that I love the most.
Describe your journey through the FINALE.
The whole finale went very smoothly, I was chip leading the tournament from the initial stages itself and probably lost the chip lead for only a moment during the whole tournament. Having a big stack, I was able to put a lot of pressure during the later stages of the tournament which put me in a very good spot going into the final table. There were a lot of pre-flops spots where I was taking down pots by applying ICM pressure but there were a couple of very crucial flips that went my way.
What was the reaction of your friends and family?
I have been in Goa for the last couple of weeks, I came here to relax and grind online with a couple of friends and to play the DPT as well. Being in a place like Goa, with all my friends around, the excitement level was very high.
What are your plans for the live and online space?
My plans as of now are to just do what I do, keep learning, keep grinding.
Your feedback on The Spartan Poker.
TheSpartanPoker has always been one of my favourite sites to grind on as they have the widest variety and the highest value tournaments and some of the best structures.
So you are a Millionaire now, what do you plan to do with this money?
There is nothing specific that I am planning to do with this money it just reinforces my decision to move to India and pursue my dream of playing poker.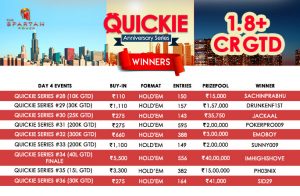 ---
---
Comments